African Hunting Stories
Are you a hunter? Do you love the outdoors? Have you hunted in Africa before?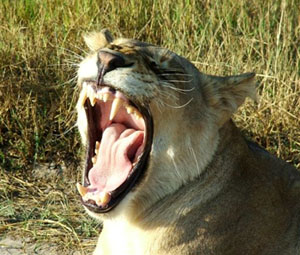 Picture: Izak Engelbrecht
Then you will probably know that there is (almost) nothing as enjoyable as sitting around a campfire, sharing hunting stories with friends and family!
This page is all about African Hunting Stories.
Telling your hunting story or experience to others gives you the chance to RE-LIVE all those memories.
It gives all the people with whom you share your story, much joy. It also add to their knowledge of the outdoors and hunting.
Well... it is showing off YOUR KNOWLEDGE to friends who share your passion!
Fellow hunters... Here is a great opportunity to share YOUR hunting story with the world!
Just imagine sitting with your best hunting friends around a campfire... telling your story.
Well, the difference here is that
your story will be placed on a separate webpage on our website
sharing your story is FREE
this is as easy to do as typing your story
it will be available to you and visitors to this site for years to come!
We've started this "African Hunting Stories"-page with a special contest some years ago.
The prize for the winning story,,,
Five (5) days of FREE accommodation
for the author and his partner.
The following FREE Trophies to hunt:
1 Gemsbok, 1 Springbok, 1 Steenbok, 1 Duiker
Ten judges were asked to judge these stories and the story chosen to win the contest was...
"You Only Go Around Once..."
by Roger D. Libby
Great and exceptional stories were received and all of them (and more) are listed below.
Take time to read through them - you'll feel like being on an African Hunting Safari yourself.
Read also John Palffy's detailed report of his Kalahari hunt in Namibia, Africa.
Robert hunting in the Kalahari of Namibia
Now... scroll down and enjoy
African Hunting Stories
- or share YOUR OWN!
---
Note: These African hunting stories may be rated by visitors to our site. So... visit again to watch readers' ratings for your story.
You will find other visitors' contributions just below the form.
---
A few important Guidelines:
Your entry has to be:
about hunting anywhere in Africa...
about a learning / enriching / memorable experience you really have had during your actual hunt in Africa.
Your entry may not:
has the purpose of advertising specific destinations (there are other advertising options available on the Net)
contain foul language or indecent photographs.
---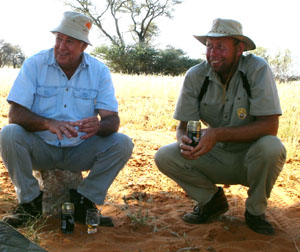 Father Hendrik and son Michael... hunted many years together.
Share the Best of Your Experience in Africa!
Do YOU have a great story to tell about your African hunt?

Then share it!
It will be enjoyed by people from all over the globe... for years to come.

Thank you in advance for sharing it with all of us!
What Other Visitors Have Said
Click below to see contributions from other visitors to this page...

---
Read Terri's story of her experience in Namibia.

---
---

---