Kalahari Hunting...

Africa at its best!
Kalahari Hunting will bring you in contact with Africa in a unique way.
Our family wants to share with you the animals, the people, the plants and the climate of the great Kalahari Desert.
The Kalahari is a place where title and position and material wealth mean very little - where you can be who you are and can drop you "pose". What a relief!
Uitspan Ranch here in the Kalahari region of Namibia, is our basis. "Uitspan", an Afrikaans word, means a place to relax and make your home for the time being.
The sheer love and passion we feel for this unique part of Africa, Namibia, was the inspiration for our business and this website. We as a family were born and raised here and have the wonderful opportunity to live here.
Kalahari Hunting... sharing our passion

We enjoy sharing our love and passion for the Kalahari, hunting and the outdoors, with special people.

May our website bring the Kalahari home to you.  May you also find all the information about Kalahari hunting and hunting in Namibia, somewhere among these pages.
We are privileged people to work in an "office" closer to the Creator than any man-made building. The largest continuous stretch of sand in the world surrounds us and the heavens is our ceiling.
After all these years, every day here is still like an adventurous play: the Kalahari is our stage, the animals are the actors and actresses. To watch them perform their unique skills and adaptability, never fails to impress.
The Scriptwriter of all times made it such a spectacular performance to be part of.
It is impossible to live and hunt in the Kalahari of Namibia and not to see in nature the Creator of all ....
"When I consider thy heavens,
the work of thy fingers, the moon and the stars,
which thou hast ordained;
What is man, that thou art mindful of him? and the son of man,
that thou visitest him?
For thou hast made him a little lower than the angels,
and hast crowned him with glory and honour.
Thou madest him to have dominion over the works of thy hands;
thou hast put all things under his feet:
All sheep and oxen, yea, and the beasts of the field;
The fowl of the air, and the fish of the sea, and whatsoever passeth through the paths of the seas.
O LORD our Lord, how excellent is thy name in all the earth!"
~ Psalm 8:3-9
Follow in the footsteps of the Bushmen and discover the uniqueness of hunting in the great Kalahari of Namibia (see our Hunting Pictures)!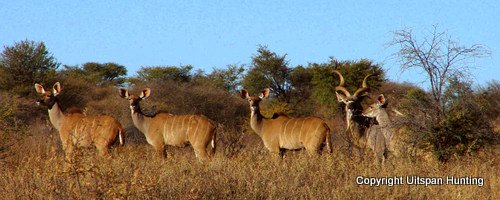 (Picture above: Greater Kudu antelope on Uitspan Ranch, Namibia)
Kalahari Hunting will enrich your life with all kinds of trophies, never to be forgotten. It will bring you "back to earth"... it may change your life in a lot of ways.
Contact us to let us assist you in planning your African Safari.

---

---