My Favorite Hunt
by Karen Eaton
(Sultan, Washington USA)
It is late afternoon, and most of the men have gone out to hunt the Burchell's Zebra. I am talking to my guides, Isabel and Hendrik, and the three of us agree that it is time.


We pile into the truck with only the equipment that we will need for the hunt. Hendrik is driving, I am sitting in the front seat, and poor Isabel is perched over the stick shift. She jokes that it is the most comfortable seat in the truck, and we drive off.

I am the designated gate opener, and I hop out to let the truck pass through several locked gates. I am slow at the gates and Hendrik teases me, saying that when I get really good I will be promoted to riding in the bed of the truck, just like the farm hands.

We travel deep into the desert, looking for just the right spot to begin our hunt.

This afternoon the desert is cool and dry. It is mid-May, already becoming winter in the Kalahari. The tall dry grass is all there is to remind us that this had been a wet summer.

Food is plentiful for the antelope; but the tall grass is also excellent cover for the big cats. I am watchful of the dangerous shadows of the Kalahari.

As we drive, a herd of Kalahari Springbok bound away. There are Gemsbok everywhere, and Giraffe in the distance. Under a Camel Thorn tree is a little Duiker. We hear a shot from far away; later we will learn that the Zebra is down.

It is some time before Hendrik stops the truck. We are on a large pan, about 1/3 of the way down. The coral colored sand is brilliant in the late afternoon sun.

I see nothing – no tracks, no sign of our prey. But Hendrik's eagle eyes have picked up a clue. Isabel says that he is an excellent tracker. She is sure that we are in a good spot. We take our gear from the truck and set out on foot.

Seconds later the cry goes out. Tracks in the sand! Isabel shows me the tell tale sign.

The sand is cracked ever so slightly, like a loaf of baked bread. We get down on our knees and dig with our hands. An inch or two below the surface we find our prey.

¡Nabbas! - A most delicious truffle, found only in the Kalahari, and only in the early winter following a good rainy season.

I am indeed lucky, to be at the right place at the right time. I know of no other hunter with so rare a trophy as this!







One of the best-kept secrets of the Kalahari is the African Truffle, Terezia pfeilii, also known as n/abba, mahupu, sand-potato or knoll.

We accept this special and different kind of hunting story from the author who had the great opportunity to experience such a "hunt" herself.

To go truffle hunting in the Kalahari doesn't require the sensitive snout of a pig or trained dog - just sharp eyes to spot the fine surface cracks that mark the underground presence of this superior puff-ball.

What`s long seemed a mystery, though, is that this desert truffle may appear in abundance one year and then not show up again for years: it all depends on the weather.

We've had years of good rains, and then no truffles. It has to be the right amount of rain, on the right time.

But still it remains a mystery-speciality of the Kalahari nature.


~ Webmaster



---

---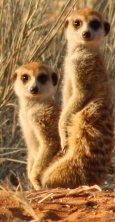 ---
Meaning of "Uitspan"

'Uitspan' is an Afrikaans word that means place of rest.

When the Boer settlers moved inland in Southern Africa in the 1800's, they used ox carts. When they found a spot with game, water and green grass, they arranged their ox carts into a circular laager for protection against wild animals and stopped for a rest.

They referred to such an action of relaxation for man and beast, as Uitspan.

(Picture above of our ancestors.)

Did you know?

Greater Southern Kudus

are famous for their ability to jump high fences. A 2 m (6.56 ft) fence is easily jumped while a 3 m (9.84 ft) high fence is jumped spontaneously. These strong jumpers are known to jump up to 3.5 m (11.48 ft) under stress.
---
---
Did you know?

Some animals have

one sense more than man!

The

flehmen response

is a particular type of curling of the upper lip in

ungulates

,

felids

and

many other mammals

. This action facilitates

the transfer of pheromones and other scents

into the vomeronasal organ, also called

the Jacobson's Organ

.

This behavior allows animals to

detect scents

(for example from urine) of other members of their species or clues to the presence of prey.

Flehming

allows the animals to determine several factors, including the

presence or absence of estrus

, the physiological state of the animal, and how long ago the animal passed by. This particular response is recognizable in

males

when smelling the urine of a

females

in heat.