Hallo,


Beautiful Trophies Hunted
(I recommend that you double-click on this e-mail in your inbox to open it properly. You will then have a better view of all the text and pictures. Note that it may take a few minutes for all the pictures to open.)
If you can not see the pictures included in this mail, you can view our Newsletter on the Web. Just click here!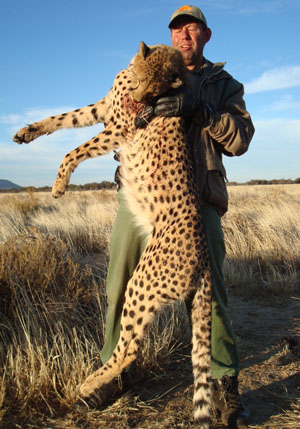 Read in this Newsletter about:
The definition of "Happy Hunting"

Winter 2009

Many beautiful Trophies

Flight Tickets 2010

Your new wallpaper: Around a campfire in the Kalahari

Maria's Interesting Kalahari Fact

Hunting Groups and Pictures

Cheetah... and Leopard

New Hunting Stories to Enjoy

Special Kalahari Videos

Spiritual Comfort

For Your Enjoyment...Sipho's Letter
Picture top right: A surprise opportunity... Michael with the Cheetah taken on another ranch where it killed some livestock.
---
Happy Hunting...?!
Brett Campbell, a recent hunting guest and now friend from New Zealand, told us in one of his mails... "Happy Hunting!". This phrase are often used, but during these last weeks, it took on a special meaning for us.
How can one meet so many very special people,
share the love for hunting, the outdoors and nature with them...
find so many great trophies...
learn together so much from nature and the skills and unbelievable abilities of animals...
all this in our beloved Kalahari region -
and not consider this happy hunting?
On top of this, the opportunity to be part of two unique hunts presented itself during the last two weeks and although we could share one of them with Michael Smith, Allison and Kyle from California, the most special opportunity arrived during this week (one week before the arrival of our next guests).
We would love to share something like this with any of the special hunting guests we've had in recent weeks - but this is how hunting goes: one never knows when something like this will cross your path.
I'm refering here to a special Leopard hunt we could be part of - just yesterday. More about the hunt further down in the Newsletter.
We can just thank and honor our Creator for all the special experiences in life He provides for us. May we see everything that happens to us during our life on earth, as part of His bigger PLAN. And never forget that our only comfort in life, is not about how we can be satisfied by eartly pleasures, but to know that, what we are and what we have, belong to our Lord Jesus Christ.
Winter 2009
Winter 2009 in the Kalahari was quite different from what we are used to. We've had, more than once, a few quick showers of rain. Although winter arrived a bit late, it eventually came with full force. We now have the lowest temperatures we've had in years in Namibia. It is not "chilly". This week has been real cold. Temperatures of -8 °C (±25 °F) were measured by people in the region.
Flight Tickets 2010
We urge all our hunting clients who plan to hunt with us in 2010 to make sure that all flights for the period May to July 2010 be booked and confirmed as soon as possible. This is a matter of urgency.

As the FIFA Soccer World Cup will be held in South Africa from 11th June to the 11th July 2010, many of the flights into South Africa as well as Namibia are already fully booked for that period. Teams as well as soccer fans will start arriving in South Africa as early as May, and many will stay on well after the final match has been played.

So, if you haven't realized that it may be a problem, try to book your flight as soon as possible.
---
Click here to read more about the history of our website!

---
Exclusively for you, our subscribers:
The new free Kalahari Wallpaper for you this month, is a picture Brett Campbell took of some hunters around the campfire here in the Kalahari. This is where the most enjoyable part of the days are spend and where hunting experiences are relived. (Thank you, Brett!)

Remember that the password to see this page is:

uitspanranch453

Back Issues of our newsletter are now only available to you as subscribers.

If you wish to see previous issues of our newsletter Kalahari Hunting News, click here to find those Back Issues!
---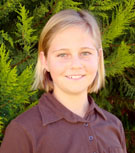 Maria shares an interesting fact about the Kalahari...
(Our daughter Maria is 11 years old and I asked her to write down an interesting fact about the Kalahari or any of its animals for every issue of our Newsletter. I'm sharing it as she wrote it down.)

Sharing a beautiful home...

"The Sociable Weaver's nest is very big - it could be as big as 4 meters deep and 7 meters from 1 side to another. There are many chambers inside, because this nest is the home of up to 300 birds, the chicks included. This nest is made so good, that it protects the many birds inside it, even in weather from blazing hot to icy cold and the birds are very safe from the changing weather.

Besides the people, there is another admirer for the weavers and their comfortable home: the Pygmy Falcon. It admires the nest's structure so much, that, when it goes out to look for prey, it settles in at the Sociable Weaver's nest and look for an unoccupied chamber. When you look very carefully, you would see the Pygmy Falcon's chamber by looking for the white dried-out droppings these Pygmy Falcons leave at the entrances. I wonder if the Pygmy Falcon helps the weavers in return for the nice and comfortable home. Probably it helps the weavers to look out for enemies. I really hope so!"
(Pictures: A Sociable Weaver and its nest in the Kalahari. The picture was taken from below the nest.)

The Kalahari will reveal itself
to only those who
seek with a true heart...
---
Hunting News / Pictures / Stories
Our hunting season of 2009 started with dear friends John and Marshall visiting from Washington, USA. We had more about their visit and short hunt in the previous issue of our newsletter.
The busiest time of our hunting season then kicked off with Stephan Hofmann from Illinois, USA. Steve's Eland and Sandgrouse hunting pictures were already included in the above mentioned newsletter.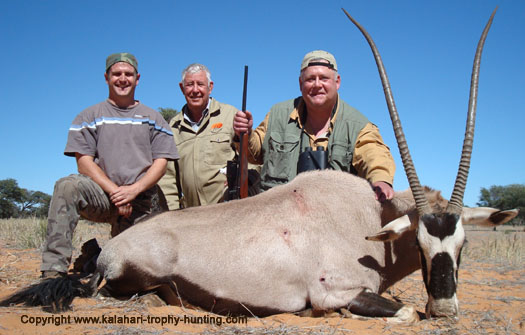 Above: Hendrik, son-in-law Neil and Steve with his Kalahari Gemsbok.

Steve hunted on his last day at Uitspan a very good Black Wildebeest trophy (picture below).

Steve wrote a story about his Black Wildebeest hunt on Uitspan. You can click here to read "The Black Bull of the Kalahari".

Steve hunted Eland, Gemsbok, Springbok, Impala, Blesbok, Duiker, Black Wildebeest, African Wild Cat, Bat-Eared Fox and Cape Fox.

Steve has submitted many African hunting stories on our website. You can read about his hunts and experiences on the "African Hunting Stories"-page of our site. Thank you for your stories, Steve!
---
Next we had Gert and Hennie from Netherlands. This hunt was very special to us... we had the treat to communicate, most of the time, with our hunting friends in our home language Afrikaans! Together we enjoyed the similarities and interesting differences between Dutch and Afrikaans and shared special moments in terms of culture and language.
Gert's hunt in Namibia started with a hunt for Mountain Zebra in the Khomas Hochland area near Windhoek. Several conditions on the day of the hunt, made it one of the hardest hunts I ever had. Gert and I followed the Zebra for ± 10 km over rough terrain.
All our skills, patience and endurance-abilities were tested to the limit. Thanks also to the fast-footed and sharp-eyed tracker Hakeb who were with us, we found the Zebra 5 hours later.
For Gert it was the hunt of a lifetime. We've learned valuable lessons in nature and these are things which make hunting so enjoyable and wonderful.
Thanks, Gert, for sharing a great experience!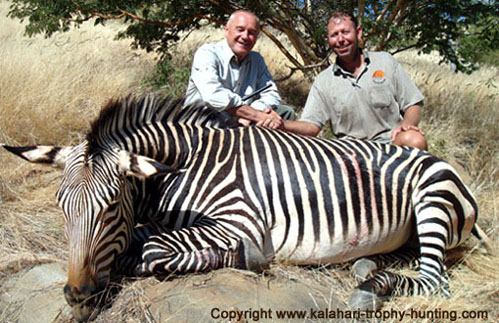 Below: Hennie got hold of a very nice Warthog (see below) in the Seeis-area where we hunt these most beautiful, ugly beasts.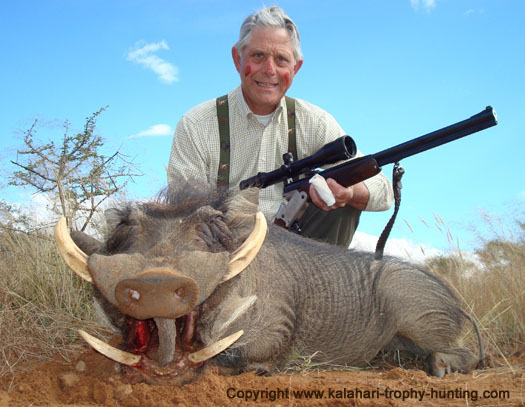 Below: Gert's Impala hunted on Uitspan in the Kalahari.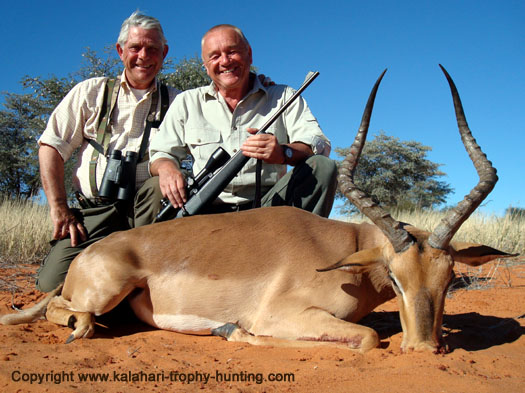 Below: Hennie with his Kalahari Gemsbok.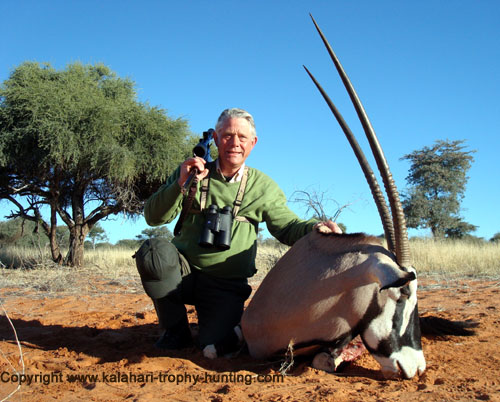 Gert and Hennie hunted Zebra, Warthog, Gemsbok, Impala, Springbok, Blesbok and Black Wildebeest.
---
Hunting Groups for next issues
We've had the following hunting groups after the above-mentioned:
Frans & Hennie Wessels, Jaco Louw and Gary Doms from Cape Town, South Africa . They hunted for meat and this was their third hunt on Uitspan.
Kiwi Hunt: Tom Brough, Brett Campbell with his father Colin and John Anselmi from New Zealand. They took exceptional trophies and we had a very special time together as fellow-farmers and -hunters.
Michael Smith with his daughter Allison and Kyle from California, USA. They could share in the Cheetah hunt.
Kobus Stofberg with his wife Driena, mother Marie and son Pieter(10) from Rawsonville, RSA. More of a visit to relax in the Kalahari, but Kobus shot some Kudu for us for meat and Pieter took great shot on a Springbok.
Frans Odendaal, John Paul, Rodney Pretorius with his wife Margaret and son Thomas from RSA. They also hunted for meat.
Leopard hunter from Arizona. He came with another outfitter to the Kalahari.
We will publish reports and pictures of these hunts in next issues of our Newsletter. Do not miss them!

---
Two Special Opportunities
Michael Smith, his daughter Allison and son Kyle from California arrived on June 28th in Namibia for their hunt with us. Early the next morning we went out to hunt Warthog in a special area near the international airport. The region is famous for huge Warthogs.
As we were driving out, Kyle spotted two Cheetah in the grass about 180 yards from us. These Cheetah were near some cattle and we were informed that the owner of the farm had several losses of livestock in recent weeks. It had to be taken out. It was the biggest male Cheetah we've seen in years.
(Great spotting, Kyle, especially for your first day in Africa!)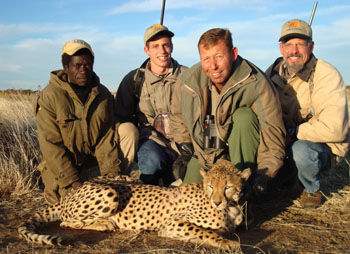 About three days ago, we received notification of a Leopard killing stock on a nearby farm. Since we didn't have hunting guests with us this week, we phoned an outfitter-friend and yes... he had a hunter from Arizona, USA who really wanted the opportunity. Early this year a permit for Leopard was already issued to this hunter.
The hunting group flew in by charter flight and we had to be ready with accommodation for 4 extra people within 2 hours since we've got notice that they are coming. That evening, plans were made and organization were done for early the following morning.
We've shared many hunts and PH and outfitter Kobus asked me and Hendrik to assist them in the tracking down of the Leopard, since the Kalahari is our "territory".
Upon arrival on the farm, we found several sheep and Springbok killed and Leopard tracks all over the area.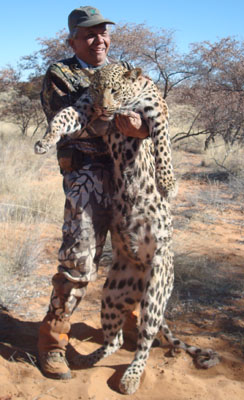 It took us a few hours to find the freshest tracks and after some kilometers of hard tracking in the Kalahari sand, we found the cat... laying down in the grass - ready to jump the truck. The hunter took a precise and good shot.
Picture: Hunter from Arizona, USA with the Leopard.
Hunting Leopard like this, is to experience the ultimate.
The tracking were really hard (I ran ± 8 kilometres on it) but I enjoyed every moment of the challenge.
I want to thank my father Hendrik, for his incredible assistance during this hunt.
His usual gut-feeling for the possible movements and reactions of Kalahari animals are just unbelievable. Without his motivation and great decisions taken, we may not have found this cat.

This is another one of the hunts with my father, which I will never forget. What a privilege...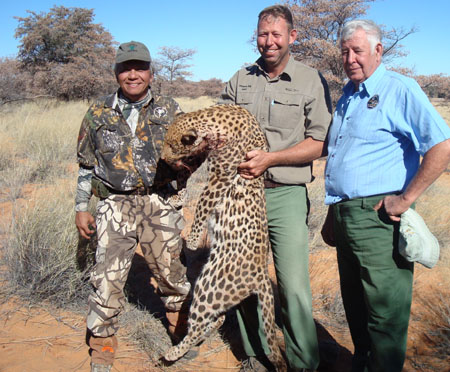 Above: The hunter, me and my father.

---
Great Kalahari Videos
Here are a few videos we selected for you to watch. These will bring the Kalahari home to you!
More Africa video's on our website...
---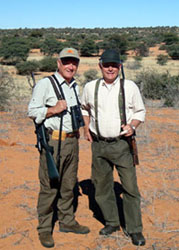 Important Hunting Links
---
New Content on Kalahari-Trophy-Hunting.com
We received new hunting stories on our website. Steve Hofmann added...
(If you would like, you can click here to read more African Hunting Stories!)
We've added a new page to our website recently. This is the place where anyone of our hunters from now on, can share their Kalahari Hunting experience on the web. You will be able to send your family and friends to your own page on our site where they will also be able to add their comments and ratings of your story (just like our Africa Hunting Stories-page).

As time goes by, this page may get more and more stories, pictures and reviews. If YOU hunted with us, feel free to share your experience! Click here to add your hunt.
Previous Kalahari Hunting Reviews shared:
---
Any comments on Kalahari Hunting News?
It is always great to get feedback.
So... please take a moment to Comment Here!
---
Spiritual comfort... Light out of Darkness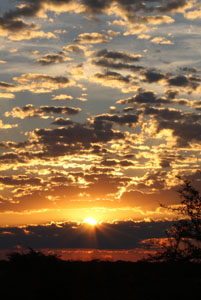 "For God, who commanded the light to shine out of darkness, hath shined in our hearts, to give the light of the knowledge of the glory of God in the face of Jesus Christ."
~ 2 Corinthians 4:6
A necessary prayer
Read Psalm 43

It is obvious that man has come a long way since the day of David. All our labor-saving devices, medical advances, means of transportation, bodily comforts and conveniences make life in the Old Testament look dull and monotonous.

But we must not overlook the fact that man has also come a long way in sin! And that includes attacks upon the truth of God's word. Therefore when in Psalm 43:1 David wrote, "Judge me, O God, and plead my cause against an ungodly nation: O deliver me from the deceitful and unjust man," we have a prayer that we ourselves are in great need of presenting to God.

Although we do not have "an ungodly nation"' from which we need physical and bodily deliverance, we are surrounded by deceitful and unjust men who twist the Scriptures and attack us with heretical teachings. We are attacked and also our children, as far as our spiritual lives are concerned, and are assaulted with sharp arrows of the lie and with crafty approaches that appeal to our flesh. We, too, should pray:
Judge me, God of my salvation,
Plead my cause, for Thee I trust;
Hear my earnest supplication,
Save me from my foes unjust.
The sad and alarming fact today is that men do not take as seriously the attack of Satan and the men he uses to attack us with false doctrines, as they do the fear of a nuclear war that will bring material loss and painful death. Men fear other men far more than they fear Satan and his innumerable host that tries to turn us away from Christ, and to seek the things below rather than the things above in Christ's kingdom.
But remember that not only is the antichrist coming soon to have control of the whole earth and all men upon it, but as we read in I John 2:18, there are already many antichrists who are working hard to deceive us and our children, seeking to get us to seek the world and look for the Antichrist rather than seek the things above and look for Christ to come.
We have very much need to pray that God will save His church from the antichrists which try to turn us away from Christ and the salvation from sin and from the lie which He will bring.
Quote for Reflection:
"What is thy only comfort in life and death?

Answer: That I with body and soul, both in life and death, am not my own, but belong unto my faithful Savior Jesus Christ; who, with his precious blood, hath fully satisfied for all my sins, and delivered me from all the power of the devil; and so preserves me that without the will of my heavenly Father, not a hair can fall from my head; yea, that all things must be subservient to my salvation, and therefore, by his Holy Spirit, he also assures me of eternal life, and makes me sincerely willing and ready, henceforth, to live unto him."
~ The Heidelberg Catechism, Lord's Day 1
---
We thank the PRCA, who made this Daily Meditations of Rev. Heys available for our Newsletter. Read more about their missions, literature and wonderful publications on their website.
Click here to visit the PRCA's site.
Take a moment and listen here to an audio sermon online.
---
For Your Enjoyment: Sipho's Letter
LETTER TO TRUWORTHS IN JOHANNESBURG
Dear Sir/Madam
I acknowledge receipt of your letter dated 7 July 2008 in which for the 3rd time, you request that I pay the monies owed to you. I first want you to know that by no means do I dispute my debt and I intend to pay as soon as possible.
However I would like to bring to your attention that you are not my only creditor. I have many more creditors,quite as honourable and important as you, and whom I wish to pay too. That is why, each month, I throw all the names of my creditors into a hat and draw one randomly. The one drawn is paid immediately.
I hope that yours will come out shortly.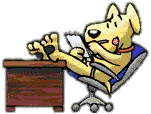 Sincerely Yours,
Sipho
PS: I regret to inform you that given the harsh and threatening tone of your last letter, you will not be taking part in the next three draws.
(Dankie oom Hennie, vir nog 'n goeie een!)
---
If you like this e-zine, please do a friend and me a big favor and "pay it forward."

If a friend DID forward this to you and if you like what you read, please subscribe by visiting...Kalahari Hunting News or leave us a message here!
---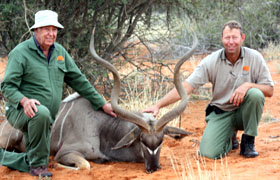 Till next time...
"Blessed is every one that feareth the LORD; that walketh in his ways. For thou shalt eat the labour of thine hands: happy shalt thou be, and it shall be well with thee."
(Ps.128:1)
Greetings from
Uitspan Hunting Ranch, Namibia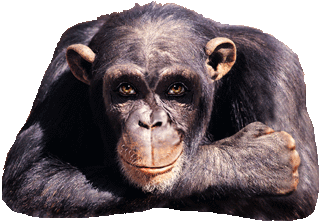 ---