Hallo,


They are beautiful... and wild!
(I recommend that you double-click on this e-mail in your inbox to open it properly. You will then have a better view of all the text and pictures. Note that it may take a few minutes for all the pictures to open.)
If you can not see the pictures included in this mail, you can view our Newsletter on the Web. Just click here!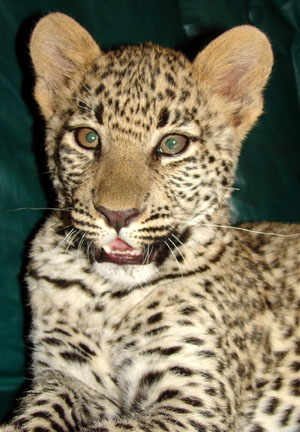 Read in this Newsletter about:
Autumn 2009

Beautiful... but wild

A Tame Leopard

Snakes galore

Your new wallpaper: Green Kalahari

Maria's Interesting Kalahari Fact

Hunting Pictures... a new season!

Future Hunt Reviews

New Hunting Stories to Enjoy

A Leopard Hunt Accident

Spiritual Comfort

For Your Enjoyment...Equipped to be?
Picture top right: A young leopard lying on a couch... read more below.
Watch this video: Tiaan's Kalahari Kudu Hunt
---
Autumn 2009
It's been autumn in Namibia and for us, it is always one of the most enjoyable times of the year. This is because of the fact that the Kalahari has long and hot summers and one feels just ready for cooler weather. We also enjoy autumn since it is the greenest time of the year - just after our rain season.
Now it is already winter here, but experiencing a Kalahari winter, will definately not fit to most of our hunting-friends-elsewhere-in-the-world's definition of WINTER.
We have with us now Steve from Illinois, USA. Steve told me this morning, when we commented on the early morning cold, that this is not cold at all. It's just a bit "chilly" - according to him. From 10h00 a.m., we walk around with short sleeves until ±07h00 p.m. And this is a typically Kalahari winter climate.
If you are interested, you can read more about the Kalahari's climate at this link.
It sometimes gets really cold and then we also have frost at night. But that occurs only about 5 or 6 nights in a year.
A Tame Leopard
We recently visit some friends living in northern Namibia. They have this really beautiful and young tame leopard.
To see this young cat play, walk, stalk and run in a domestic environment, made us realize again just how completely dangerous they can be for any human. It is not without reason referred to as the "ultimate cat". It's courage, ferocity, stealth and power, makes it a lethal predator.
Our friends became in a short while so attached to their "kitty". And indeed - sometime he lays down on the couch and looks so innocent and sweet. But boy.... see him watch and stalk our little daughter! He always seems to keep an eye on the smallest one around. I kept little Isabella on my hip most of the time. Because I know that one can never be too careful around a wild animal. No matter how beautiful they are... they are still wild.
If you missed it, have a look at one of the previous issues of Kalahari Hunting News where we shared a leopard hunt of a lifetime.
Click here to read it.
Snakes in Abundance!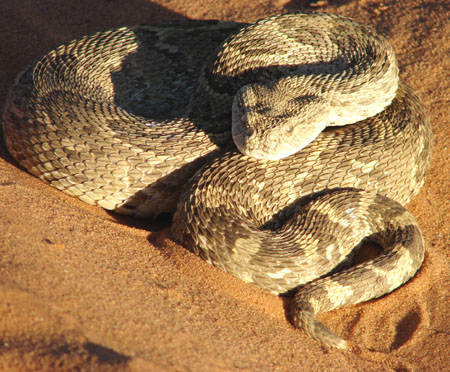 In recent weeks we've had a lot of snake activity. The snakes were very inactive during the actual rain season. That is usually the time we are on the lookout for them. However, this year they were quite rarely seen.... until about three weeks ago. Now we have to be really careful when walking in the veld. You just do not want to step on a Puff Adder.
Did you know...
The Puff Adder is responsible for more fatalities than any other African snake. It's long fangs, potent venom, bad temper, reluctance to flee, habits of sunning by footpaths and lying quietly when approached are the main reasons for this.

If disturbed, they will hiss loudly and continuously, adopting a tightly coiled defensive posture with the fore part of thier body held in a taut 'S' shape (see the picture above).

The Puff Adder relies on camouflage for protection.

Although mainly terrestrial, these snakes are good swimmers and can also climb with ease. Often they are found basking in low bushes.

They may strike suddenly and with very high speed, doing so to the side as easily as forwards before returning quickly to the defensive position, ready to strike again.

They can strike to a distance of about one third of their body length. Juveniles, however, will launch their entire bodies forwards in the process.

Females produce a pheromone to attract males, which engage in neck-wrestling combat dances.

Puff Adders give birth to large numbers of offspring: litters of over 80 have been reported, while 50–60 is not unusual.

Venom yield is typically between 100–350 mg, with a maximum of 750 mg. About 100 mg is thought to be enough to kill a healthy adult human male, with death occurring after 25 hours or more.The average specimen may have enough venom to kill 4 to 5 men.

When bitten, serious local and systemic symptoms can be seen in humans. Severe pain, tenderness and hemorrhages can occur. These can lead to shock, nausea, hypotension, weakness, dizziness and periods of unconsciousness. Skin and tissue necrosis can occur in the most serious situations. Most fatalities however, are associated with poor clinical management or neglect to be treated.
Puff Adder Videos for your enjoyment...
---
Click here to read more about the history of our website!

---
Exclusively for you, our subscribers:
The new free Kalahari Wallpaper for you this month, is a picture of a Giraffe on Uitspan Ranch. As we found this Giraffe standing in the veldt with the full moon rising over Botswana in the background, I just couldn't resist taking its picture.

Remember that the password to see this page is:

uitspanranch453

Back Issues of our newsletter are now only available to you as subscribers.

If you wish to see previous issues of our newsletter Kalahari Hunting News, click here to find those Back Issues!
---

Maria shares an interesting fact about the Kalahari...
(Our daughter Maria is almost 11 years old and I asked her to write down an interesting fact about the Kalahari or any of its animals for every issue of our Newsletter. I'm sharing it as she wrote it down.)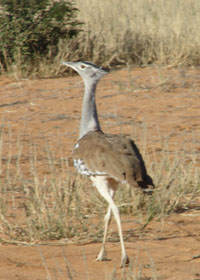 A Free Ride for Some Small Animals

"The Kori Bustard is Africa's biggest flying bird. It can weigh up to 18 kgs and has a wingspan of 2.8 metres.

This same big bird is seen as a "bus" by little animals because they can ride on him. They also like it since they can have dinner there without working for it. As the Kori Bustard walks around in the field, little insects get startled and fly up. The small animals then catch it.

As a pay for the free dinner and a nice ride, the small animals help to look out for danger."
(Picture: The Kori Bustard, Ardeotis kori, a common Kalahari bird.)

The Kalahari will reveal itself
to only those who
seek with a true heart...
---
Hunting News / Pictures / Stories
John MacDonald and Marshall Thompson were the first hunting friends visiting us this year. This is the third time they come to Uitspan and we so enjoyed the time together with these hunting friends.
John and Marshall didn't want to do a lot of hunting. They celebrated Easter with our family. We made "Potjie" on a red sand dune on a cousin's farm. This is tradition of the family to get together during Easter-weekend.
And it was special... as is always the case.
Dries van Wyk, a nearby farmer and long time friend of our family, gave John the opportunity to hunt a Gemsbok (see picture below). We had a very enjoyable dinner together with Dries and Hilda (picture above).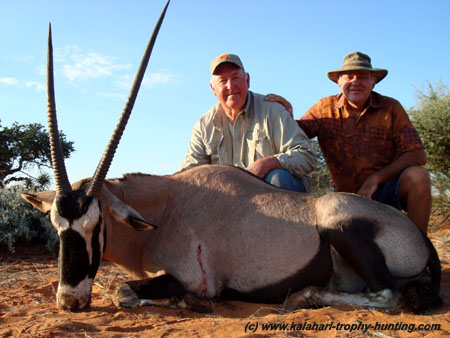 Marshall gave our son, Jan-Hendrik, a wonderful and special gift in the form of a .22 Chipmunk rifle.
We appreciate this and know that Marshall will always be remembered in our family, since the Chipmunk will also be used to introduce Jan-Hendrik's cousins to hunting.

---
Stephan Hofmann from Illinois, USA, is hunting with us on Uitspan Ranch this week. He already took several special trophies...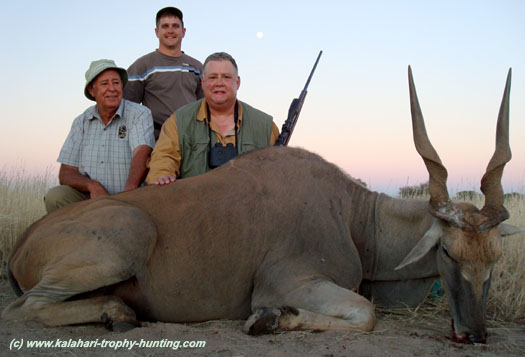 Above: Steve with a 39.5" Eland. Hendrik (left) and Neil, Michael's brother-in-law, joined the hunt.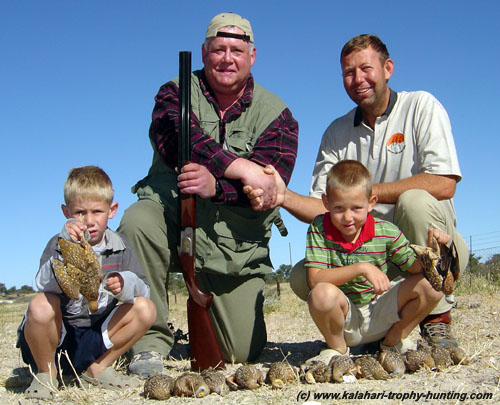 Above: A family-Sand Grouse hunt... Steve and Michael were joined by the cousins David (left) and Jan-Hendrik.
More of Steve's hunting pictures will be published in the next issue of our Newsletter.
Steve wrote comments on his Kalahari hunt for the newsletter. This was after his first four days of hunting on Uitspan...
"It is May 2009. I am at Uitspan Hunting Ranch in the Kalahari Desert of Namibia, Africa.
The vegetatian is quite lush. I expected bare red sand dunes with little growth. However, long grass and Camelthorn Acacia trees are everywhere.
The animal life is amazingly abundant. I have been extremely successful in my hunts so far. I have harvested a 40.5" Gemsbok, a 39.5" Livingstone Eland bull, a 16.5" Blesbok – all Rowland Ward and NAPHA Gold animals.
I have harvested from the waves of Burchell and Namaqua Sand Grouse with my .28 ga shotgun.
I followed the dogs after an African Wild Cat and shot the fierce little cat from a tree in the bright sunlight. I shot a Cape Fox, Bat-Eared Fox and a Springhare for unique trophies.
Uitspan is a paradise with all the wildlife. But it is the people that make the ranch an exceptional place to be. Michael and Tienie, Hendrik and Isabel are the warmest, most friendly people I have ever met. They make your stay at Uitspan a family outing.
If you want warm friendship, exceptional hunting and a pristine environment... come to Uitspan."
(Steve will still hunting with us when this issue of our Newsletter goes out.)
---
Great Kalahari Videos
Here are a few videos we selected for you to watch. These will bring the Kalahari home to you!
---
Namibia Trophy Hunting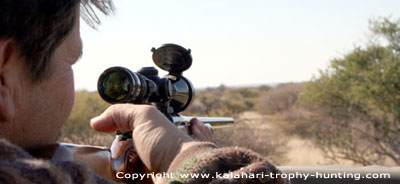 Find here info on Namibia's Trophy Hunting Regulations
---
New Content on Kalahari-Trophy-Hunting.com
We received two new hunting stories on our website. John deWeber from Washington, USA, shared his experience of hunting in Namibia.
Read these special hunting stories at the following links...
(If you would like, you can click here to read more African Hunting Stories!)
We've added a new page to our website recently. This is the place where anyone of our hunters from now on, can share their Kalahari Hunting experience on the web. You will be able to send your family and friends to your own page on our site where they will also be able to add their comments and ratings of your story (just like our Africa Hunting Stories-page).
As time goes by, this page may get more and more stories, pictures and reviews. If YOU will be hunting with us soon, remember to come back to our site and share it!
For now, click here to see where Kalahari Hunting Reviews will be added.
Previous Kalahari Hunting Reviews shared:
---
Any comments on Kalahari Hunting News?
It is always great to get feedback.
So... please take a moment to Comment Here!
---
Interesting Articles on Hunting
Accident on a Leopard Hunt...
Recently an accident happened to Brittany Boddington, daughter of the famous writer Craig Boddington, while hunting Leopard in Namibia. The dog handler who was wounded in the accident, is recovering in hospital. Here is Brittany's official police report of what happened:
---
"I, Brittany Boddington, a 23 year old U.S. citizen herewith declare under oath as follows:
I was hunting leopard with Nic Kruger of Omujeve Hunting Safaris Namibia on the Fahlwater farm in the Karibib district. We found some fresh leopard tracks at about 5:15 in the morning and when it was daybreak we put down the dogs. We set out following the sound of the hounds through the brush but this was a very aggressive cat, it was not running from the dogs like most cats do. Zukile was one of the dog handlers, he was contacting us by radio telling us that the cat was fighting the dogs and had injured several of them. These dogs know what they are doing and almost never get close enough to get hurt. After a couple of hours we came up to a really thick area where the dogs were barking and the leopard would not tree. The leopard held its ground and the dogs were tired and bleeding so we sent Classen to get the car so that we could give the dogs some water. At this point we called the dogs away from the leopard and they laid down in the shade waiting for the car to bring water. After they had all had water and were looking rested the dog handlers started encouraging the dogs to go back into the brush and find the tracks of where the leopard had gone. The dog handlers were sure that the leopard had run away because none of the dogs were barking so we started walking slowly in the direction that the leopard had been. Nic showed me the flattened grass in an area surrounded by bushes where the leopard had been hiding when the dogs were last barking. The dogs were scattered all around us looking for tracks and as I was examining the flattened grass area I heard a dog begin to bark. Before the dog could even get the whole bark out I heard the growl of the leopard. When I heard Nic's shot go off I stepped out from behind him and saw the leopard come out from behind a bush. The leopard paused for a moment and in the tall grass I could see only slightly more than the outline of the leopard's back. I saw that the leopard had been hit and it stopped with its head down in the grass. I got my rifle up and took a shot at the part of the leopard that I could see. The leopard then jumped up and Nic hit it again with another shot as the leopard ran into the bush and Nic ran after it to make sure it would not come back to attack again. At this moment I heard Zukile yell, we realized that Punki had been shot and we called Nic back and he sent Classen to get the car. We held pressure on the wound and we kept Punki awake until the car could get through the thick brush to where we were. We loaded him into the back seat of the car and I jumped on the back of the cruiser. The entire way to the hospital I was trying to figure out what had happened. I could only imagine that I had shot over the leopard and hit Punki as he was running away. I didn't know where they had been standing so I assumed that he had just run when the leopard charged. It was only after we had wheeled him into the emergency room that Simon told me "You should see what the leopard did to his ankle." My response was a surprised "The leopard bit him? When did the leopard bite him?" Simon then told me that Punki had been attacked and mauled by the leopard and that he was in fact under the leopard when I shot. I screamed "WHAT?" and then it all started to make sense. Nic had seen the two men fall to the ground in the tall grass before I had stepped out from behind him. Both men were wearing full camouflage from head to toe and in the tall grass they were completely invisible to me. The leopard bit through Punki's leather belt and had been thrashing him about in the grass when I shot. Apparently the leopard was pulling him up from the ground and as I fired my rifle the leopard pulled him up by the left side and the bullet must have missed the leopard and gone through his hip. I know better than to fire when a leopard is mauling someone, I would not have shot had I known that there was a person even close to the leopard. The whole attack from beginning to end took less than four seconds and there was just no time to sort out what was happening."
Brittany Boddington
---
Another hunter, Ray Atkinson, replied on a certain hunting forum as follows:
"In these situations about all I can say is they happen and any amount of investigation or assumptions will not change what happened..It is dangerous game and you have split decisions to make, and in most instances her call would have been the right one as to sit and do nothing could have ment injury or death and you do what seems right at the time and let the cards fall where they will and fate takes a hand...
There is no training ground for these situations, no schools, and if there was it would be a farce. You react by instinct, and some are better at this than others...
As I have repeatedly said, hunting dangerous game, man or animal is just that, dangerous!"
---
Spiritual comfort... the Bread of Life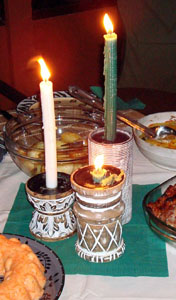 May the Word of God serve to become also in you a well -
"...But whosoever drinketh of the water that I shall give him shall never thirst; but the water that I shall give him shall be in him a well of water springing up into everlasting life." (John 4:14)
Choosing Wise Counselors
Read Psalm 119: 23,24

If someone files a court case against you, it would be wise to get legal help from one who can give you good advice and represent you as unjust charges are hurled at you before the judge. And as a child of God in the midst of a world where Satan uses crafty, clever men to try to get you accused of holding on to false doctrines, and of being guilty of walking in a sinful way, it is an act of wisdom to do as the psalmist writes in Psalm 119:23,24. He points out that "Princes also sit and speak against me but Thy servant did meditate in Thy statutes. Thy testimonies also are my delight and my counselors."

Turn to the word of God. Meditate in His statutes. Let His testimonies be your counselors. The point is that we had better know and quote the Scriptures for our defense. God must be our counselor as He speaks through His word. When Jesus was tempted by the devil in the wilderness He quoted God's word, and each time He not only shielded Himself from Satan's arrows by it, but used it to pierce Satan.

There are two activities which the psalmist tells us to perform when we are attacked or tempted to leave God's word and law, and to join those who err from God's commandments. We should meditate in God's statutes so that we know fully what they say to us. And we should seek the counsel which God has provided for us in His word. Then we have weapons of defense but also of offense to drive our attackers away.

The day is soon coming when princes, that is, government officials, are going to sit and speak against us. Yea even princes that are church officials will speak against us because we delight in God's statutes, laws, and testimonies. Satan is working hard to destroy the church of Christ and to produce the false Christ which Scripture calls 'the man of sin'.

Let God's word counsel you as how to resist Satan and drive him away. Find comfort and hope in God's word and sing with the psalmist:

I on Thy statutes meditate.
Though evil men deride;
Thy faithful word is my delight,
My counselor and guide.

Quote for Reflection:
"Almost every night I woke up, and the devil is there and wants to dispute with me. I have come to this conclusion: when the argument that the Christian is redeemed from the curse of the law doesn't help, (I roll over and ignore him). The rogue wants to dispute about righteousness although he himself is a knave. No man should be alone when he opposes Satan. The church and the ministry of the Word were instituted for this purpose, that hands may be joined together and one may help another. If the prayer of one doesn't help, the prayer of the other will."
~ Martin Luther
---
We thank the PRCA, who made this Daily Meditations of Rev. Heys available for our Newsletter. Read more about their missions, literature and wonderful publications on their website.
Click here to visit the PRCA's site.
Take a moment and listen here to an audio sermon online.
---
For Your Enjoyment: Equipped to Be...?
This is a portion of an ABC interview between a female broadcaster and General Cosgrove, Australia, who was about to sponsor a Boy Scout Troop visiting his military headquarters.
FEMALE INTERVIEWER: So, General Cosgrove, what things are you going to teach these young boys when they visit your base?
GENERAL COSGROVE: We're going to teach them climbing, canoeing, archery and shooting.
FEMALE INTERVIEWER: Shooting! That's a bit irresponsible, isn't it?
GENERAL COSGROVE: I don't see why, they'll be properly supervised on the rifle range.
FEMALE INTERVIEWER: Don't you admit that this is a terribly dangerous activity to be teaching children?
GENERAL COSGROVE: I don't see how. We will be teaching them proper rifle discipline before they even touch a firearm.
FEMALE INTERVIEWER: But you're equipping them to become violent killers.

GENERAL COSGROVE: Well, Ma'am, you're equipped to be a prostitute, but you're not one, are you?
The radio went silent.
---
If you like this e-zine, please do a friend and me a big favor and "pay it forward."

If a friend DID forward this to you and if you like what you read, please subscribe by visiting...Kalahari Hunting News or leave us a message here!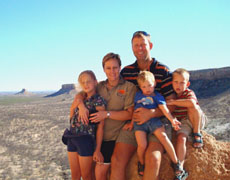 I created this website with the help of SBI. Click here to read about my experience...!
---
Till next time...
"Blessed is every one that feareth the LORD; that walketh in his ways. For thou shalt eat the labour of thine hands: happy shalt thou be, and it shall be well with thee."
(Ps.128:1)
Greetings from
Uitspan Hunting Ranch, Namibia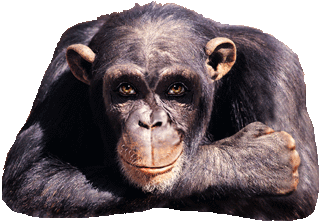 ---