Hallo,


Hunting at its best!
(I recommend that you double-click on this e-mail in your inbox to open it properly. You will then have a better view of all the text and pictures.Note that it may take a few minutes for all the pictures to open.)
If you can not see the pictures included in this mail, you can view this Newsletter on the Web. Just click on this link!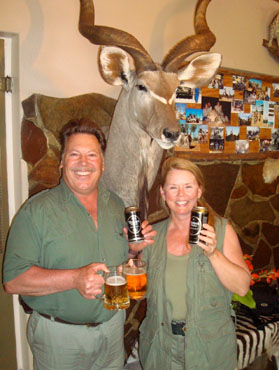 Read in this Newsletter about:
Enjoyable Hunting

Your new wallpaper: Kalahari Gemsbok

Maria's Interesting Kalahari Fact

Hunting Guest Pictures

The Leopard Hunt of a Lifetime!

Updated Special Hunting Packages

Air Travel Tips... for Hunters to Africa

African Hunting Stories... Closing date soon!

Learn Afrikaans

Definition and History of Hunting

Spiritual Comfort

For Your Enjoyment...You can learn how to do this - in Africa
Picture top right: Enjoying Windhoek Beer at Uitspan Ranch - Duke and Terri McIntosh, with whom we had so much fun together!
With this picture - to all of you:

PROST On Kalahari Hunting!
Have you seen this video? Click to see Tiaan's Kudu Hunt on Uitspan Ranch
---
Hallo... amidst Namibia's Hunting Season
After a wonderful rain season, the Kalahari's red sand is covered with lots of grass and thus food for all the animal species.
Since February, small animals like the Bat-Eared Foxes, Springhares, Rabbits and Steenboks tend to stay on the roads or open spaces around trees to escape from the long grass. They definately feel threatened in the dense brush and tall grass where they don't have a view of more than two or three feet in front of them.
Their being in the open spaces makes them even more vulnerable since the predators can spot them easier.
This picture was taken in March this year on Uitspan Ranch. Just see how beautiful and green it was. Although the grass grew a lot higher after this, is turned yellow after the first frost and the landscape once again changed its "outfit" - ready for the winter!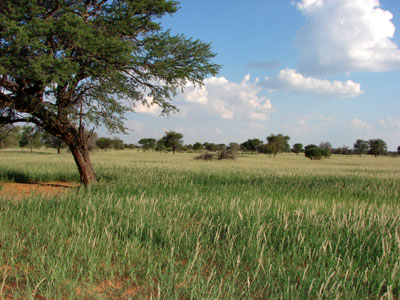 ---
Exclusively for you, our subscribers:
The new free Kalahari Wallpaper for you this month, is a beautiful picture of a Gemsbok antelope in the Kalahari.

Remember that the password to see this page is:

uitspanranch453

Back Issues of our newsletter are now only available to you as subscribers.

If you wish to see previous hunting pictures and hunting news,
click here to find those Back Issues!
---

Maria shares an interesting fact about the Kalahari...
(Our daughter Maria is 10 years old and I asked her to write down an interesting fact about the Kalahari or any of its animals for every issue of our Newsletter. I'm sharing it as she wrote it down.)
A gecko with a bark!

"You may not think I tell the truth, but there is a gecko that barks. He always "barks", not like a dog, oh no! He has a burrow with a funnel-shaped entrance and when the sunset come to show its face, the male-gecko-bark is for the females. The sound can be heard a few hundred yards away, and that is why he is so clever."
(Picture: The Common Barking Gecko or 'Ptenopus garrulus')
The Kalahari will reveal itself
to only those who
seek with a true heart...
---
Hunting News / Pictures / Stories
In April, Duke and Terri McIntosh from Michigan, USA, visited us on Uitspan Ranch. This was their first time in Africa.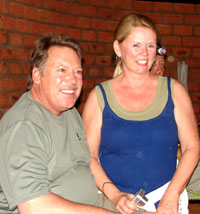 We had a lot of fun together and often wished that they could stay longer.
There is a story behind their Africa Hunting Safari... Terri didn't want to come.
She had a lot of fears for the "dark continent" - its bugs, its poverty, aids, killer animals, etc.
She wrote down her experience before, during and after their hunt in Namibia, Africa.

Below: Terri got so excited... she kissed the wrong man ;o))!
To see their hunting pictures and what they share about their African trip:
Click here to go to Terri's story!
Duke hunted a Duiker, Impala, Blesbok and Blue Wildebeest on Uitspan Ranch.
---
At the end of April, we had our special hunting friends from Cape Town, South Africa.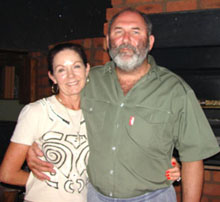 Hannes and Hester Swart come every year to Uitspan Ranch to fill up their freezers with Kudu-, Springbok-, Eland- and Gemsbok meat.
Hannes do all the processing himself and find it a good way of relaxing from his job (he is an Industrial Psychologist).
Hannes took this year 5 Kudus and 4 Springbok.
On the last evening of their time in our camp, they invited us to dinner! It was quite a treat to be catered for, instead of US catering FOR our guests as usual.
Thank you, Hannes and Hester, for your kindness and great company every year!
---
Then there was... The "Gilden Group".
Two charter planes... 8 Americans... 4 professional hunters... 3 assistants/drivers... 2 skinners... 2 cooks... 3 children of the family... 2 pilots... resulting in 18 trophies and 4 hectic days of organizing the logistics on Uitspan Ranch!
On the picture from left to right: Bob Foster, Nyka Tucker (niece of Garth and Tami), Garth and Tami Gilden (from Fidalgo Taxidermy in Washington), Connie Payton (wife of Randy), Nora and Eric Jensen and Randy Payton.
There was not nearly enough time to really get to know each of our guests better (as we like to do), but we hope they enjoyed their time with us.
Here a few of their pictures. It was quite difficult to decide who's pictures of which trophies to publish in this issue!
Below: Nora with her Burchell's Zebra... She also took an Impala.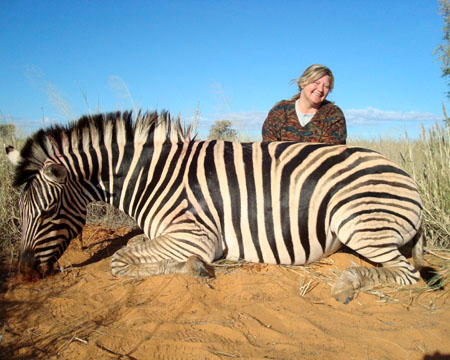 Below: Connie and Randy with his Kudu... He took 1 Gemsbok and 1 Kudu.
Below: Garth with his Springbok... He took 1 Eland, 1 Steenbok, 1 Kudu, 1 Gemsbok, 1 Springbok and a few smal animals.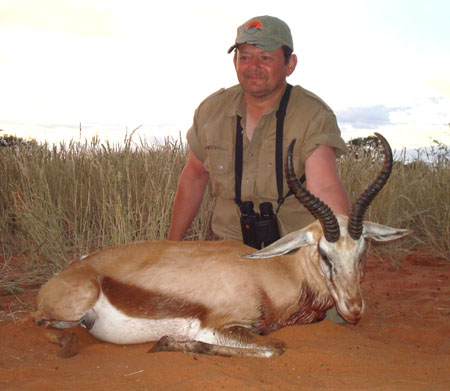 Below: Eric with his Gemsbok... He also took 1 Kudu, 1 Duiker and smaller animals.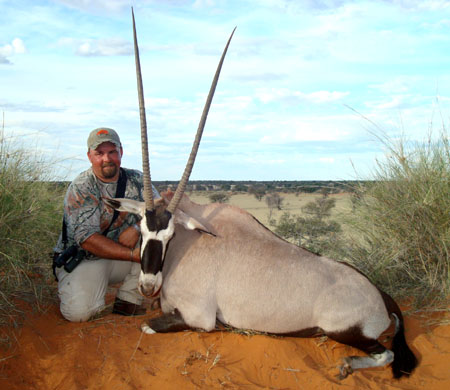 Below: Bob with his Eland... He took an Eland, 1 Gemsbok, 1 Impala and 1 Hartebeest.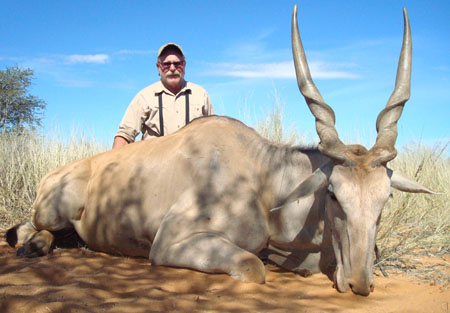 This hunt ended... after a night of waiting for THE Leopard. They didn't get it that night.
But let's tell this Hunting Story from the beginning.
---
Predators like Black-Backed Jackals, Caracal, Hyenas, Leopards and (once in a while) Lions, cause huge losses here in the Kalahari for ranchers living near the Botswana border.
If any of these predators make a kil, we know that it will come again and again.
We often have to track down such predators. These kind of hunts give you a total different scenario than sitting in a blind and waiting for a Leopard to come in.
This cat made several kills over 5 days - the first day a really big Gemsbok (of ±228 lb). It ate huge parts of the antelope... even the brisket bone (see the picture below)! Normally they eat only the parts with soft meat.
Below: Pics of some killings.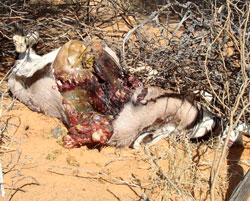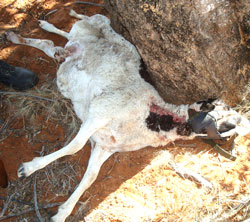 We immediately knew that it is only a big cat that can kill such a Gemsbok.
Eric and Garth (of the Gilden-group) just finished their plains game hunt and both of them were excited at the opportunity to add a Leopard.
Unfortunately it was their last day in Africa - they had a plane to catch home. The day after the Gemsbok kill, we waited late afternoon till ±10 o'clock for the cat to return to it's catch. Just after dawn, I got excited when I spotted something about 100 yards from us - coming in the direction of the killed Gemsbok.
However, it turned out to be another Gemsbok. Shortly after this we heard her snorting- as they normally do when they sense danger. I heard also the sound of clashing horns and thought that it was two bulls fighting.
The next morning we saw that it was indeed the Leopard that caught this female Gemsbok's calf while we were there - just a short distance away! However, it wouldn't have been able for us to see the cat in the long grass and darkness.
After more kills in the following nights, we decided to take the dogs and track it down. In the Kalahari we have the advantage that we can stay on the tracks more easily because of the thick, red sand.
We tracked it on foot for 2.5 miles with two trackers and 4 dogs.
The dogs picked up on him and immediately the one dog was badly bitten by the cat. We heard the commotion and knew then that we are very close - although we couldn't see far ahead because of the dense vegetation.
The chase went on for a further 1000 yards in very thick brush which made it impossible to get a good, clear shot on the Cat.
We were already very excausted by that time and I realized that the dogs will get too tired and then turn back. My brother-in-law just returned from a holiday and was quite unfit at that time. He had run out of air and I went back and took the 7 mm Brno from him which I had never shot with before. (I had my side-by-side 45/70, 12 gauge as back-up gun with me.)
The only chance on a shot was on 120 yards when the cat was running behind a row of bushes and I saw that he will cross this one specific opening of ± 5 inches.
The bullet broke his spine and exited on the opposite side's hind-quarter.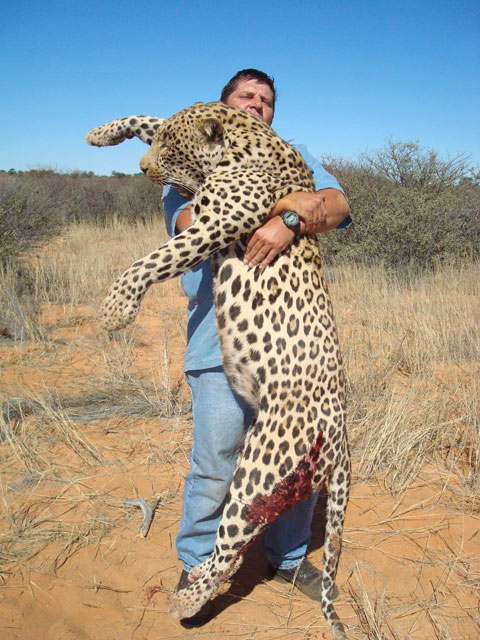 This is the fattest and biggest cat I've ever hunted. It weighted ± 70 kg.
I again learned some valuable lessons: In the future I will stick to my 30-06 with which I would have been able to shoot from a longer distance. If he would have turned on us (as I've seen several times before), the back-up gun would have been not within reach at that moment and I would have to use a gun which was not mine. Everybody involved in such a hunt, has to be in shape and fit enough to handle any physical challenge.
In my opinion, THIS is the ultimate hunting experience in terms of dangerous game.
I wish this for all true and great hunters!
~ Michael Duvenhage
---
We also had Chris Widger visiting and hunting with us. We had a quiet, but most enjoyable time with him.
We will publish his and other hunting news and pictures in the next issue of our Newsletter. This one is definately already loaded!
---
Updated Special Hunting Packages
We recently did some updates on the Special Hunting Packages offered on our website.
With the world's financial situation in a bit of a depression at the moment, it can't hurt to pay a lot less for your African Hunt Safari.
You'll see that our packages are really unbeatable. We made it available for booking until July 1st, 2008. After that, we'll have no choice but to adjust the prices.
So, if you are interested - talk it over with your hunting buddy, get him to join you and come for a Kalahari hunt.
Note that the special packages now include more choices of animals to harvest.
Click here to have a look at the updated SPECIAL HUNTING PACKAGES we offer!
Find here info on Namibia's Trophy Hunting Regulations
---
New Content on Kalahari-Trophy-Hunting.com
In case you missed it higher up, have a look at Terri McIntosh's review of their Hunting Safari in Africa:

Terry Blauwkamp wrote another great article for our website. As someone who has been to Africa 20+ times, he definately has something to share about TRAVELING TO AFRICA - don't you think?

So this is a brand new but long planned page on www.kalahari-trophy-hunting.

Please know that you are welcome to send us YOUR "Air Travel Tip"! It will be added to the page and may help someone else to make his / her trip more effortless. Have a look...

Click here to read Air Travel Tips for USA Hunters to Africa

Since we launched the Hunting Story CONTEST on our website, we've received 19 African Hunting Stories!

The closing date for entries, is June 30th 2008. So if any of our subscribers still want to add a story, better hurry up!

We received exceptional stories! The judges will have a tough task to choose the best one.

May the best story win! We hold thumbs for all of you...

If you would like, you can click here to read all the submitted Hunting Stories!

Below you will find links to the Hunting Stories which were submitted since our previous issue (alphabetically).

The Grey Ghost of the African Veld

You can visit our African Hunting Stories-page for details and info on the contest.

Coming to Southern Africa soon? Then learn some Afrikaans to make your trip even more enjoyable!

A native Afrikaner, now at an University in the USA, created this website to learn people Afrikaans.

We added a new Newsletter-comments page on our website. This is especially for those of you who would like to send a commenton Kalahari Hunting News.

It is always great to get feedback.

So... please take a moment to Comment Here!
Interesting Articles on Hunting
Most of us have had conversations with people who does not like hunting or who doesn't understand the reasons for hunting.

Well... you'll never again wonder what you should tell such a person if you read this.

To read, click on Reasons For Hunting

I updated a page on our website that had been there for very long. It includes some interesting facts about the "Definition and History of Hunting".

(For all of you who are DEER HUNTERS, make sure to have a look at two interesting E-books on that same page. If you are interested, just click on those links to see what these Deer Hunting E-books are about.)

Click on this link: Definition and History of Hunting
Spiritual comfort... the Bread of Life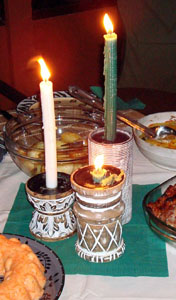 May the Word of God serve to become also in you a well -
"...But whosoever drinketh of the water that I shall give him shall never thirst; but the water that I shall give him shall be in him a well of water springing up into everlasting life." (John 4:14)
Completely and Perfectly Safe
Read Psalm 46: 1-10

Who is there that can stop a violent earthquake? Who can put a cork on the mouth of a volcano and stop the flow of destructive and killing lava? Who can protect his house when a tornado is headed toward it? Who can ward off the attack of an overwhelming number of fully armed murderous thieves?

The answer we will find in Psalm 46:1-3, where we read, "God is our refuge and our strength, a very present help in trouble. Therefore will we not fear, though the earth be removed, and though the mountains be carried into the midst of the sea; though the waters thereof roar and be troubled, though the mountains shake with the swelling thereof."

The almighty God is our hope. He has all things completely under His control. Threatening political, social, and economic situations are not due to temporary loss of control.

With God there are no accidents. Every creature large and small with life and without life, depends every split-second upon God for its existence, and does only what He is pleased to do through it.

We have, therefore a powerful Father Who does not simply keep every creature from working against our good, but in working what is for the good He promised us. He is our refuge but also our strength. In Him we hide, and His strength will surely keep us safe and bring us to everlasting blessedness.

A song we do well to learn and sing is our Psalter versification:
God is our refuge and our strength,
Our ever present aid,
And, therefore, though the earth remove,
We will not be afraid;
Though hills amidst the seas be cast,
Though foaming waters roar,
Yea though the mighty billows shake
The mountains on the shore.
We are headed for wars and rumors of wars, nation rising up against nation, famines, pestilences, and earthquakes in diverse places (Matthew 24:6-12).
But we are not only safe; all these will serve the purpose of preparing the way for Christ's return, and will bring us to the city of God and its everlasting blessedness.
Quote for Reflection:
...When God creates faith in a man, it is certainly as great a work as if He were creating heaven and earth anew.
— Martin Luther
---
We thank the PRCA, who made this Daily Meditations of Rev. Heys available for our Newsletter. Read more about their missions, literature and wonderful publications on their website PRCA.
---
For Your Enjoyment...
Learn in Africa How to Do This
We don't know the circumstances. We just know that you can come to Africa to learn...
how to load a vehicle!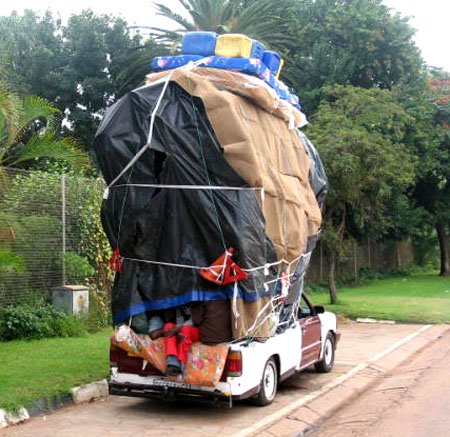 ---
If you like this e-zine, please do a friend and me a big favor and "pay it forward."

If a friend DID forward this to you and if you like what you read, please subscribe by visiting...Kalahari Hunting News or leave us a message here!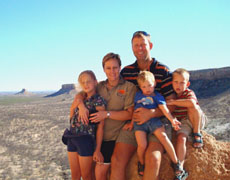 Did you know that YOU can build a website too? Take this quick tour now.!
---
Till next time...
"Blessed is every one that feareth the LORD; that walketh in his ways. For thou shalt eat the labour of thine hands: happy shalt thou be, and it shall be well with thee."
(Ps.128:1)
Greetings from
Uitspan Hunting Ranch, Namibia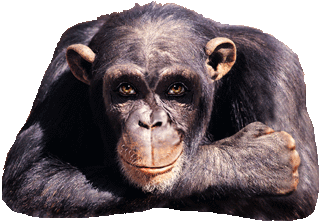 ---