Hallo,


Waltzing Matilda!
(I recommend that you double-click on this e-mail in your inbox to open it properly. You will then have a better view of all the text and pictures. Note that it may take a few minutes for all the pictures to open.)
If you can not see the pictures included in this mail, you can view our Newsletter on the Web. Just click here!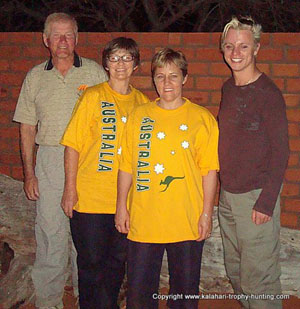 Read in this Newsletter about:
Kudus Anticipating Summer

Your new wallpaper: A Kalahari Sunrise

Maria's Interesting Kalahari Fact

Hunting Guest Pictures!

Issue of Namibian Elephants

Bookings for 2009

Special Hunting Packages - Offer Extended

Great Article on Rifle Calibers

African Hunting Stories... The First 12!

Learn Afrikaans

Spiritual Comfort

For Your Enjoyment...Beer Contains Female Hormones
Picture top right: Proudly displaying our Aussie-shirts. Scroll down to read more about John and Richard's time with us in the Kalahari.
Africa Hunting for Women? Read Terri's Review
---
Anticipating the rainy season
Winter has made way for spring here in the Kalahari and for most of us, including the animals, this is a time of new life, blossoms and leaves on the winter-dry bushes and shrubs. By September, the Kalahari's climate usually has warmed up enough to ensure that new leaves on bushes and shrubs are blooming. This provides welcome food after the dry Kalahari winter.
This year however, the browsing antelopes' survival skills are tested to its limits. Several cold fronts resently moved into the Western Cape of South Africa and it caused cold nights as high up north as where we live. This slowed down the blooming of bushes and Kudus especially are now quite thin.
All other game, on the contrary, are in very good condition since the Kalahari is still covered with last season's grass. This applies to Wildebeests, Eland, Hartebeest, Gemsbok and Springbok, etc.
But you can just imagine how we await - together with all browsers - the coming of the first rains here in the Kalahari.
---
Exclusively for you, our subscribers:
---

Maria shares an interesting fact about the Kalahari...
(Our daughter Maria is 10 years old and I asked her to write down an interesting fact about the Kalahari or any of its animals for every issue of our Newsletter. I'm sharing it as she wrote it down.)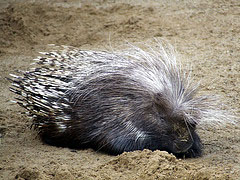 Porcupines!

"The porcupine is the largest rodent in Africa. His quills don't really look dangerous, but it is. He may not be able to shoot it out when a predator comes, but it gets stuck when it gets in its skin. The quills are not barbed, but it sometimes breaks off and then the victim can't get it out and it may cause infection."
(Picture: Porcupine or 'Histrix africaeaustralis')
The Kalahari will reveal itself
to only those who
seek with a true heart...
---
Hunting News / Pictures / Stories
We ended the previous Newsletter with a few hunting pictures of Anton Coetzee and his friends. This group of 8 adults and 4 grown-up children hunted on Uitspan earlier this year.
They took several Kudus and Gemsbok for meat purposes and also a Zebra trophy.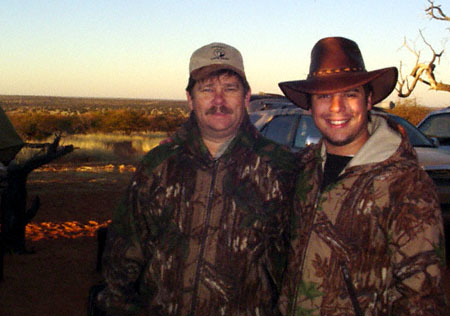 (Above: Lourens and Manie Theron - a father and son ready for hunting in the Kalahari)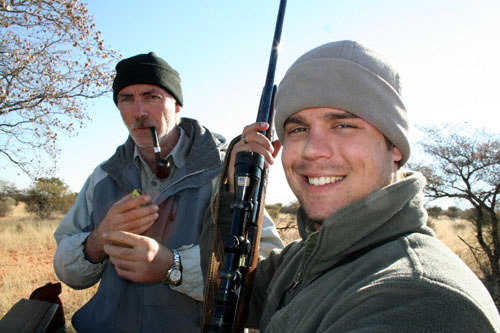 (Above: Anton Coetzee and Manie Theron on the vehicle.)
Anton has a tremendous love and appreciation for the Kalahari and always enjoys his hunts here very much.
Read his comments after their latest visit here.
---
In September we've had the privilege to welcome John and Richard from Australia for a hunting safari on Uitspan Ranch. John stalked all his trophies and took a Kudu, Gemsbok, Impala, Springbok and Blue Wildebeest in 4 days.

Richard joined the hunt as an observer. After their hunt with us, they undertook a tour through Namibia. We will publish more info and pictures of their hunt and Namibian experience in our next issue.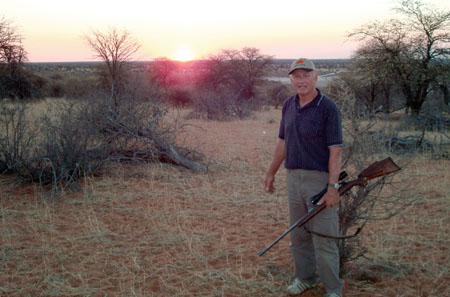 (Above: John on the hunt for his Kudu)

Well, we didn't sit beside a billabong or under the shade of a coolibah tree - but nevertheless feel like "Waltzing Matilda" all this time.

We had an absolutely amazing time with the Aussies. It seems as if we, as southern hemisphere inhabitants, share many views on life, politics and love for nature.
"Like music and art, love of nature is a common language that can transcend political or social boundaries."
Jimmy Carter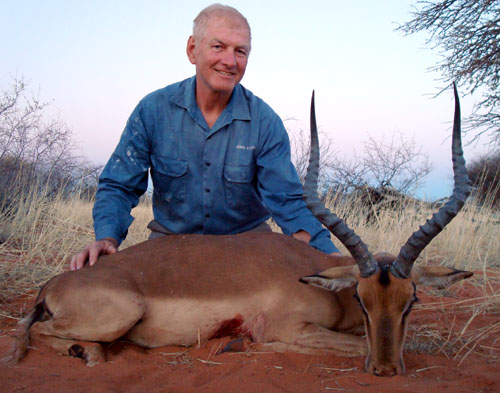 (Above: John with his Impala)
---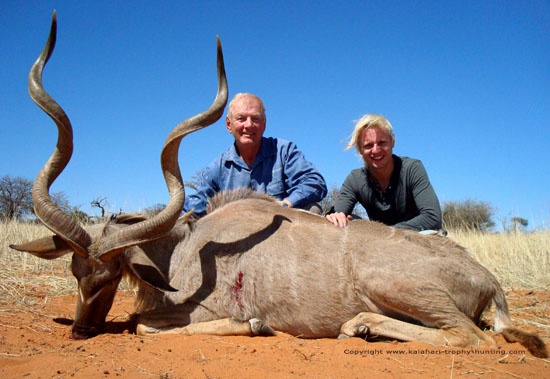 (Above: John and Richard with the Kudu)
(Above: John also hunted a Blue Wildebeest)
---
News from Namibia: Elephant Issue
Recently, there has been a lot of discussion and controversy about Namibia's desert Elephants.
On 27th August, 2008, the following article was published in the local New Era Newspaper:
The Ministry of Environment and Tourism says Namibia has more elephants now than at any other time in the last 100 years.

Growing at a rate of 3.3 percent per year, the country's elephant population is more than 20 000, up from 16 000 in 2004.

Minister of Environment and Tourism, Netumbo Nandi-Ndaitwah, said on Monday the entire population especially that of the Kunene Region was healthy and growing, with the levels of consumptive off takes being very conservative and being below the sustainable off takes.

Nandi-Ndaitwah was reacting to an article that appeared in a local English daily recently about three elephants that were allocated for trophy hunting. The article said there were fears that the action could reduce the number of already endangered rare desert bulls.
---
Bookings for 2009
At the end of July this year, Michael and I tackled the long-planned renovation process of our own house (for those of you who haven't been here - there are two homesteads on Uitspan Ranch and also a separate camp where our hunting clients are accommodated).
Amidst all this packing and moving out, we received a large number of hunting requests for 2009. We always love to communicate with hunters from all over the world and this "heap" of requests from our website kept us very busy, but we still find it interesting and enjoyable.
So... now we are looking to an almost booked-out 2009 (except for the months of March and September of which we still have some open spaces).
Hunters from USA, New Zealand, Ghana, Italy and South Africa will all contribute to an exciting and interesting 2009 Hunting season on Uitspan Ranch!
---
Read again... Roger Libby's Views on Hunting
As mentioned in our previous issue, Roger win our Hunting Story contest. We interviewed Roger per mail and here you can enjoy again his views on hunting.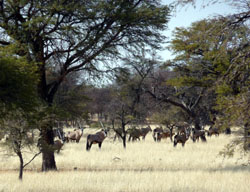 When asked what his reasons for hunting are, he replied:
There are several reasons why I enjoy hunting.
First is my love and fascination for all the wonderful animals. I know that to most non-hunters this seems absurd. To a hunter, it makes perfect sense. To pursue these wonderful creatures in their natural habitat, to match wits with them, to observe their beauty, uniqueness, grace, strength, speed, resilience, and intelligence is an experience that is indescribable. I love being close to them, and sharing their world. To come away more often than not having been out-witted by an animal helps to keep life in the proper perspective.
Hunting also takes me to locations that I would otherwise never see, and in some instances, the sights and sounds that I am fortunate to be a part of is an experience few people are lucky enough to observe.
And finally, hunting is my escape, my salvation. When the stress of life seems to be getting the best of me, I am able to rejuvenate my mind and soul. Whether I am high on a mountain top looking out across the vast wilderness, or looking out across the endless plains, all my senses are focused on one thing. For that brief time, the troubled thoughts that occupy my mind are absent, and I am at peace.
Returning to Africa...to what do you look forward to most?
The people, the animals, and the sundowners! No question!
As I sit here trying to come up with half-way interesting and intelligent answers, my mind is already filled with excitement and expectation. I can't wait to meet the people that have already started becoming my friends.
One of the things that occurred to me early on, when I first began to peruse your web-site, was the wonderful family atmosphere and genuine friendliness that all of you have displayed. When you travel half-way around the world, one of the most important things is the people you meet, the people who share in these once in a lifetime experiences. In entering the contest, I wanted to meet all of you, and I can't tell you how grateful I am to have this opportunity.
I obviously can't wait to observe all the animals once again, and in particular that special Kudu bull that has been beckoning me for the past 8 years.
And last, but certainly not least, I look forward to the sundowners. To pause at the end of a glorious day of hunting, sip a cold drink, perhaps smoke a special cigar, and sit with my friends as I watch the breathtaking sunset as it silhouettes the African skyline. I can't wait!
Read the rest of the interview at this link.
---
Special Hunting Packages
We did some updates on the Special Hunting Packages offered on our website.
With the world's financial situation in a bit of a depression at the moment, it can't hurt to pay a lot less for your African Hunt Safari.
You'll see that our packages are really unbeatable. We made it available for booking until November 1st, 2008. After that, we'll have no choice but to adjust the prices.
So, if you are interested - talk it over with your hunting buddy, get him to join you and come for a Kalahari hunt.
Note that the special packages now include more choices of animals to harvest.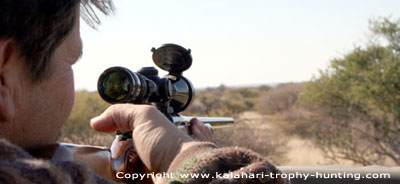 Click here to have a look at the updated SPECIAL HUNTING PACKAGES we offer!
Find here info on Namibia's Trophy Hunting Regulations
---
New Content on Kalahari-Trophy-Hunting.com
Interesting Articles on Hunting
Most of us have had conversations with people who does not like hunting or who doesn't understand the reasons for hunting.

Well... you'll never again wonder what you should tell such a person if you read this.

To read, click on Reasons For Hunting
Spiritual comfort... the Bread of Life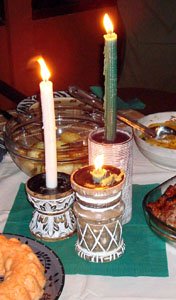 May the Word of God serve to become also in you a well -
"...But whosoever drinketh of the water that I shall give him shall never thirst; but the water that I shall give him shall be in him a well of water springing up into everlasting life." (John 4:14)
Safe in the arms of Jesus
Read Psalm 119:115-117

A desire does not mean that one has the ability to do that which will fulfill it. One with a malignant tumor will want it removed; but he surely cannot do that himself. So the child of God, because of his new spiritual life, will want to be freed from Satan's power and to be able to keep God's law perfectly, and will say to the world, "Depart from me ye evil doers: for I will keep the commandments of my God." (Psalm 119:115) But because he cannot make them depart, he prays to God: "Uphold me according to Thy word, that I may live: and let me not be ashamed of my hope. Hold Thou me up, and I shall be safe: and I will have respect unto Thy statutes continually." Psalm 119:116, 117.

What we say then to the world, and to Satan the prince of this world, must be in perfect harmony with our prayer to God. If we really want to walk in love to God, we must tell the world to depart from us. We cannot have fellowship with God and those who hate God.

Join the world in its carnal entertainment and glorification of sin, and you do not mean it when you pray, "Let me not be ashamed of my hope." In Romans 1:32 Paul exposes the evil of having pleasure in them that have pleasure in sin.

And the psalmist reveals a very important truth here. We must realize our complete dependency upon God for a righteous walk. Think that you can do that alone, and you do not really want to walk in love to God. And you do not really see how much Satan has you in his power.

No, the child of God prays that God will hold him up. He sings, and in his song he prays:
According to Thy gracious word
Uphold me, Lord, deliver me;
O do not let me be ashamed
Of patient hope and trust in Thee;
O hold Thou me, and I shall stand
And ever follow Thy command.
We are safe because we are upheld according to God's word. And that word assures us that we are safe in the arms of Jesus, Who blotted out our sins and now has all power in heaven and on earth to bring forth presently, and now keep, a perfect church to God's glory.
Quote for Reflection:
..."If we do not prefer the Church to all other objects of our solicitude, we are unworthy of being accounted among her members."
~ John Calvin
---
We thank the PRCA, who made this Daily Meditations of Rev. Heys available for our Newsletter. Read more about their missions, literature and wonderful publications on their website PRCA.
---
Beer Contains Female Hormones...
Last month, National University of Lesotho scientists released the results of a recent analysis that revealed the presence of female hormones in beer. Men should take a concerned look at their beer consumption. The theory is that beer contains female hormones (hops contain phytoestrogens) and that by drinking enough beer, men turn into women.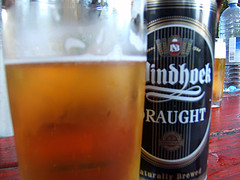 To test the theory, 100 men drank 8 pints of beer each within a 1 hour period. It was then observed that 100% of the test subjects:
1) Argued over nothing.
2) Refused to apologize when obviously wrong.
3) Gained weight.
4) Talked excessively without making sense.
5) Became overly emotional.
6) Couldn't drive.
7) Failed to think rationally.
8) Had to sit down while urinating.
No further testing was considered necessary.
Send this to the men you know to warn them about drinking too much beer!
And send it to your women friends to give them a good laugh! If you think they can handle it!
---
If you like this e-zine, please do a friend and me a big favor and "pay it forward."

If a friend DID forward this to you and if you like what you read, please subscribe by visiting...Kalahari Hunting News or leave us a message here!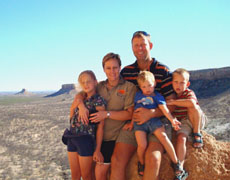 I created this website with the help of SBI. Click here to read about my experience...!
---
Till next time...
"Blessed is every one that feareth the LORD; that walketh in his ways. For thou shalt eat the labour of thine hands: happy shalt thou be, and it shall be well with thee."
(Ps.128:1)
Greetings from
Uitspan Hunting Ranch, Namibia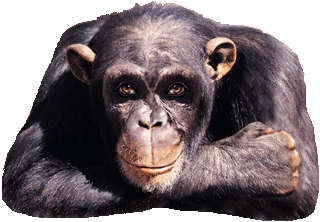 ---