Hallo,


Contest Results and More Hunting!
(I recommend that you double-click on this e-mail in your inbox to open it properly. You will then have a better view of all the text and pictures.Note that it may take a few minutes for all the pictures to open.)
If you can not see the pictures included in this mail, you can view this Newsletter on the Web. Just click on this link!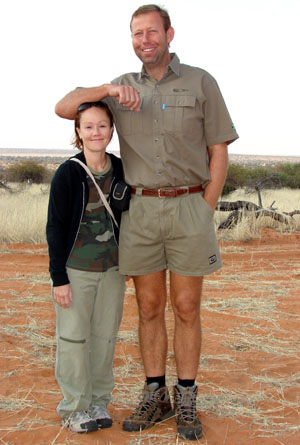 Read in this Newsletter about:
African Hunting Story Contest: Results!

Your new wallpaper: Greater Kudu in a wintry Kalahari Landscape

Maria's Interesting Kalahari Fact

Hunting Guest Pictures

A U$12000 Caracal!

We asked...Roger Libby answered

Special Hunting Packages - Book before September '08

Air Travel Tips... for Hunters to Africa

African Hunting Stories... The First 12!

Learn Afrikaans

Spiritual Comfort

For Your Enjoyment...You can learn how to do this - in Africa
Picture top right: Michael with "Mrs. 5'" from Florida, USA. Thanks, Melissa, for being so much fun! Scroll down to read more about this group's Kalahari hunt.
Africa Hunting for Women? Read Terri's Review
---
African Hunting Story Contest... RESULTS!
As most of our subscribers will know by this time... we launched an "African Hunting Story Contest" on our website. The closing date for stories to be entered for the competition was June, 30th.
You can imagine how exciting and interesting it was for me to receive every new story as it was submitted to our site by the authors! It was an honor and I want to thank everyone who took the time to contribute his/her hunting story and thus join our "online-campfire-community".
At the start of the contest, we thought that we (as the management-team of Uitspan Hunting) will choose which story deserves to win our first prize (a hunt with us in the Kalahari). As time went by, we realized that this will not be easy to do and so we appointed 10 judges. These judges were informed about their task only after the closing date. They had 23 stories to read and to rate...
(Click here if you would like to see the Hunting Story-page.)
Well, the winning story that received the highest total points from our judges:
"You Only Go Around Once...
(click on the titel above to read this story)
by Roger Libby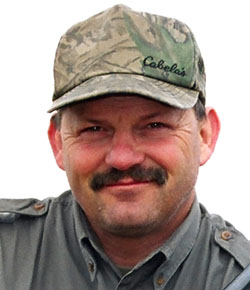 Congratulations to Roger (picture above)! We are looking forward to our time together with Roger and his wife Debbie on Uitspan Ranch. His winning prize includes:
Five (5) days of FREE accommodation
for the author and his partner
The following FREE Trophies to hunt with us:
1 Gemsbok, 1 Springbok, 1 Steenbok, 1 Duiker
Below you will find Roger's comments on some questions we asked him. It includes his first memories of hunting and thoughts on hunting in Africa.
---
Exclusively for you, our subscribers:
The new free Kalahari Wallpaper for you this month, is a picture of the Greater Southern Kudu - here in the wintry landscape of the Kalahari.

Remember that the password to see this page is:

uitspanranch453

Back Issues of our newsletter are now only available to you as subscribers.

If you wish to see previous issues of our newsletter Kalahari Hunting News,
click here to find those Back Issues!
---

Maria shares an interesting fact about the Kalahari...
(Our daughter Maria is 10 years old and I asked her to write down an interesting fact about the Kalahari or any of its animals for every issue of our Newsletter. I'm sharing it as she wrote it down.)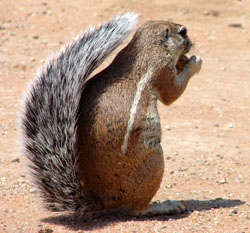 Kalahari Umbrella!

"We don't really think of how animals keep cool during the warm summer days in the desert. Here is how the squirrel do it: he uses his own tail!

When it's so hot, he spreads out his wide, bushy tail. And that is an ideal umbrella for the desert. This way he can forage longer than other animals!"
(Picture: The Ground Squirrel or 'Xerus inauris')
The Kalahari will reveal itself
to only those who
seek with a true heart...
---
Hunting News / Pictures / Stories
We had so many beautiful hunting pictures to publish in our previous newsletter, that we could not include those of Chris Widger (USA). Chris came to Uitspan Ranch with our friend Kobus of Africa Thirstland Safaris.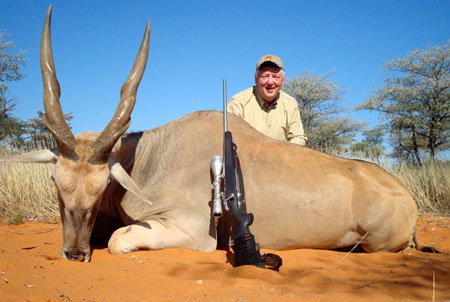 During his few days in the Kalahari, Chris hunted an Eland, Impala, Gemsbok, Kudu... and also ended up with a Brown Hyena.
This Hyena entered the adjacent ranch of Casper Steenkamp and he invited Chris and us to join the hunt. Brown Hyenas are very common in the Kalahari and sometimes they cause huge losses in herds and then have to be hunted down.
It is illegal to import Brown Hyenas to USA, but Chris still enjoyed the hunting experience.
(Click here if you haven't yet read Jim's story about a Brown Hyena Hunt in the Kalahari a few years ago!)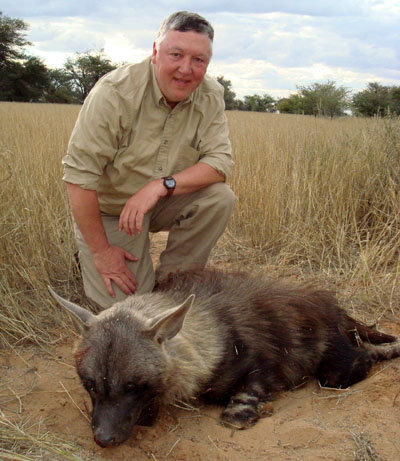 (Picture above: Chris with the hyena)
---
Chris was followed by two couples from Florida, USA.

Brooks & Susan Rollings and TW & Melissa Thomas are friends and came together on their African safari.

Michael had a great time teasing Melissa about her length and renamed her "Mrs. Five Foot". You know...Michael thought there is nowhere else in the world a shorter woman than his wife ;o))!
Above: TW and Melissa with the Kalahari Gemsbok he took. Melissa is also a hunter and indicated that she may not stand back on hunting opportunities on their next trip to Africa. Watch out, TW!
Below: Brooks took a very nice Kudu.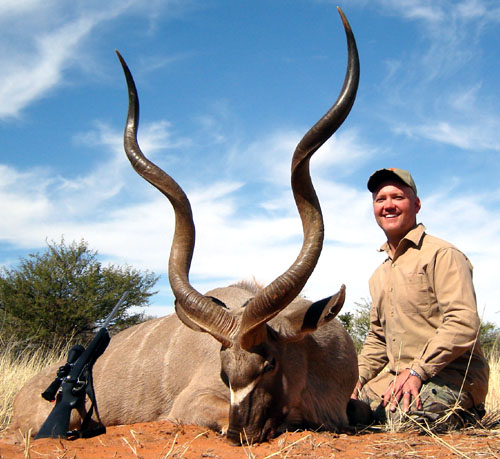 We had a great time with these four friends and we will always remember our enjoyable and lengthy campfire-discussions. Prost... to new friendships!
---
Then there were... Anton, Hennie and their friends and families from South Africa.
Anton and Sonet Coetzee with their children Ferdinand and Nikki;
Hennie and Debbie Wessels;
Lourens and Sonja Theron with their children Manie and Amy;
Zoon and Estelle Snyman
... add and you get a group of 4 couples and their grown-up children - all coming to Uitspan in the Kalahari to relax, hunt and enjoy nature.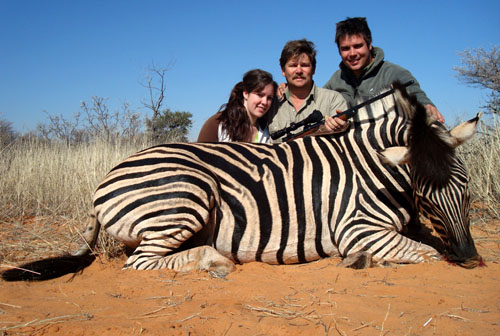 Above: Lourens took this Zebra on Uitspan and was joined by his daughter Amy and son Manie.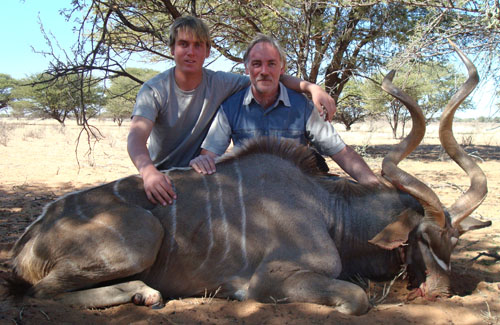 Above: Anton hunted this Kudu Bull with its deformed horns for meat.
We'll publish more pictures of this group in our next issue.
---
The U$12 000 Caracal
Before you read about this caracal, first have a look at the new page on our website:
The Caracal: A Video about the "Superstar of the Animal World"
Then come back and read this:
Farmers living next to the Botswana border (where Uitspan Ranch is also located) live through a lot of encounters with predators.
Many hunts are shared. Many stories and experiences are told. Tricks, tips and plans for every situation, predator and circumstance are handed over in the generations of these ranchers.
However, once in a while a certain predator outwit every trick and plan of a ranch-owner and causes unbelievable losses in sheep- or cattle-herds.
In November 2006, Awie and Sonja Steenkamp (living on a ranch ± 35km north of Uitspan) became aware that a certain caracal (known by its specific track) is often entering the ranch, killing their sheep.
Caracals are regarded as a serious threat to livestock. Awie and Sonja started by putting out traps. After this they used bigger traps with bait, but the cat never even came near any kind of trap. It had supernatural instincts and this became clearer as time went by. During the following months, Awie and Sonja often send their expert trackers to follow the spoor of this cat from a killing. The trackers also used their experienced dogs, but the caracal walked so many miles every night, that the dogs could never follow the scent. Another problem was that the tracks always went to a certain pan located a few kilometers from there. It is impossible to follow such tracks through a pan here in the Kalahari (see a picture of these pans on our Kalahari Desert-page.
What made it even more difficult to find this "killing-machine" (which by now killed many lambs and grown-up ewes), was the fact that its ways of entering, its hunting times, its regularity of killing, etc. were all absolutely unpredictable.
To make this long story short: Awie and Sonja and their workers tried every "trick in the book" to take out this ultimate stealth hunter of their livestock. In one year and 8 months, it killed ± 180 sheep! If you calculate the price of breeding ewes and lambs, it gives you a lost in income of ± U$12 000...
Their luck changed when they got hold of certain "poison-collars" from a manufacturer in South Africa. This patent is registered in South Africa and legal for use in circumstances like these. These collars are put on sheep and contain small packets of lethal poison for predators. When a predator then bites the neck of such a sheep, it also bites the poison-sacket and the problem animal is successfully taken out.
This Caracal took TWO ewes with these collars before he died.
Imagine the utter relief when the cat was found!
(Below: Sonja and their son, Richter, with the famous Caracal)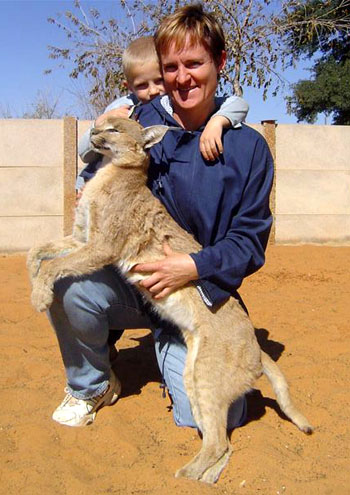 ---
We asked... Roger Libby answered
As mentioned above, Roger win our Hunting Story contest. We mailed him some questions. Here are his comments.
Where were you born and raised?
I was born in Spokane, Washington, USA, and have lived here all my life.
What are your first memories of hunting?
Two of my uncles introduced me to hunting when I was 13 years old. They took me Whitetail Deer hunting, and that first year I did not carry a rifle.
My late Uncle Ivan in particular was my mentor, and he kept me by his side and taught me the techniques of hunting, how to identify sign, hunting safety, marksmanship, and he familiarized me with the hunting area, etc. More importantly, he introduced me to the wonderful sport of hunting which in turn has developed into a lifelong passion for wildlife and the great outdoors.
His inspiration and guidance has been the cornerstone of my obsession and of my life. He died suddenly and tragically this past year, and every day I think of him, and this gift he has instilled in me.
What are your reasons for hunting?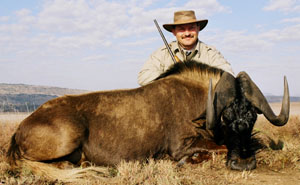 (Picture: Roger hunted a Black Wildebeest during his first safari to Africa)
There are several reasons why I enjoy hunting.
First is my love and fascination for all the wonderful animals. I know that to most non-hunters this seems absurd. To a hunter, it makes perfect sense. To pursue these wonderful creatures in their natural habitat, to match wits with them, to observe their beauty, uniqueness, grace, strength, speed, resilience, and intelligence is an experience that is indescribable. I love being close to them, and sharing their world. To come away more often than not having been out-witted by an animal helps to keep life in the proper perspective.
Hunting also takes me to locations that I would otherwise never see, and in some instances, the sights and sounds that I am fortunate to be a part of is an experience few people are lucky enough to observe.
And finally, hunting is my escape, my salvation. When the stress of life seems to be getting the best of me, I am able to rejuvenate my mind and soul. Whether I am high on a mountain top looking out across the vast wilderness, or looking out across the endless plains, all my senses are focused on one thing. For that brief time, the troubled thoughts that occupy my mind are absent, and I am at peace.
What inspired you to take part in our contest?
That is a very interesting question. I found your web-site quite by accident. As I alluded to in my story, my first and only trip to Africa was a gift to myself in celebration of my 50th birthday.
As I am now a few years away from celebrating my 60th, I thought I would begin checking out my options for another special event. Obviously, a return trip to Africa was at the top of my wish list, so I guess fate brought us together. As I began researching your site, I noticed that you were conducting a contest.
I've entered many contests over the years, but when I checked the criteria for yours, I immediately thought to myself "now here's a contest I actually have a chance of winning!". I had been to Africa, so I had the proper subject matter. My trip was the experience of a lifetime, so I had a story to share.
And finally, I enjoy writing and have been told I have a knack for it. So it only seemed natural that I should enter. In fact, as you know I actually entered two stories. I really wanted to win this contest!
Can you tell us what your single most special and distinctive memory is of your first time in Africa?
Again, this is a very difficult question as there were so many special moments, and I remember it is if it happened yesterday (and at my age, that is really something!).
Obviously there was the anticipation, excitement, nervousness and all the other emotions you feel as you plan the trip of a lifetime to a far away land. The back and forth communication, the preparation and planning, it was a very exciting time. However, once the trip actually took place, I guess there are really "two" distinct memories that stand out.
The first would be the wonderful people I had the privilege to meet. They were some of the kindest, friendliest people I have ever met. They went out of their way to insure that I not only had a successful hunt, but that this birthday would be one never to be forgotten. In every way, they were 100% successful.
And of course, the hunt itself was unforgettable as well. I was completely enthralled by all these magnificent and wonderful animals. In all, I took 7 plainsgame animals, 6 of which made the SCI record book with 4 gold's and 2 silver's! Absolutely amazing and beautiful creatures!
Oh yes, and I can't forget the sundowners! I have to add the sundowners to my list. The most beautiful sunsets in the world, in one of the most pristine environments on earth, and sharing the experience with new found friends. It simply doesn't get any better than that!
Returning to Africa...to what do you look forward to most?
The people, the animals, and the sundowners! No question!
As I sit here trying to come up with half-way interesting and intelligent answers, my mind is already filled with excitement and expectation. I can't wait to meet the people that have already started becoming my friends.
One of the things that occurred to me early on, when I first began to peruse your web-site, was the wonderful family atmosphere and genuine friendliness that all of you have displayed. When you travel half-way around the world, one of the most important things is the people you meet, the people who share in these once in a lifetime experiences. In entering the contest, I wanted to meet all of you, and I can't tell you how grateful I am to have this opportunity.
I obviously can't wait to observe all the animals once again, and in particular that special Kudu bull that has been beckoning me for the past 8 years.
And last, but certainly not least, I look forward to the sundowners. To pause at the end of a glorious day of hunting, sip a cold drink, perhaps smoke a special cigar, and sit with my friends as I watch the breathtaking sunset as it silhouettes the African skyline. I can't wait!
---
Updated Special Hunting Packages
We recently did some updates on the Special Hunting Packages offered on our website.
With the world's financial situation in a bit of a depression at the moment, it can't hurt to pay a lot less for your African Hunt Safari.
You'll see that our packages are really unbeatable. We made it available for booking until September 1st, 2008. After that, we'll have no choice but to adjust the prices.
So, if you are interested - talk it over with your hunting buddy, get him to join you and come for a Kalahari hunt.
Note that the special packages now include more choices of animals to harvest.
Click here to have a look at the updated SPECIAL HUNTING PACKAGES we offer!
Find here info on Namibia's Trophy Hunting Regulations
---
New Content on Kalahari-Trophy-Hunting.com
Interesting Articles on Hunting
Most of us have had conversations with people who does not like hunting or who doesn't understand the reasons for hunting.

Well... you'll never again wonder what you should tell such a person if you read this.

To read, click on Reasons For Hunting
Spiritual comfort... the Bread of Life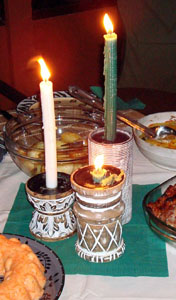 May the Word of God serve to become also in you a well -
"...But whosoever drinketh of the water that I shall give him shall never thirst; but the water that I shall give him shall be in him a well of water springing up into everlasting life." (John 4:14)
Kept in Christ
Read Psalm 27: 1-14

There are times when a child of God is upon the mountain top of faith. There are also times when weakness of faith manifests itself. These two are in our lives because we still have the old man of sin until the day of our death. The new man in Christ will reveal himself; but the old man of sin will also at times be in control of our thinking, willing, and doing.

When David cried out in Psalm 27, "Whom shall I fear? Of whom shall I be afraid?" he was on the mountain top of faith. But weakness of faith revealed itself when he stated in verses 7, 8, "Hear, O Lord, when I cry with my voice: have mercy upon me, and answer me. When Thou saidst, Seek ye My face, my heart said unto Thee, Thy face, Lord, will I seek."

Our versification has it thus:
Lord, hear me when I pray,
And answer me in grace;
Oft as I hear Thee say,
Come ye and seek My face,
My lips and heart their answer speak,
Thy face, Jehovah, will I seek.
Here David still reveals faith in God. But he is not revealing the confidence he expressed in verse 1 of this psalm. Now he is crying for help and voicing a measure of fear.
Nevertheless there is an important truth here, namely, what David had stated in verse 5 in these words: "In time of trouble He shall hide me in His pavilion: in the secret of His tabernacle shall He hide me." No, he was not now on the mountain top of faith; but he does still reveal faith in God. For he prays to God, seeks His mercy, and expresses a desire to seek God's face. When Satan sent powerful waves in an attempt to wash him away into unbelief, he did not succeed.
God was David's and is our light and salvation. In His unfailing grace and mercy God will keep us from losing our faith.
Once engrafted into Christ by faith, we will never be plucked out and be cast into unbelief. As for our salvation which is in Christ, God will keep us safe from falling away into unbelief and everlasting punishment. We do not need to be afraid that God will change and cast us into darkness.
Quote for Reflection:
..."The hindering of good work is that which bad men aim at and promise themselves; but good work is God's work, and it shall prosper."
~ Matthew Henry on Nehemiah 4
---
We thank the PRCA, who made this Daily Meditations of Rev. Heys available for our Newsletter. Read more about their missions, literature and wonderful publications on their website PRCA.
---
What Do You Think...
was the conversation in this vehicle?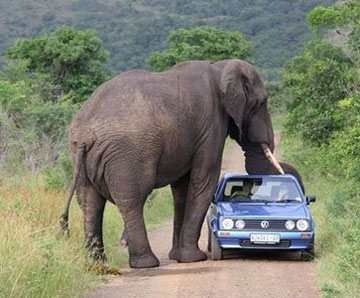 ---
If you like this e-zine, please do a friend and me a big favor and "pay it forward."

If a friend DID forward this to you and if you like what you read, please subscribe by visiting...Kalahari Hunting News or leave us a message here!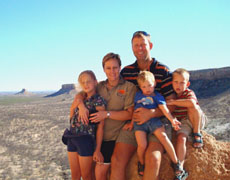 I created this website with the help of SBI. Click here to read about my experience...!
---
Till next time...
"Blessed is every one that feareth the LORD; that walketh in his ways. For thou shalt eat the labour of thine hands: happy shalt thou be, and it shall be well with thee."
(Ps.128:1)
Greetings from
Uitspan Hunting Ranch, Namibia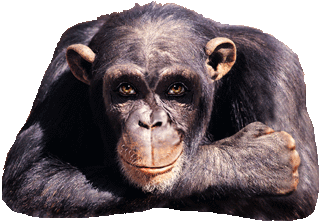 ---