Hallo,


Well-known Times in the Kalahari
(Double-click on the mail in your inbox to open it properly. You will then have a better view of all the text and pictures.)

Read in this Newsletter about:

Well-known times in the Kalahari
Your new wallpaper: Brown Hyena on Uitspan Ranch
A Black Wildebeest Trophy
Hunting Friends visiting
More Hunting Pictures
Hunting and your health
Preparing for Africa... what rifle should I bring?
African Hunting Stories... Win a Hunt!
Spiritual Comfort
(Picture top right: The "Short Thorn Pomegranate" or Rhigozum brevispinosum, in full bloom after the first bit of rain in the Kalahari.)
---
The trophy hunting season of 2007 has come to an end here in Namibia.

When we look back over another year of hunting, receiving guests, game ranch management and farming and the circumstances of our life as a whole, we conclude: "Life is good."

How can one not thank our Lord and Creator for all these undeserved gifts such as food to eat, work to do, family and friends and a peaceful life so close to nature?

As I have told you in our previous newsletter, the Kalahari is in another dry cycle. We missed out on last year's rain season. So we knew at the start of this year that we will have to use all resources available cleverly.

We went through the winter and had to buy a lot of food for the animals. It is mid-summer now (our rain season)... and we anxiously await some good rains.

Corrie ten Boom once said:
"The school of life offers some difficult courses, but it is in the difficult class that one learns the most.
With every drought that crosses our paths, we realize again just how absolutely dependent we are of God's mercy and gifts in life. And maybe this in itself is a gift... Part of this goodness of life in the Kalahari is that it is not always effortless and smooth-sailing. And if one is prepared to receive the good things God bestows upon us, how can we not receive the not-so-easy times?
"Life gives us what we need when we need it. Receiving what it gives us is a whole other thing."
(Pam Houston)
So... this is what the Kalahari looked like just a few weeks ago. (And it is still looking like that in many parts)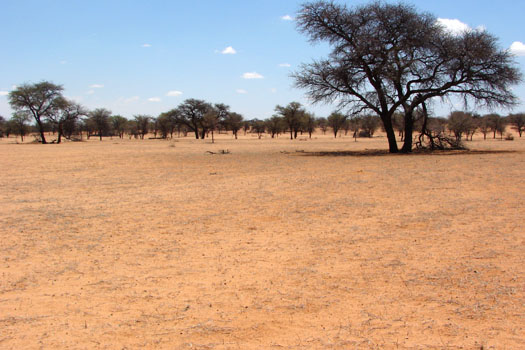 After the picture above was taken, we received some rain (20mm) two weeks ago. The bushes got new leaves within a few days and the little flowers that emerged were a welcome sight for all of us - including the animals!
This greenery gave the animals new energy and although there are not yet green grass for them to feed upon, it gave us a break in the putting out of expensive feed for all of them.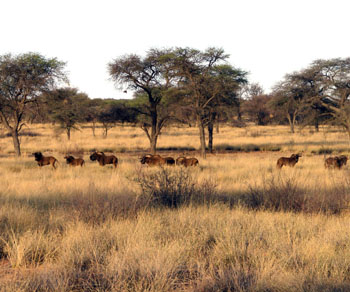 Other parts of the Kalahari still have some grass for the animals - like you see on this picture of the Black Wildebeests.
We hope and pray that the region will receive much needed rain soon. Then we can also send you some pictures of a GREEN and WET Kalahari in our next "Kalahari Hunting News"!
---
Exclusively for you, our subscribers:
The new free Kalahari Wallpaper for you this month, is a picture of a Brown Hyena. It was taken on Uitspan Ranch in July this year.

Remember that the password to see this page is: uitspanranch453
Click here to see this month's picture.

Back Issues of our newsletter are now only available to you as subscribers.

If you wish to see pictures and hunting news of earlier this year,
click here to find those Back Issues!
---
A Huge Black Wildebeest Trophy
Tom Shields from Texas, USA with his special Black Wildebeest hunted in Uitspan Ranch in September this year.
As we reported in our previous newsletter, Tom hunted here with his son Jim and friends Mike Deodati and Steve Albright. They came with Kobus Honniball and the 3 hunters took a total of 15 trophies in just 5 days.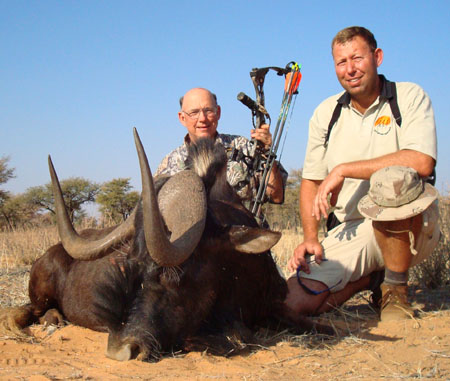 Have a look at some pictures of our updated accommodation facilities.
---
Hunting News / Pictures / Stories
Marshall Thompson and John MacDonald visited us in September. They are old hunting friends and we enjoyed their visit tremendously.
Below are (from left to right) Kobus, Marshall, our son Jan-Hendrik and Michael with Marshall's Cape Fox.
Below: Marshall and John hunted two Duikers with Hendrik (middle).
Hendrik is obviously enjoying some joke here with the guys!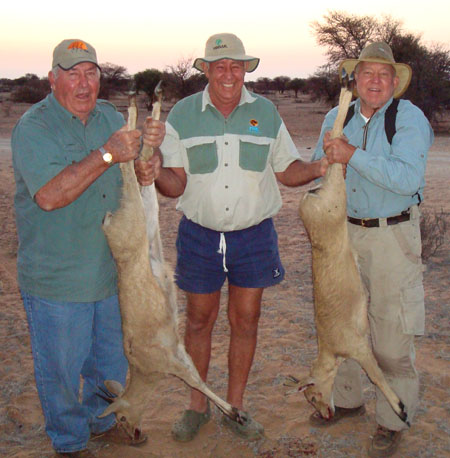 While Marshall and John were with us, we celebrated Jan-Hendrik's birthday with a traditional "Lamb-Barbecue".
Some of our neighbors and family were invited and we had a lovely evening. Like I said before: few things in life can beat the combination of an evening with good friends, good food, good (South African) wine.... ;-))
Below: John, Marshall and Dries van Wyk (a rancher of the region and friend of our family) enjoying the get-together.
Below: Marshall reading an English story to our daughter Maria.
Thanks, John and Doc, for the love and attention you gave our children!
---
Have you seen our own Gemsbok Video? Click here to enjoy the video.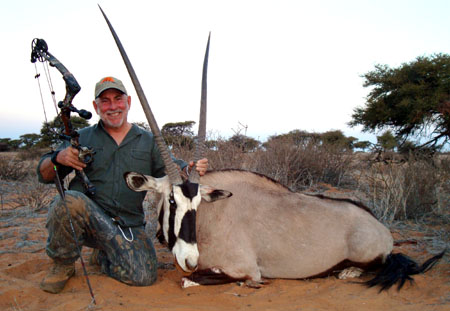 Above: Mike Deodati with a Gemsbok hunted on Uitspan Ranch during September 2007.
These guys took excellant shots with their bows during their hunt in Africa!
---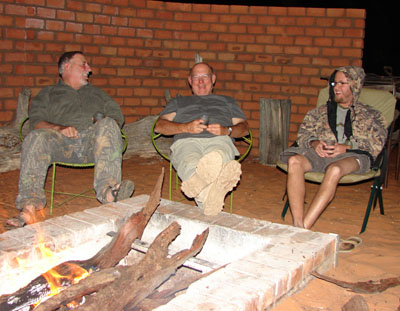 Above: Mike, Tom and Jim relax around the campfire in Uitspan Ranch's camp.

Click here to see an updated Namibia Travel Info-page!
Steve Albright (picture below) with his Eland trophy hunted on Uitspan.
---
New Content on Kalahari-Trophy-Hunting.com
Interesting Articles on Hunting
This article, "Hunting and your health", was recently published in "African Outfitter" Magazine.

It is written by Herman Jonker, a well-known and famous writer and hunter of South Africa.

A great read!

Click here to read just what hunting can do to your health...;-))

Another great article I want you to enjoy is about how you should prepare for Africa in terms of rifles, sights, bullets, calibre...

Its about that question so frequently asked: "What rifle calibre should I bring?"
Spiritual comfort... the Bread of Life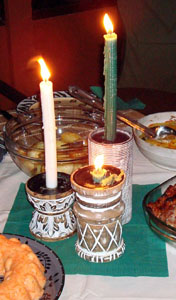 May the Word of God serve to become also in you a well -
"...But whosoever drinketh of the water that I shall give him shall never thirst; but the water that I shall give him shall be in him a well of water springing up into everlasting life." (John 4:14)
Voice of True Thanksgiving
Click on the links to read Psalm 26

Psalm 26:6,7

It now becomes plain as to what sins David was accused of committing. In Psalm 26:3 we read, "I have not sat with vain persons, neither will I go in with dissemblers. I have hated the congregation of evildoers: and will not sit with the wicked." He is not a companion of evil doers. They are not his friends and companions. He does not walk with them in their deceit and godlessness.

However he does know that he has sinful flesh and has in many ways sinned against God. Therefore be continues: "I will wash mine hands in innocency: so will I compass Thine altar; O Lord: that I may publish with the voice of thanksgiving, and tell of all Thy wondrous works" Psalm 26:6-7.

Today he would write: "I do not deny that I often sin; but I flee to the cross of Christ to wash my sins away. I walk about His cross typically presented by an altar in the temple. I encircle it with the confidence that Christ's blood washes away my sins. In all this I see God's wonderful work: and it moves me to tell and sing of my thankfulness to Him."

How about it? All around us are Christmas lights and decorations. On radio increasingly we hear Christmas carols sung. For weeks the stores have been displaying and advertising Christmas presents. You would think that Christmas is a wonderful day for mankind. It seems to be the greatest day in the year!

For all men that is certainly not true. For most men all this is vain, that is, empty, utterly devoid of thanksgiving to God and of spiritual significance. Let us rather sincerely sing:
My hands I wash in innocence
And seek Thy altar, Lord,
That there I may with thankful voice
Thy wondrous works record.
Is that not our calling on Christmas Day? God's gift to us must speak to us. Without Christ's birth that altar in the temple had no meaning: and our hands would never lose their awful guilt.
Our gift on Christmas must be thankful praise to God for His gift to us.
---
We thank the PRCA, who made this Daily Meditations of Rev. Heys available for our Newsletter. Read more about their missions, literature and wonderful publications on their website PRCA.
---
Funny... Fox Hunting
You thought you knew what "fox hunting" looks like?
NOW you know!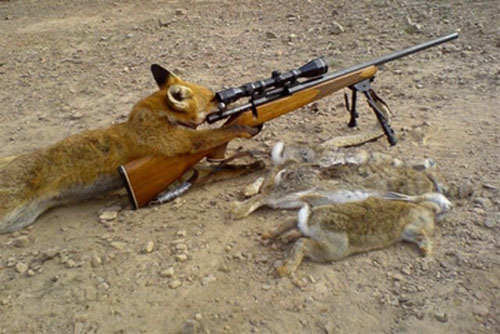 ---
If you like this e-zine, please do a friend and me a big favor and "pay it forward."
If a friend DID forward this to you and if you like what you read, please subscribe by visiting... Kalahari Hunting Newsletter!
Comments? Ideas? Feedback? Let me have it, right between the eyes! I'd love to hear from you. Just reply to this zine and tell me what you think! I will appreciate every response.
---
Till next time...
"Blessed is every one that feareth the LORD; that walketh in his ways. For thou shalt eat the labour of thine hands: happy shalt thou be, and it shall be well with thee."
(Ps.128:1)
We as a family wish you all a special and blessed festive season. May the birth of Jesus as our Lord and Saviour once more becomes a wonderful reality in your life.
Greetings from
Uitspan Hunting Ranch, Namibia
(The picture below was taken on our recent trip to Northern Namibia. Here we are at the famous "Vingerklip".)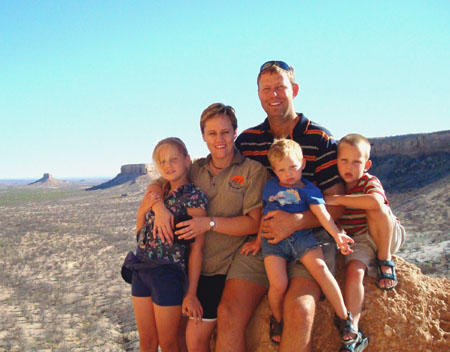 ---