Hallo,


Wonderful Rain!
(I recommend that you double-click on this e-mail in your inbox to open it properly. You will then have a better view of all the text and pictures. Note that it may take a few minutes for all the pictures to open.)
If you can not see the pictures included in this mail, you can view our Newsletter on the Web. Just click here!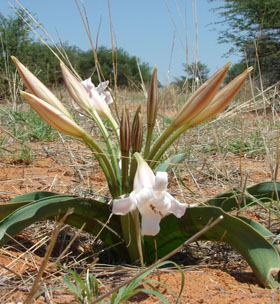 Read in this Newsletter about:
Wonderful Rain of 2009

A Strange Phenomenon

Getting Ready for... a Facelift!

Your new wallpaper: Green Kalahari

Maria's Interesting Kalahari Fact

Hunting Pictures... looking back!

Future Hunt Reviews

Another article on Rifle Calibers

Sexing chickens and serving buck...?!

Spiritual Comfort

For Your Enjoyment...The best crew
Picture top right: Crinum foetidum, a kind of vlei lily decorating the Kalahari landscape soon after the first rains.
Watch this video: Tiaan's Kalahari Kudu Hunt
---
Namibia's Rainy 2009
The first months of 2009 will definately be remembered by many inhabitants of Namibia as one of the wettest rain seasons in history. Although the good rains were widespread, it changed the sight of each region in the country in a unique way.
Some parts of northern Namibia received up to 900 mm (35 inches) of rain and this led to severe flooding of some areas. These floods changed the lives of many people who had to evacuate their homes. Reported Malaria cases in northern Namibia are double of what it was this time last year.
However, Malaria has never been a problem in the Kalahari.
When our rain eventually arrived during the last week of January this year, the heavens opened and it was just wonderful to see the torrents of water that created puddles and pools, first filling the pans and beds and then turning the red dunes to an even deeper blush of red.
When living through the seasons of the Kalahari (of which droughts are often such an integral part of), rain is always a wonderful experience. The magical scent of damp red sand is synonymn with new life, promise and anticipation. We always know that the land will soon takes on a new and different personality which is focused on feeding, reprodusing and completing the cycle before the water is gone.
The signs and tracks left by heavy rains soon disappeared in the red sand and only the lushness of the grasslands and joyous behaviour of animals, uniquely adapted to adjust to fight for survival, told the story of good downpours.
A Strange Phenomenon
The early months of the rain season were characterized by almost unbearable high temperatures and this caused the new growth of seedlings, which started to emerge after one good rain shower in October 2008, to wither and die. The heat wave took us through November, December and part of January. It was such a relief when the rain came to cool off the Kalahari!
In spite of the above-normal rainfall we received from then until the end of February, a strange phenomenon occurs. If happens often that new grass starts to grow at the beginning of our rain season and then, when no rain follows up, it fades and dies. As soon as good showers follow, we know that new grass will start to grow again. The strangeness this year, is that huge areas of the Kalahari didn't respond again with new growth. So, parts of Uitspan Ranch looks like a paradise with tall green grass while other parts still look like desert. See on the picture below.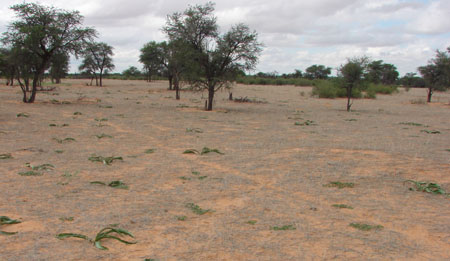 However, we are thankful that some other parts of Uitspan Ranch look like this: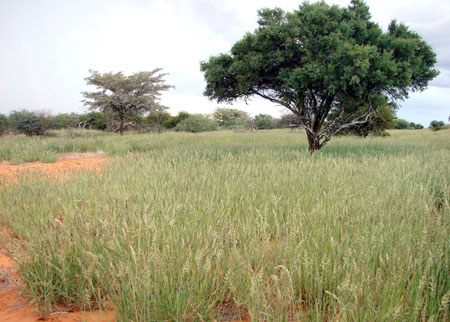 Getting ready for a facelift!
We are ready for a facelift. And yes, we would like it to be as easy, quick and painless as possible. The bad news is that it will not be done on my face. The good news is that we plan it for... our website!
Kalahari-Trophy-Hunting.com is our family's way of sharing our love for our region, its nature, animals and hunting here, with special outdoors-people all over the globe. This is exactly what our website brought to our lives. It brought us in contact with clients who trusted us, booked hunts with us and then became lifelong friends. How can one not be friends if you share memories of great times in the Kalahari region of Africa?
Since our unique personal circumstances on the ranch (our presence here is essential during the hot Kalahari summers) never allowed us to visit international hunting shows in the past, our website is our most important way of marketing our business.
We love this way of sharing our Kalahari-life with people. So we are ready to put in some time and effort to give all of you and everyone interested in hunting in the Kalahari, a better surf-experience on our site.
If you see some new and some old pages on our website during the next few weeks, please know that we are busy with this project. We hope that you will like the end-result!
Click here to read more about the history of our website!

---
Exclusively for you, our subscribers:
The new free Kalahari Wallpaper for you this month, is a picture of how the Kalahari landscape changed after the first rains. If the road of your life passes through the Kalahari this year, may the memories stay with you for a life-time!

Remember that the password to see this page is:

uitspanranch453

Back Issues of our newsletter are now only available to you as subscribers.

If you wish to see previous issues of our newsletter Kalahari Hunting News, click here to find those Back Issues!
---

Maria shares an interesting fact about the Kalahari...
(Our daughter Maria is 10 years old and I asked her to write down an interesting fact about the Kalahari or any of its animals for every issue of our Newsletter. I'm sharing it as she wrote it down.)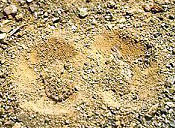 Track or trap?

"In the desert, usually early morning and late afternoon, you'll see the Buckspoor Spider's web, right on the sand where you walk! It is the female that does the building of the web and the web exactly looks like the hoofprint of an antelope and that's where the name comes from.

After building her web, the female lies under it and waits for her dinner. When a small animal, such as an ant or a termite comes by, she grabs it.

But the male lives a total different life: walking free, all around catching ants for dinner."
(Pictures: Buckspoor Spider, Seothyra fasciata and its web)

The Kalahari will reveal itself
to only those who
seek with a true heart...
---
Hunting News / Pictures / Stories
Since our active hunting season here in the Kalahari will only start in April (we explained the reason for this in a previous newsletter), we decided to share in this issue special hunting pictures / hunts / trophies taken during previous years.
As we started to browse through older pictures, we had more than 6 "very special" pictures in a jiffy. So - there are so many special stories / hunts to share. We will have to add more of these oldies in another issue.
For now, we can include only these:
Below: A few years ago Chris Thomas from USA, hunted this 40' Eland in the Kalahari. Chris had to take a running shot on it and the beast ploughed for more than 10 metres through the thick Kalahari sand as it went down. See the tracks on the small picture!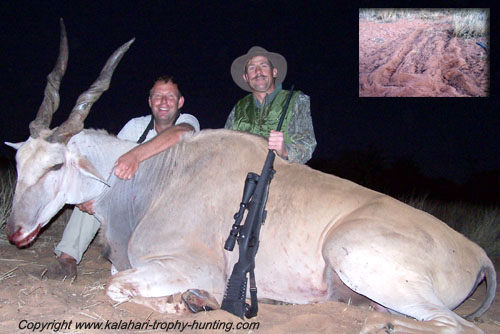 Below: Axel Strakeljahn from USA hunted here in May 2005 with his father, Heinz and mother Christa. Except for his remarkable Gemsbok-trophy, we had a great time with this family and this specific day in the veld was just one of those... never to forget.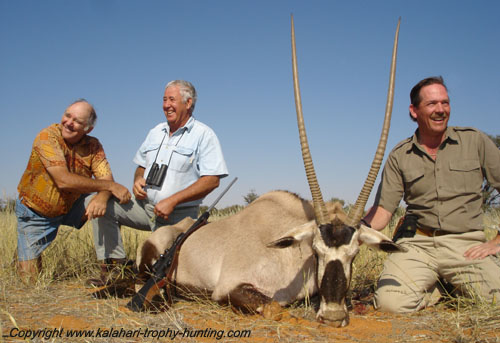 Below: Father Heinz and son Axel relaxing in the Kalahari sand after the day's hunt. With them is our long-time friend and nearby farmer, Dries.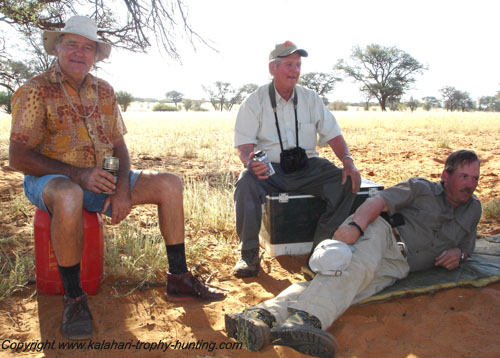 Below: Bill from USA had an nerve-wracking experience with this Leopard. We will never forget the ultimate stealth, speed and power with which it charged the vehicle - even after it was hit with a .338 in the vital area! A PH's .375-shot took it down... the very moment before it jumped the truck.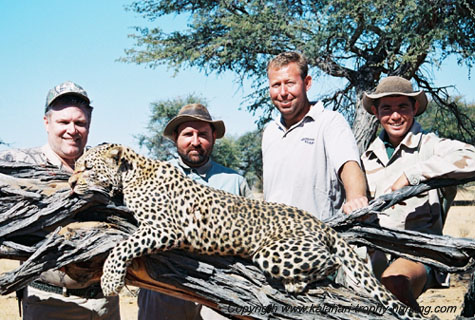 Below: Lester Peinke with his father and son Dylan, from RSA... three generations hunting together in the Kalahari!
Below: Ross Talbot from USA, with his Kalahari Gemsbok Trophy. Clearly something outstanding!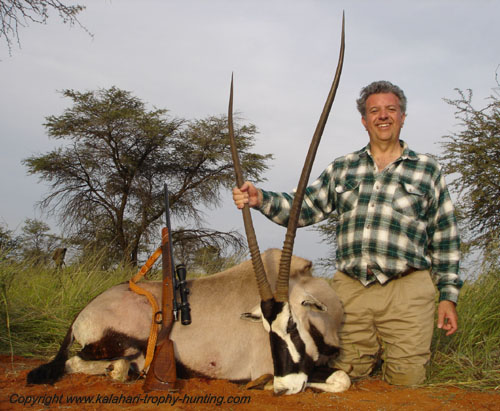 ---
Great Kalahari Videos
Here are a few videos we selected for you to watch. These will bring the Kalahari home to you!
---
Namibia Trophy Hunting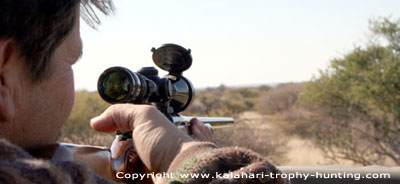 Find here info on Namibia's Trophy Hunting Regulations
---
New Content on Kalahari-Trophy-Hunting.com
We've added a new page to our website recently. This is the place where anyone of our hunters from now on, can share their Kalahari Hunting experience on the web. You will be able to send your family and friends to your own page on our site where they will also be able to add their comments and ratings of your story (just like our Africa Hunting Stories-page).
As time goes by, this page may get more and more stories, pictures and reviews. If YOU will be hunting with us soon, remember to come back to our site and share it!
For now, click here to see where Kalahari Hunting Reviews will be added.
Previous Kalahari Hunting Reviews shared:
We also received another two hunting articles on our website. Stephan Hofmann from Illinois, USA, wrote down his informative and interesting views on essential rifle calibers for an international hunter.
Have a look at...
(If you would like, you can click here to read more African Hunting Stories!)
---
Any comments on Kalahari Hunting News?
It is always great to get feedback.
So... please take a moment to Comment Here!
---
Interesting Articles on Hunting
Sexing chickens and serving bucks....? No, I am a Professional Hunter! Click here to read this GREAT article, written by Herman Jonker of South Africa.

Most of us have had conversations with people who does not like hunting or who doesn't understand the reasons for hunting.

Well... you'll never again wonder what you should tell such a person if you read this.

To read, click on Reasons For Hunting
---
Spiritual comfort... the Bread of Life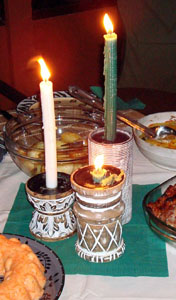 May the Word of God serve to become also in you a well -
"...But whosoever drinketh of the water that I shall give him shall never thirst; but the water that I shall give him shall be in him a well of water springing up into everlasting life." (John 4:14)
Trust in God alone
Read Psalm 62:10

The standard of living today is so much higher than when David wrote Psalm 62. Even Solomon in all his glory did not have many of the things our flesh enjoys today.

He may have had servants to fan him on a hot, sultry day, but he did not know the comfort of air conditioning. He had means to warm his body on a cold wintry day, but he did not enjoy central heating. His chariot ride did not equal the speed, comfort, and smoothness of our automobiles; and he could not fly to a distant point in his realm by jet aircraft as we can. We have so much more than David or Solomon.

How much more necessary then today are David's words In Psalm 62:10, namely, "If riches increase, set not your heart upon them." Or as one of our versifications has it:

Trust not in harsh oppression's power,
Nor in unrighteous gain;
If wealth increase, yet on your gold
Ye set your hearts in vain.

We may enjoy the conveniences God gives us, but we must not let these lessen our trust in Him. These earthly treasures do not bring us one smallest step toward our everlasting home. And instead of bringing us into closer fellowship with God, they so often make us forget Him. As our earthly goods increase, so often our trust in God wilt decrease. We look around at these earthly treasures instead of looking up to Him Who is our rock, salvation, and defense.

How true it is that "If wealth increase, yet on your gold ye set your hearts in vain." These cannot take away one sin. They cannot give us the shortest breath of spiritual life. These cannot enrich our fellowship with God, or buy us the smallest part of a place in His house of many mansions.

All this is purchased by the blood of Christ; and our trust for it must all be in God and in what He did through His Son.

The only hope we have of not being swept into the lake of fire, and to escape Satan's clever attacks is trusting in God alone. Tell your soul then not to let these earthly things turn you away from God, but to see these earthly objects as God-given means whereby we are to serve Him. From Him they came. In His service they mast be used.

Quote for Reflection:
But if they in spirit amid dark clouds, took a flight into the celestial country, what ought we to do at this day? For Christ stretches forth his hand to us, as it were openly, from heaven, to raise us up to himself. If the land of Canaan did not engross their attention, how much more weaned from things below ought we to be, who have no promised habitation in this world?
~ John Calvin
---
We thank the PRCA, who made this Daily Meditations of Rev. Heys available for our Newsletter. Read more about their missions, literature and wonderful publications on their website PRCA.
---
For Your Enjoyment...The best crew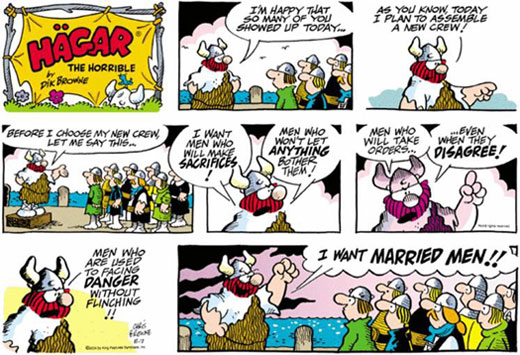 ---
If you like this e-zine, please do a friend and me a big favor and "pay it forward."

If a friend DID forward this to you and if you like what you read, please subscribe by visiting...Kalahari Hunting News or leave us a message here!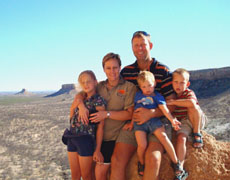 I created this website with the help of SBI. Click here to read about my experience...!
---
Till next time...
"Blessed is every one that feareth the LORD; that walketh in his ways. For thou shalt eat the labour of thine hands: happy shalt thou be, and it shall be well with thee."
(Ps.128:1)
Greetings from
Uitspan Hunting Ranch, Namibia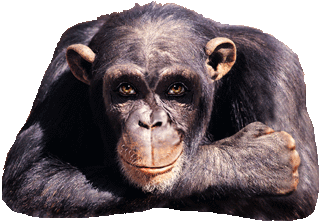 ---