Hallo,


Happy Hunting Season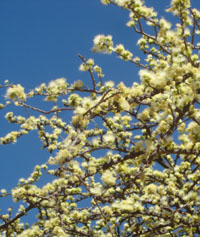 (Double-click on the mail in your inbox to open it properly. You will then have a better view of all the text and pictures.)

Read in this Newsletter about:

Spring in the Kalahari
Your new wallpaper: A Special Lion Picture
A 40" Eland Trophy - our new record
Hunting groups
Bow Hunting
The 58" Kudu Hunt Video
In the blink of an eye
Kalahari Lion Hunt
More Hunting Pictures
Spiritual Comfort
(Picture top right: One of the most beautiful indigenous trees in the Kalahari, the Albizia anthelmintica, in full bloom.)
---
Now that the hunting season is nearing its end here in Namibia, we are getting back to doing more work around the house and on the ranch. Long ago someone told me that, while living on a ranch, I will always have time on my hands for hobbies, needlework, reading, painting materials, etc. But let me tell you - I haven't find that yet.

We are however, grateful that we do not have to cope with traffic and strict, stressful routines everyday like all of you who lives in cities. The work that needs to be done on ranches is actually joyful, since one is surrounded by nature.

I want to tell you in this Newsletter about all of the great hunting guests and experiences we had since the beginning of August until now. While preparing all the pictures, I found it difficult to decide which ones to use of all the beautiful hunting pictures we took during this time! Michael and I relived all the good times we had with these guests. We had what you would call: "Happy Hunting"-times.

Our climate is changing quickly to summer. We know that spring will not continue for long and that the new flowers may not even have time to show us all their beauty before the well-known HEAT of the Kalahari will strike!

The Kalahari is very dry now and we pray for rain soon. But the region, while looking quite a lot like a real desert nowadays, has its own beauty... from a photographer's point of view that is ;-) and not exactly from a rancher's!
---
Only for you, our subscribers:
The new free Kalahari Wallpaper for you this month, contains a nice Lion-picture. It was taken by Izak Engelbrecht in Botswana.
Remember that the password to see this page is: uitspanranch453
Click on the following link to see this month's picture: Kalahari Wallpapers
---
A 40" Eland Trophy
Below from left to right: Michael, Hendrik and John. Isn't it a beaut... the eland, I mean;-)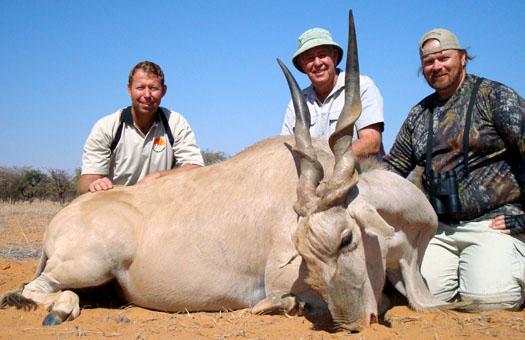 John Muse were the lucky guy who took the biggest Eland trophy ever taken on Uitspan Hunting Ranch! John came hunting with Kobus Honniball and with him were his wife Terry and friends Ernie and Barbara. More of this hunt later in the Newsletter.
Have a look at our updated Africa Video page
---
Hunting News / Pictures / Stories
During the first week of August, Philip Human and his 3 friends (Paul Bester, Stefan Alberts and Frans van der Merwe) hunted for venison on Uitspan. They were from Malmesbury and Cape Town in South Africa.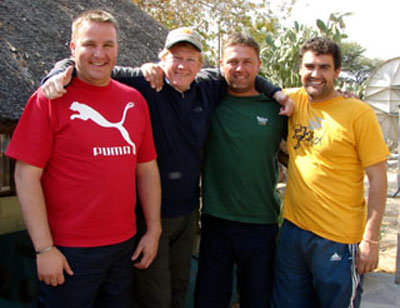 These guys took 4 kudus, 1 gemsbok and 12 springbok. We kept all their meat in the walk-in-coolers and they took it back to South Africa to do the processing at home. Thus they had a nice and relaxing time filled with hunting during daytime followed by story-telling, joking and having fun around the campfire at night.
Below: The friends on Michael's vehicle during their time in the Kalahari.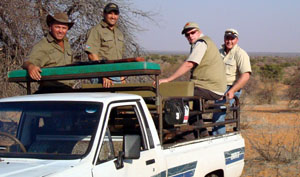 The Human-group was followed up by two retired couples who just wanted a peaceful time in the Kalahari. Pieter Stofberg from Rawsonville in South Africa and his friend came with their wives. They hunted 1 Eland and 1 Kudu. They stayed in our Hunter's Camp for a week.
---
Have you even wonder why people like to hunt? Read this article.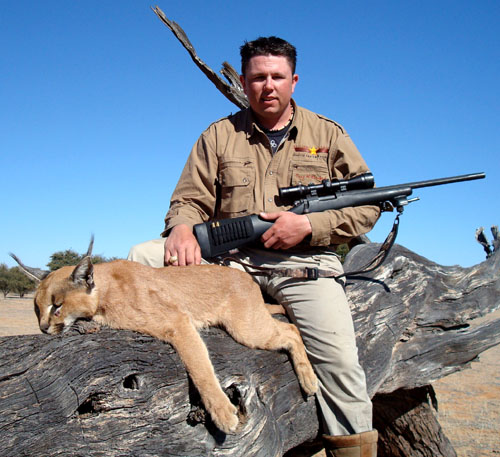 Above: Troy Winterbach with a huge caracal hunted on Uitspan Ranch during July 2007. We told about Troy and his father's hunt in the previous Newsletter.
Troy was our first bow hunting guest this year... and was followed by more (see below).
---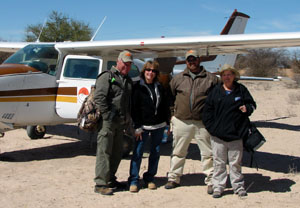 Ernie and Barbara Preshard as well as their friends John and Terry Muse visited Uitspan Ranch in the third week of August.

On the picture left: our guests had just arrived via charter flight.

These two couples had a very successful and special hunt.

They took 2 Gemsbok, 1 Kudu, 1 Springbok, 1 Steenbok, 1 Eland and 1 Impala. Barbara and Terry joined the men during every hunt.

We have included pictures of both their Gemsbok Trophies as well as John's Eland in our Hunting Picture Gallery.

Click here to see an updated Picture Gallery!

Ernie took a very nice Gemsbok trophy (picture below).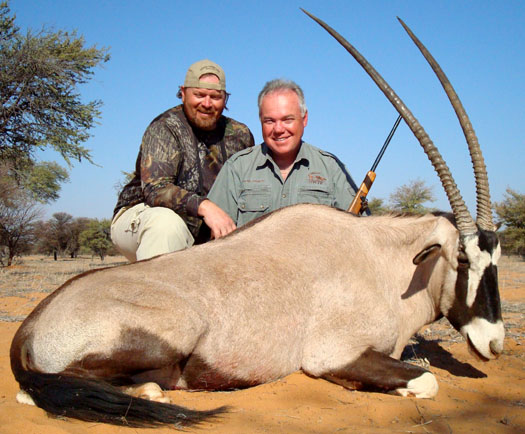 Below: Have you ever seen USA-Bushmen? Here John and Ernie are mimicking the Kalahari Bushmen after they went on an excursion with them. Not bad, not bad...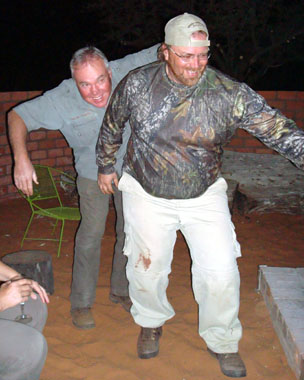 Below from left to right:Ernie, Barbara, Terry and John having a beer in Uitspan Hunter's Camp after a long and warm day of hunting in the Kalahari.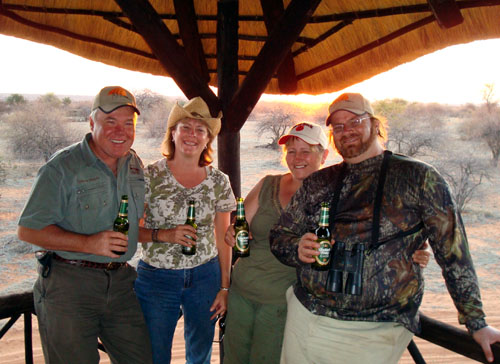 ---
In September we have had the biggest hunt of the 2007-season. This was a group of 4 men from San Antonio, Texas (USA). Tom Shields, Mike Deodati, Steve Albright and Jim Shields (who took video-footage of their whole Namibian adventure) came with Kobus Honniball.
Steve hunted with his rifle while Mike and Tom are bow-hunters. These 3 hunters took on Uitspan Ranch: 1 Giraffe, 1 Blesbok, 2 Eland, 2 Kudu, 1 Blue Wildebeest, 1 Black Wildebeest, 1 Brown Hyena, 2 Cape Fox, 1 Bat-eared Fox, 1 Gemsbok, 1 Zebra and 1 Steenbok.
Tom hunted with a "Mathews Drenalin"-bow and Mike with his "Mathews Outback". They were very happy with the performance of these bows. It was a new and interesting experience to us, since we haven't had many bow-hunters before. We didn't know that a bow can go right through a big eland bull - in the blink of an eye!
These 3 guys took exceptional shots.
We decided to place more of this big hunt and the beautiful pictures in our next Newsletter, since this one is already filled to the brim - I do not want to slow down your mails too much!
Here is just one picture of the guys relaxing on their last evening with us on Uitspan Ranch.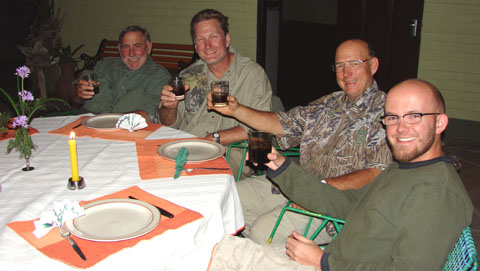 ---
In September we also had John Marshall and John MacDonald from Davenport, Washington. We became friends on a previous hunt two years ago and this time they just wanted to visit us. We feel honored.

We had a great few days together. Our son Jan-Hendrik had his birthday and John and Marshall could experience a traditional "Kalahari Lamb Barbecue". More of these pictures also in the next Newsletter.
New Content on Kalahari-Trophy-Hunting
Quality Products not to miss...
For any hunter, outdoorlover or adventurer, this computer game will give hours of joy and entertainment.

It is "Hunters Craft", an interactive shot placement simulator. It is made in Africa and is indeed filled with real hunting scenes from all the different parts of this continent.

Read more about it on the next link and know that you will never regret spending this U$34 (R199 for South Africans)!




Click here to find it on our Hunting Info-page.
Interesting Articles on Hunting
This story, "In the blink of an eye", was recently published in "African Outfitter" Magazine.

It tells about a hunt that took place in Namibia earlier this year and how something terrible happened to an experienced and keen hunter. Since all of us can learn a valuable lesson from this, I included the link in our Newsletter.

Another great article I want you to enjoy is about a Kalahari Lion Hunt. It took place in the Kalahari region of Botswana. It is these well-known lions which occasionally also enters our ranch and cause losses.

(Uitspan Hunting Ranch is located in this same region - only we are in Namibia and the location of this hunt was just west of us in Botswana.)
Spiritual comfort... the Bread of Life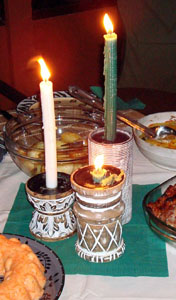 May the Word of God serve to become also in you a well -
"...But whosoever drinketh of the water that I shall give him shall never thirst; but the water that I shall give him shall be in him a well of water springing up into everlasting life." (John 4:14)
The Foolishness of the Wordlywise
Click on the links to read Psalm 53

One may be very rich in earthly goods and desperately poor in spiritual life. And one may he honored as one full of worldly wisdom, and by God be called a fool. Men there are who teach in colleges and universities and have high sounding titles and a string of degrees behind their names. Yet, through David, God calls them fools in Psalm 53:1. There we read: "The fool hath said in his heart, There is no God."

These men deny that God created the world. Their explanation of the world's existence is that intense heat and cold acted upon gaseous vapors. But they make no attempt to explain where that gaseous vapor, cold, and heat came from, and thus only push the question back without answering it.

Such men take God's name in vain in order to emphasize their words even while they insist that He does not exist. What folly it is to spend time and money to fight an enemy whom you declare nonexistent!

Very correctly our versification of David's words has it:
Fools in their heart have said,
There is no God of might;
Corrupt are they and base their deeds,
In evil they delight.
We had better be careful, however, because there is so much of this sinfulness and foolishness in us. In our hearts as we are by nature, is this same folly, and often it comes across our lips.
How often have you ascribed this or that to luck or called this or that good luck or bad luck? You never said ''I was lucky?" Or, "It was just a case of tough luck?'' Whenever we ascribe anything to luck, David is used by God to point his finger at us and to tell us that we are behaving as fools.
It is sin and folly to deny God in anything that happens. And by that word "luck" we deny that the everywhere present and almighty God has caused this or that to take place. We rule Him out, and our god is luck!
By all means let us start today to praise God, and never let that word "luck'' fall from our lips, except when we condemn its use.
Quote for Reflection...
"...Knowing himself as claimed by a God of sovereign mercy, the redeemed one has peace and joy unspeakable, and he glories in the cross and will glory in God forever more."
George Ophoff
---
We thank the PRCA, who made this Daily Meditations of Rev. Heys available for our Newsletter. Read more about their missions, literature and wonderful publications on their website PRCA.
---
Funny...

A traffic cop pulled a farmer over for speeding.
The farmer pleaded that he wasn't much over the speed limit. But the cop continued to slowly write out the ticket. He brushed a fly off his face.
The farmer said, 'That sirkelgogga bothering you?'
The cop said, 'What's a sirkelgogga?' The farmer said, 'That fly - they circle a horse's backside.'
The cop stopped writing, looked at the farmer, and said, 'Are you trying to say I'm a horse's ass?'
The farmer said, 'Never! I have a great respect for officers of the law.'
The cop carried on writing.
After a while the farmer said, 'But you can't fool them flies.'
---
If you like this e-zine, please do a friend and me a big favor and "pay it forward."

If a friend DID forward this to you and if you like what you read, please subscribe by visiting... Kalahari Hunting Newsletter!

Comments? Ideas? Feedback? Let me have it, right between the eyes! I'd love to hear from you. Just reply to this zine and tell me what you think! I will appreciate every response.
---
Till next time...
"Blessed is every one that feareth the LORD; that walketh in his ways. For thou shalt eat the labour of thine hands: happy shalt thou be, and it shall be well with thee."
(Ps.128:1)
Greetings from all of us at
Uitspan Hunting Ranch, Namibia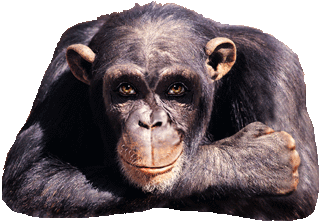 ---