Hallo,


Magnificent Creatures Rejoicing
(Double-click on the mail in your inbox to open it properly. You will then have a better view of all the text and pictures.)
Read in this Newsletter about:
The best of times in the Kalahari

Your new wallpaper: Our Rain Season

Beautiful Creatures

Little Boys' First Hunt

Listing on NAPHAs website

Pregnancy on Uitspan Ranch

What to Say to a Person Who Has Never Hunted

African Safari Costs

Preparing for Africa... Learn Afrikaans

African Hunting Stories... More Stories entered!

Spiritual Comfort
Picture top right: These small "Red Velvet Mites" or "Dinothrombium tinctorium", always appear seemingly from nowhere just after a good rain shower in the Kalahari. It looks like little brilliant red spots on the sand and form part of the region's rain-outfit. They don't stay long and burrow into the soft wet soil before it harden again. They are harmless to man and feed on other mites and their eggs. Our children love to run around after rain, competing at who sees the most of these "rain bugs"!
Watch how beautiful the sand of the Kalahari looks on this close-up picture.
Click here to watch a nice video of Red Velvet Mites.
---
Hallo and Welcome!
First of all, I'd like to welcome all the new subscribers to our Newsletter. We hope that it will bring the Kalahari, our family and the animals of our region, home to you.
Since our last "Kalahari Hunting News" in December, the trophy hunting season in Namibia was closed. December and January are the only months when trophy hunting is not allowed in Namibia while meat hunting ("biltong hunt/biltongjag") are legally allowed on Uitspan Ranch from first of May to August the 30th.
We are looking forward to the new hunting season and know that we will meet this year again a lot of special people and great hunters.
You will find this Newsletter filled with "hunting news" of a different kind. Since hunting also means being out in nature, enjoying and focusing on the beauty of creation as a whole and its Creator... you will probably appreciate the views and pictures shared in this issue as much as we do.
Until December 23rd, our region was gripped in a terrible drought. At the time we feared for the lives of livestock and game and the nature seemed to be in mourning.
How can we express our joy and utter relief when those first good rain arrived? It was as if even the birds sang differently that next day!
The northern parts of Namibia were not so lucky and the first rain in some of those regions did not arrive until two weeks ago.
Rain clouds towering over the Kalahari... always a welcome sight: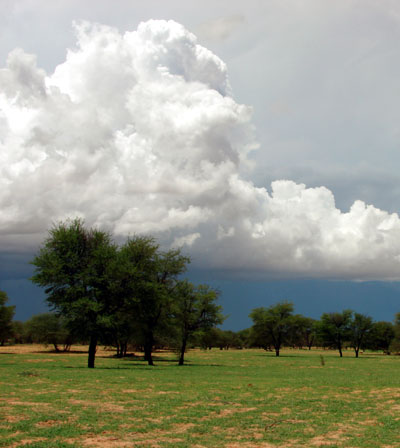 The picture below was taken from the balcony of our accommodation facilities on the morning of December, 24th while it was still raining softly.
These two Kudu bulls look like they are also joining in on the overall joy after the good rains. Just watch how deep-green the vegetation of the Kalahari gets when it has received heavenly water.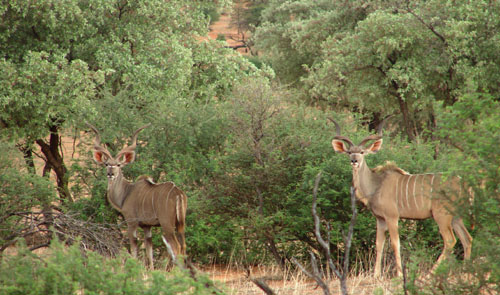 ---
Exclusively for you, our subscribers:
The new free Kalahari Wallpaper for you this month, is a picture of a typical sight during the rain season here. It was taken on Uitspan Ranch in January this year.

Remember that the password to see this page is: uitspanranch453
Click here to see this month's picture.

Back Issues of our newsletter are now only available to you as subscribers.

If you wish to see pictures and hunting news of last year,
click here to find those Back Issues!
---
Magnificant Creatures of the Kalahari... rejoicing!
Gemsbok on Uitspan Ranch in a good condition.
Below: We found this Cape Cobra in a Camelthorn tree and could take some pictures. This common snake of the Kalahari goes easily up and down any tree and often raids sociable weaver colonies. For those of you who don't know what these sociable weaver nests look like ... find pictures below the cobra's.
The Cape Cobra is nervous and deadly. It's venom is neurotoxic (as toxic as the Black Mamba's) that affects the respiratory system. The average venom yield is 120 mg (less than that of the Mamba).
When bitten, antivenom and assisted breathing is required.
Cape Cobras are quick to strike and become aggressive if cornered, but given its space it is very likely to retreat (unlike puff adders that are more sluggish).
The prominent throat band is a sign that this one is a juvenile.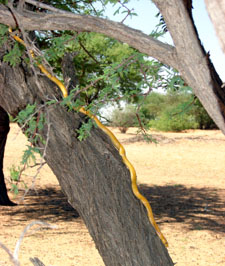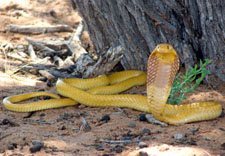 Below: A sociable weaver nest... a common sight in the Kalahari. This is such an interesting bird specie - masters of architechture and adaptation!. Therefore I will add a seperate page about them on our website soon.
) - not such a common sight in the Kalahari.

It lives in disused animal burrows; is usually solitary and hibernates.

Its diet consists mainly of millipedes, beetles and grasshoppers. It also scavenges on baby tortoises. These animals are protected by CITES.

Thanks to Michael, for grabbing the camera when he found this one!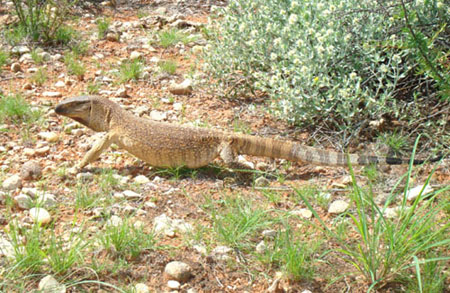 Have a look at some pictures of our updated accommodation facilities.
---
Hunting News / Pictures / Stories
The quiet season on the ranch proofed to be the perfect time to give some extra attention to the next generation of hunting guides and hunters here in the Kalahari.

Michael, Neil and grandfather Hendrik, decided to take these little cousins on their first Duiker hunt.

During previous years Jan-Hendrik and David (both 5 years of age now) have had great vacations together and shared a lot.

On this particular day they were given a (repeat-)lesson in the handling of fire arms. It was followed by some target shooting to polish the boys' shooting skills.

Well... the rest is a good campfire-story. But they succeeded in taking this duiker.

Below: The proud hunters.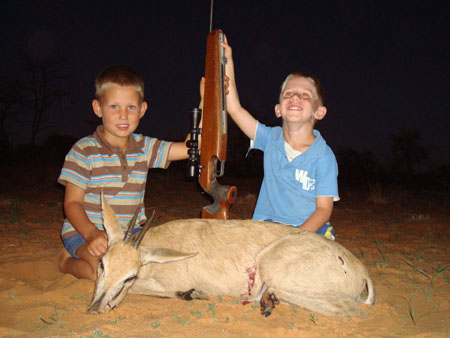 Hunting does not end when the animal goes down.
Grandpa watches the effort of loading the kill.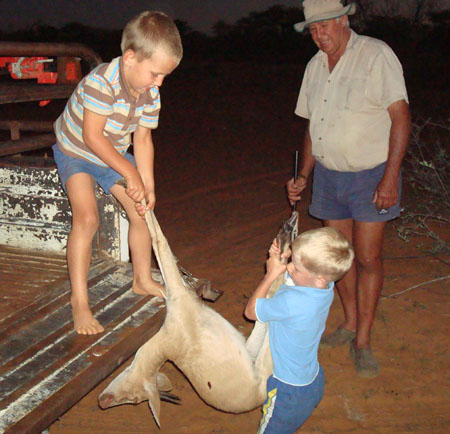 ---
Listing on NAPHAs website
In October last year we became aware of the fact that Michael (the PH of Uitspan Ranch) is listed on NAPHA's website under its memberslist as a Master Hunting Guide (MHG).
Since this was a mistake (Michael is qualified as a PH with Namibia's Ministry of Environment and Tourism for several years now), we asked NAPHA to correct it on their site. In December however, we noticed that it was not corrected yet and had to give attention to this once more.
The mistake was corrected recently.
During the same time we became aware that it was stated on a certain international hunters' forum in August last year that it is recommended not to book with a hunting guide and that Michael is, according to Napha's site, not a PH.
If any of you were misled by this information, notice that it was a mistake.
Have you seen our own Gemsbok Video? Click here to enjoy the video.
---
Pregnancy News from Uitspan Ranch
We are quite proud and excited: one of the long time members of the family is about to be a mother soon.
She was one of three Meerkats to grow up under the love and care of Hendrik and Isabel. Uitspan's yard became the threesome's sole territory (according to their body language) and any intruders or unexpected guests were treated by them with skepticism and suspicion.
Here a picture taken during May 2007: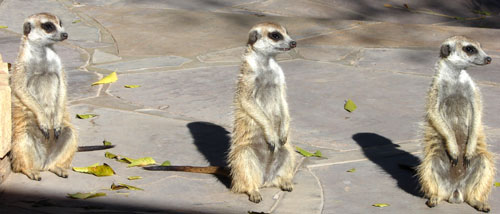 A few months ago the male meerkat disappeared and was spotted with a clan (who was also treated previously as the enemy)living near Uitspan's yard. He seemed to be now clearly a dignitary in those circles. Just shows how love can let one leaves his own home ;o).
However, he returned after several weeks just as if he was never gone. Now it is clear why he returned: he had to be back to support his female - soon to be the mother of his offspring.
Females Meerkats produce ± 2 litters per year and their gestation period is 70 days. Litters of 4-5 are born.
She is now just as beautiful as any mother-to-be and we are looking forward to see the little ones!
Here a picture of her...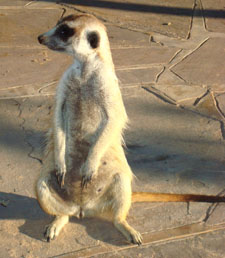 We'll keep you updated in the next issue of "Kalahari Hunting News".
Click here to see an updated Namibia Travel Info-page!
---
New Content on Kalahari-Trophy-Hunting.com
I wrote a page about my special learning experience while building our website.

You can read the story of how and why we started our own website.

At first I didn't have ANY technical knowledge of the Internet. A friend refered us to SBI ("Site Build It"). This incredible company and product helped me every step of the long way of creating a successful website.

If you have ever thought about building a website for your business or about your hobby - while also earning some extra money... consider getting SBI now.

There is a SPECIAL on for the next couple of days! Get more info by clicking on this banner...

Since we launched the GREAT NEW CONTEST on our website, we've received 7 African Hunting Stories.

You are welcome to read them and give your comments on each (see details below every story)! Click on any of the titles below. It will take you to that story.

4. Hartebeest are Hard to Bust

5. Bowhunting Elephant in Zimbabwe

7. Kudu With a Side of Warthog

You can visit our African Hunting Stories-page for details and info on the contest.
Click here to enter your African Hunting Story.

Coming to Southern Africa soon? Then learn some Afrikaans to make your trip even more enjoyable!

A native Afrikaner, now at a University in the USA, created this website to learn people Afrikaans.

We have special hunting packages available for anyone booking from February till April 2008. This may be the time to tell your friends about this special opportunity... to grab their African Trophy Hunting Adventure - right here!

(To send the link to any friends, right-click on the next page and select "Send link..".)
Interesting Articles on Hunting
Dr. Randall Eaton recently gave me permission to publish this great article of him on our website. I posted the link on one or two hunting forums and got so much positive feedback.

Most of us have had conversations with people who does not like hunting or who doesn't understand the reasons for hunting.

Well... if you have read this article... you'll never again wonder what you should tell such a person.

To read, click on Reasons For Hunting

Another great article I want you to enjoy is about African Safari Costs.

Terry Blauwberg, who has hunted in Africa a lot of times, wrote this (in his words) personal view of all the costs involved in a safari and what one can do in order to go on a hunting trip to Africa.

Enjoy African Safari Costs
Spiritual comfort... the Bread of Life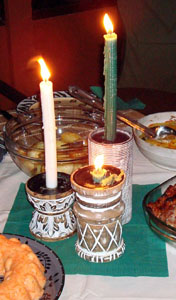 May the Word of God serve to become also in you a well -
"...But whosoever drinketh of the water that I shall give him shall never thirst; but the water that I shall give him shall be in him a well of water springing up into everlasting life." (John 4:14)
The Upward Look
Click on the links to read Psalm 19

Psalm 19:10,11

The god that is worshipped by most men is gold. And if gold is not in the literal sense that for which they live, their god is that which gold can buy. And the sweetest thing that they know is honey. Such people cannot agree with David when in Psalm 19:10-11 he writes concerning God's judgments,
"More to be desired are they than gold, yea than much fine gold; sweeter also than honey and the honeycomb. Moreover by them is Thy servant warned: and in keeping of them is great reward."

By judgements David means that which God judges to be true and righteous. In other words: His law, His statutes are a very precious possession. If we have them in our hearts, we are very rich. If we delight in them, they are sweeter to us than any earthly food or drink of this earth.

Made in God's image, and created to glorify Him, man, when his soul is converted by the Spirit of God's Son, will see gold and all that it can buy, and all the food delicacies of this earth, as God-given means to serve and glorify Him.

He will look beyond the gold and honey. He will desire the gold only as an instrument wherewith to serve and glorify God. Tasting the sweet delicacies God gave him, he will taste the richer love and grace of God in Christ.

These earthly creatures, when God's law has made us perfect and converted our souls, will cause us to lift our eyes above these temporary creatures to look through the heavens to the God Who made all things for His own glory.

By that law man will be warned not to make gold his god, and not to live for the pleasures of the flesh. He will be given the upward look, so that his enlightened eyes see the Creator and not simply the creatures which He made for His own transcendent glory. And of these judgments of God he will sing:
They are to be desired
Above the finest gold;
Than honey from the comb
More sweetness far they hold;
With warnings they
Thy servant guard,
In keeping them is great reward.
Quote for Reflection:
...How can a Christian know that he is righteous before God? Not when he looks at himself! When he looks at himself, there is nothing but sin, corruption, and unrighteousness. We are corrupt, and we deserve to die. How, then, can we be conscious that we are righteous before God? By looking away from self! By looking away from the things that are seen! By looking to God who raised up Jesus from the dead! The moment I may look away from self and may look to God as He shows His face in the resurrection of Christ, I can say, "I am righteous."
— Herman Hoeksema, Righteous By Faith Alone, p. 181
---
We thank the PRCA, who made this Daily Meditations of Rev. Heys available for our Newsletter. Read more about their missions, literature and wonderful publications on their website PRCA.
---
Funny: Survivor... MONTANA STYLE
(All our subscribers from the USA: I hope you enjoy this one!)
"Due to the popularity of the Survivor's shows, Central Montana is planning to do its own, titled "Survivor -Montana Style."
The contestants will start in Billings, travel over to Bozeman and on to Butte.
Then, they will head north to Helena, Great Falls, Conrad and Shelby.
From there they will proceed east to Havre and Malta.
Then they will go south to Grass range and Roundup and the final leg will be back to Billings.
Each will be driving a pink Volvo with California license plates and a HUGE bumper sticker that reads:
"I'm gay. I'm a Vegetarian. Beer is harmful to Your health. Republicans suck. Hillary in 2008. Deer hunting is murder, and I'm here to confiscate your guns."
The first one that makes it back to Billings alive wins. SURVIVOR ..... MONTANA STYLE!"
---
If you like this e-zine, please do a friend and me a big favor and "pay it forward."

If a friend DID forward this to you and if you like what you read, please subscribe by visiting... Kalahari Hunting Newsletter!

Comments? Ideas? Feedback? Let me have it, right between the eyes! I'd love to hear from you. Just reply to this zine and tell me what you think! I will appreciate every response.

---
Till next time...
"Blessed is every one that feareth the LORD; that walketh in his ways. For thou shalt eat the labour of thine hands: happy shalt thou be, and it shall be well with thee."
(Ps.128:1)
We as a family wish you all the best for 2008!
Greetings from
Uitspan Hunting Ranch, Namibia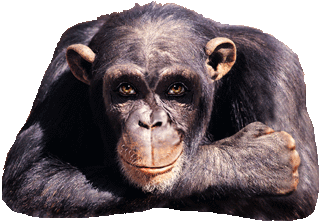 ---