Hallo,


Hunting News from the Kalahari, Namibia
Click here to read this Newsletter on the web. You'll see the pictures best this way.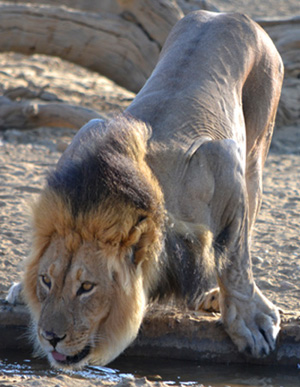 Read in this Newsletter about:
Update from the Kalahari

Lilac-breasted Rollers Entertainment

More new Subscribers to our free Newsletter

Your new wallpaper: Giraffes in a Kalahari sunset

A Moving Desert

Hunting Pictures: April, May and June 2012

Jan-Hendrik's Warthog

The PH's own Eland en Zebra Trophy

From the PH: The Language Barrier

A Prayer for Needful Quickening

Picture: Lion King. This picture was taken by Steve Hofmann during our trip with him to Kgalagadi Transfrontier Park in August 2012. The big male lion came in to the waterhole early morning after a night of fighting and roaring for the rights to a certain female. Just look at those paws! Imagine the spoor it makes. Even if you have never seen lion tracks in your life, you will immediately know that the prints belong to the king of the jungle!

---
An Update from the Kalahari
Warm greetings from a sunny, hot and dry Kalahari! Definately don't we ever have anything near a white Christmas this side of the globe - and the temperatures are confirming this.
We had very hot and dry conditions for the past weeks, one day even 43°C/109°F in the shade! Namibia also suffered from a lot of veldfires. Millions of hectares burnt down in several regions of the country. This is mainly because of a lot of dry grass which is still on the veld from the previous rain season. The dry conditions and high winds caused many small fires to get out of control.
On November 4th, we also had a big veldfire near Uitspan's eastern border - which is the border of Botswana. The fire was just on the other side, caused by lightning. We went to our hunting camp to check the fire and then were privileged to watch a spectalucar show of nature (see picture below): the combined effects of a veldfire, its glow reflecting in the clouds above, and lightning to the south. God is indeed the powerful Almighty and Creator of everything!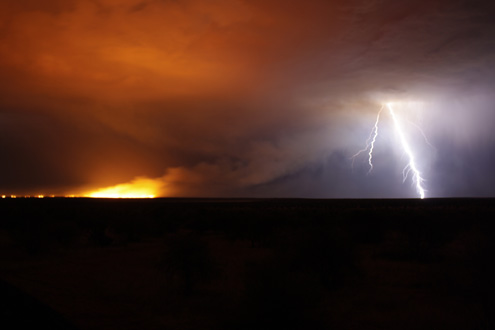 You can see more pictures of this show on Facebook. Click here to have a look!.
"We know that God is everywhere; but certainly we feel His presence most when His works are on the grandest scale spread before us; and it is in the unclouded night-sky, where His worlds wheel their silent course, that we read clearest His infinitude, His omnipotence, His omnipresence."
~ Charlotte Brontë, Jane Eyre
The lightning didn't result in rain. Since then, the Kalahari region were blessed with a few scattered rain showers, but nothing widespread and general. On Uitspan we also haven't had rain yet.
We pray that God will give us rain soon so that there can be food for the animals and that we can praise His Name for the wonderful blessing it will be.
Entertained by a Lilac-breasted-roller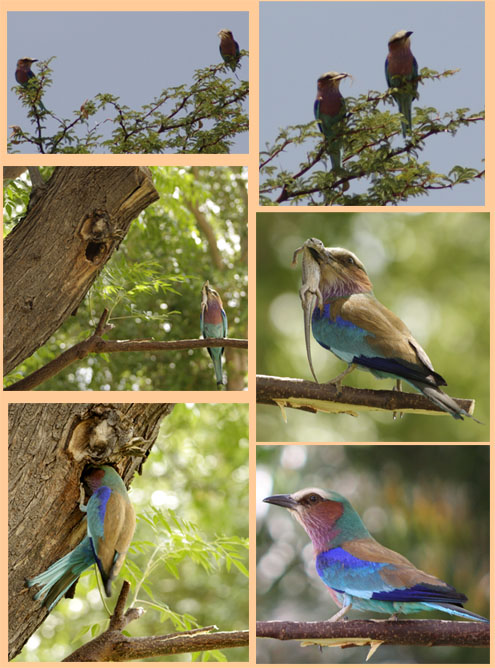 Nature never fails to amuse and entertain. For weeks we witnessed how this pair of lilac-breasted rollers took care of their young one. They took over the breeding hole of a woodpecker in our garden. Our afternoon coffee time were also feeding time. See on the picture above how the male again and again brought meaty treats, gave it over to the female in a nearby tree and how she then brought it to the young one... merely meters from where we were having coffee.
We enjoyed this whole process every day for weeks! We couldn't resist grabbing the camera several times. The female got so used to us sitting just beneath her nest. After the first few days, she didn't seem to mind us at all.
The youngster has recently left the nest and is now grown-up enough to find its own food.
"Adopt the pace of nature: her secret is patience."
~Ralph Waldo Emerson
Welcome all new Subscribers...
We have now well over 400 subscribers to our Newsletter. Welcome to all those of you who haven't received them before. May you enjoy the news from the Kalahari.
We received over the years wonderful comments on the Newsletters. Thank you for each comment. It is an inspiration and motivation to continue reporting to you about the visitors and events of the nature and wildlife of the Kalahari region, Namibia.
"Our works are good when the will of God is the rule of them, and the glory of God the end of them; when they are done in his strength, and for his sake; to him, and not to men."
(Matthew Henry Concise Commentary on John 3:1-21)
It is a privilege for us to send this Newsletter to you - for free. Thus also our apologies for times when we just can't get to finishing another issue within the timeframe we plan to. Other than hunting, we also have lots of ranch management to do at the end of each hunting season. During the hunting season, we give as much possible of our time and attention to each client.
To Hunting Friends, old and new
We as a family are healthy and well and are thankful for a year during which we could enjoy meeting new hunting friends and see old ones again. We had great times and this filled us with excitement for the 2013 hunting season. All of you who will come for a hunt here... we look forward to meet you and we hope that the time here will exceed all your expectations!
Namibia's trophy hunting season is open from February 1st to November 30th every year (keep that in mind if you plan to come hunt with us). The best months for hunting in the Kalahari, are March to September.
Since the numbers of game herds have increased dramatically during the past good rain years, we need to decrease the numbers. So we still have a few management hunting packages available. Click here to look at the available special hunting packages.
---
Kalahari Wallpaper

Exclusively for you, our subscribers:
The new free wallpaper for you this month, is a picture of giraffes against the sunset here on Uitspan Ranch in the Kalahari.

Remember that the password to see this page is: uitspanranch453

Click here to get this month's picture on your desktop.
---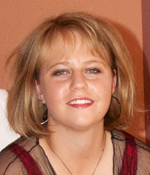 An Interesting Fact
(Our daughter Maria is 14 years old and shares here interesting facts about the Kalahari, Namibia or any of its animals.)
Moving Desert
"The Namib Desert is the oldest and one of the most famous deserts in the world. There are a few very interesting facts about its dunes that I would like to share with you.

Some deserts all over the world have 'stable' dunes, which mean that they do not move and that nothing about their form changes over time. However, if the sand in the particular desert is loose, and if the wind blows strong enough, the dunes could move. Some dunes actually can move a kilometer (0.62 mile) a year! They move as the wind blows, which mean that the wind blows the sand up the slope side and down the slip face. That is what makes the dune move. You are able to find the world's highest sand dunes here in the Namib Desert (on the western coast of Namibia). You get them as high as 200 meters, which is exactly as high as a 70-storey building. We tend to think that a dune is just a huge pile of sand, but don't fool yourself.

Each dune has a base, a slope and a slip face. It is in fact a frequently shifting ecological unit. The slip face is the side that is sheltered from the wind, and this is where the detritus (or accumulation) collects. That is the term given to small parts of dead and decomposing plants and animals. Detritus plays a very imperative role in the lives of many desert plants, because it is the first link of inestimable different food chains.

Hope you enjoyed this piece of information about the world's oldest desert!"
The Kalahari will reveal itself
to only those who
seek with a true heart...
---
Hunting Pictures: April, May and June 2012
Click here to find lots of hunting albums on Uitspan's Facebook page!
Bryce and John Millar: Idaho,USA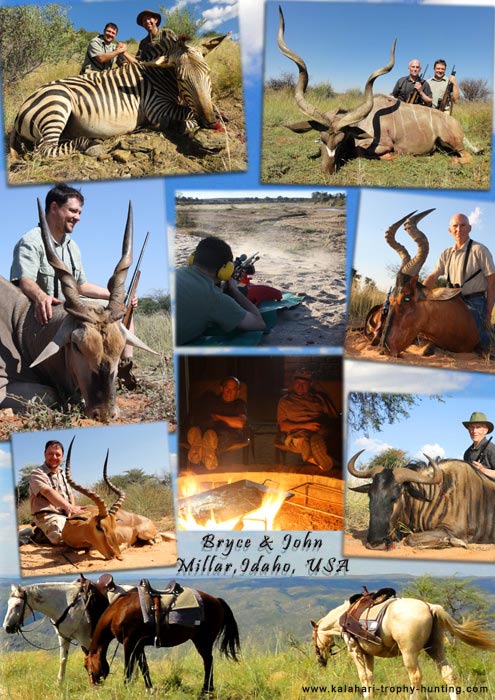 Above: Pictures of Bryce and John's Namibia hunt. This is their second hunt with us. Bryce got a Kudu, a Mountain Zebra, an Impala, an Eland and a Springbok. Bryce used his .300 WBY. John got a Kudu, Blue Wildebeest and Hartebeest and used a .340 WBY to hunt these animals.
---
Desi and Aaron Kushniryk: Manitoba, Canada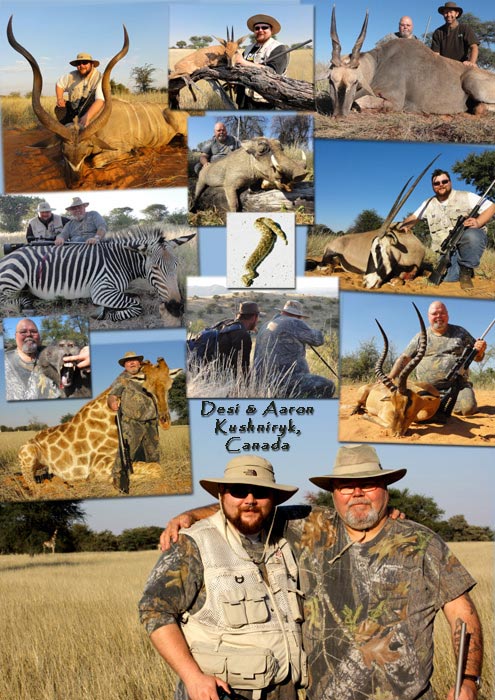 Above: Pictures of Desi and Aaron's hunt. It was a big hunt and Desi got the following trophies: Kudu, Impala, Gemsbok, Eland, Mountain Zebra, Warthog, Baboon and Giraffe. He used his .338 Ruger and a .270 TC on these trophy animals. Aaron hunted a Kudu, Gemsbok and Duiker with the same rifles.
"We came knowing not too much. We were trained, diciplined and very fortunate to have found a PH with great patience and understanding. We learned we "must" do lots of new things....This was supposed to be a once-in-a-lifetime trip. We will be back. We had the time of our lives." ~ Desi Kushniryk, Uitspan Hunting's Visitor's Book
---
Victor Berezov and Evgeny Andreev, Russia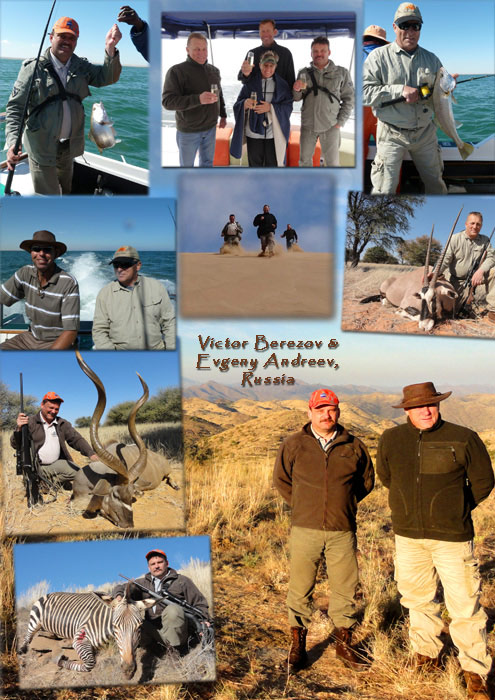 Above: Pictures of Victor Berezov and Evgeny Andreev hunting with us for the fourth time in Namibia. They took a Management hunting package. Victor used our .338 Winchester and .308 Musgrave this time. Evgeny shot with a Tikka .300 WinMag.
Victor and Evgeny only keep the trophies of animals bigger than what they've hunted previously and come mainly back again to enjoy the hunting and stalking in the Kalahari nature. We also took them for some touring and fishing at the Namibian coast.
---
The PH and his son's own Trophy Pictures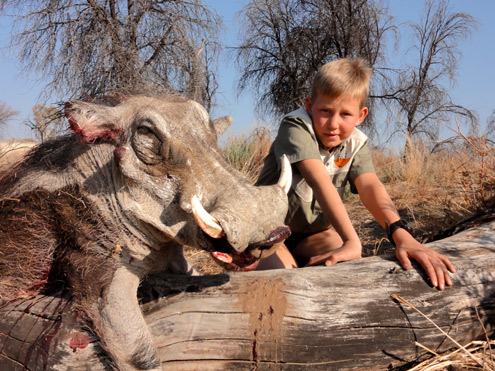 Above: Jan-Hendrik hunted his first Warthog in June this year. He used his dad's .243 Winchester.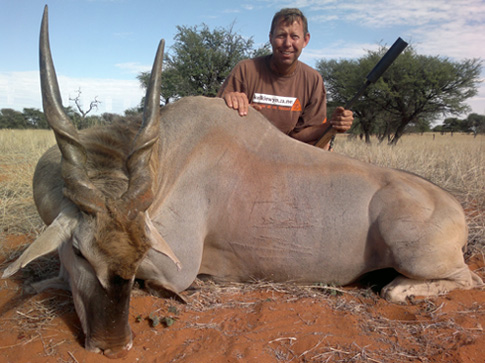 Above: Michael hunted this Eland one day on the other farm while he went to do ranch management there. Hunting was not planned, but of course - the rifle was with (as always with any hunter). This Eland travelled a long way and broke several fences - see the marks on its cape. Michael used his .308 Musgrave and took a running shot.
Above: Michael hunted this Zebra in the Khomas Hochland mountains after Desi got his Zebra early morning and there was enough time when the opportunity arised for the PH. He shot it with his Ruger .300 WinMag and a 180 grain Pro-Amm bullet. It was a 300 yard broadside shot and the bullet destroyed both lungs. We were again amazed by the toughness of these animals. Michael followed it a 1000 yards and found it dead just where it would've fallen down a steep ravine.
---
From the PH...
The Language Barrier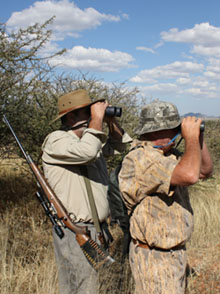 "We had two French hunters that came to hunt package hunts that they purchased. We were to hunt a one-on-one hunt. The older chap could speak English quite well, but the younger guy could do a yes-and-no only. As I was not the boss, I had the lucky draw to have the younger guy to hunt with.
Although young, he was a crack shot with his 300 Win Mag. I quickly taught him what was 'left' and 'right' and even to count up to five. The terms 'shoot' and 'no shoot' were also imprinted on his mind. It was a seven day hunt and, with the exception of the kudu, we finished the package in three days. The Oryx, Impala, Warthog, Springbuck and Red Hartebeest all were one shot kills with all shot through the heart. I was very pleased with the hunter and he was pleased with his P.H. The evenings were full of laughter as me and 'my hunter' were doing better in the hunting field than the other group. I frequently told my hunter, via the other hunter, that he must become humble as we must still hunt a kudu, the grey ghost of the bush. The only reply I got was 'No Problem'.
The early morning of our fourth day, we went out to a gravel dam that had a hide. We were to spend the day within the hide, waiting for kudu and should a monster warthog come in, we would take it as well. Whilst waiting for the game to come in, I ranged different pronounced landmarks for the hunter. The nearest was 70 yards and the furthest was 115 yards from the hide. The hide was made with branches and poles. As the animals came in to drink, the hunter would aim and imaginary take a shot at them. I then noticed that sometimes a branch would be in front of the barrel and decided to take note thereof. It was just after 11.00 am when I spotted two kudu bulls on their way to the water. I pointed the kudu out to the hunter who was very eager to take a shot. I then indicated to him that they were young bulls and none were trophies. We were watching them for about 20 minutes. Then four magnificent bulls came in. I had never seen four such magnificent bulls together in my life. None of the four bulls were under 56 inches and the larger one was close to 60 inches. My voice trembled when I told him to be ready to take a shot. When the bulls were 90 yards from the hide they joined the younger bulls. The bigger bull was to the right, standing broadside, and I told the client to shoot. As he readied himself I saw that a branch was in front of his barrel. 'No shoot, no shoot' I urgently whispered into his ear. His facial expression had this unbelievable look that said 'Why the hell not?'. 'A branch is in front of your barrel', I explained but I could see that no lights went on. I used all my English knowledge to try and explain, but still no lights went on. Words such as twigs, branches, leaves and tree had no effect. I later said 'bushes in front of rifle' and he seemed to twig on. He aimed again and there the branch was in front of the barrel again. 'No shoot' I urgently whispered again but 'No problem' was the reply I received and the shot followed within a half a second. He quickly reloaded and fired at the fleeing kudu. I could not see whether he hit the kudu or not for I was not expecting him to shoot with the branch in front of the barrel.
Those six kudu bulls took off as if their tails were alight. We followed the spoor for a mile and after no blood trail was found, we went back to the hide. The hunter was amazed and said that it was not possible that he could miss such a large animal at such a close distance. I then took him to the hide and showed him his two shots through the branch. He was incredulous and with a look of disbelief and amazement, we went back to camp.
The other hunter already was back from his hunt as well. A conversation between the two hunters followed that was impossible to comprehend. The conversation simmered down after much arm-swinging, head shaking and the holding of the head with both hands had taken place. The other hunter later explained that my hunter thought I was crazy as there were no bush where the kudu stood. He could see no branches through his scope and thus surmised the field of view was clear.
Days five and six produced no shootable kudu and the hunters were to leave on day seven. The group had to be at the airport at 14h00 and we had to leave at 12h00 in order to achieve this.
We decided that we would have one last try on day seven and would hunt until 11h30. We left by vehicle whilst still dark and were on our way to a cattle post where we would leave the vehicle and scout the area on foot. We were approaching the post when the sun decided to greet us. I saw movement at the post and stopped the vehicle in the road. After glassing the area I saw three kudu female with two young bulls. After watching them a while they cleared the fence and went off with their noses into the wind. It was as we lost sight of them in the bush that a huge kudu bull also cleared the fence and followed the others.
We quickly grabbed our gear and took a short cut to try and intercept them. We also went through the fence and were now in the same camp as the kudu. The tracks were fresh and easy to follow and we soon heard them ahead of us. I instructed the hunter to load his rifle and be on the ready. I also had him decrease the magnification of his scope as we were in dense bush. We tip-toed along until we saw the kudu. Murphy's law had it that the younger bulls were in a shootable spot but the big bull was behind a bush. The client could not spot the kudu even after many efforts were made to show it to him. I felt that, although the bull was behind the bush, he could take the shot as we were 40 yards from it and the bush was not that dense. As the client changed position in order to try and see the big bull, the kudu saw us. They gave one loud bark and were off in a wink. A loud shot followed as the client tried a shot at the big bull, without even aiming. I could see that he was desperate to shoot the kudu and he was shaking all over.
We rested for 20 min and slowly followed their tracks again. An hour and a half later we caught up with them. Murphy was up to his bag of tricks again and the old bull was behind a bush. I readied the client over the shooting sticks and showed him the bull. Again the client could not see the bull. I then took his rifle at the butt and aimed along the barrel at the bull. The client looked through the scope and still could not see the bull. I was still holding onto the butt, pointing the rifle in the general direction of the big bull when he decided to pull the trigger. An ear splitting bang went off. The rifle jumped off the shooting sticks hitting the client on the nose with force and continued on its path backwards nearly breaking my thumb and fell to the ground. I was amazed and wanted to know why he pulled the trigger. The answer that I could make out was that he could not see the kudu and that as I was pointing the rifle to it he thought he might hit it.
Well, that was the end of the hunt and we went back to camp. The client still wanted a discount on the package price as he did not get his kudu. This request of his was not granted due to obvious reasons.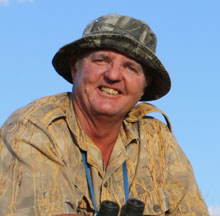 Two months after this episode, another hunter shot a 59 inch bull at the same waterhole and from the first view of the Kudu, I was convinced that this was the same one the Frenchy had a chance on earlier.
He had such a good chance to shoot a really magnificent trophy yet botched it. If we just could understand each other better..."
~ PH Dawie van Aardt,
Uitspan Hunting, Namibia

"I go to nature to be soothed and healed, and to have my senses put in order."
~John Burroughs
---

Kalahari Videos
Here are a few videos we selected for you to watch. These will bring the Kalahari home to you!

Hunting Reviews...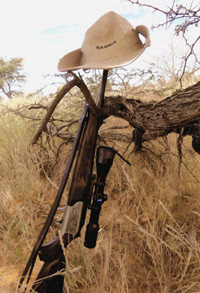 Previous Kalahari Hunting Reviews shared:
Contact us...
Contact us here if you are interested in hunting with us in Namibia.
You are also welcome to let us know if you would like a reference list. To keep it confidential, we do not publish the mail addresses of our hunting clients on the web.

---
Any comments on Kalahari Hunting News?
It is always great to get feedback.
So... please take a moment to comment here!
---
Spiritual comfort... A Lamp unto my Feet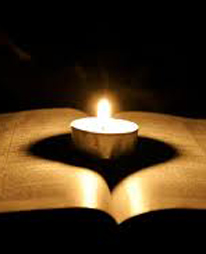 "Thy word is a lamp unto my feet, and a light unto my path."
~ Ps.119:105
A Prayer for Needful Quickening
Read Psalm 119:150-151

As the saying goes, "Forewarned is forearmed." If we knew that the enemy is planning to attack us, we can get ready to defend ourselves and will not be caught by surprise. And the more we know about the enemy and his plans the better we can prepare.

For us today forewarned means that we are made aware of the fact that Satan intends to attack us through the antichrist. In fact it means that we are aware that already there are many antichrists (I John 2:18), even though he has not come yet in his last and most dreadful form. We do have a description of him in Psalm 119:150 where we read: "They draw nigh that follow after mischief: they are far from Thy law."

The word mischief means crafty, deceitful. And much there is today that calls itself Christian but is antichristian and is against Christ and His church. They come with teachings that corrupt the truth about Christ and why He came. They are far from God's law.

We need to know the way to be protected against them. As the psalmist did, so must we cry out, "Hear my voice according to Thy loving kindness: O Lord, quicken me according to Thy judgment." For our only hope and only protection is God in His only begotten Son. We need to be quickened, that is, be kept spiritually alive and active. And God must perform this work upon us. He is our defense and our strength.

It is important that we remember that all our spiritual life comes from God in His loving kindness, that is, in Christ and through His cross and Spirit. He implants a new life, but He must also keep it there and make it active. We must then pray for a needful quickening so that we continue to fight the good fight of faith.

Our flesh wants to stop to escape ridicule, hardships, and persecution. We like to lay down our spiritual life for the advantage of our natural life. But be wise and follow the psalmist's example.

Pray and sing these words: "O hear me in Thy grace
In mercy quicken me;
The wicked plan to do me harm,
But they are far from Thee."
Quote for Reflection
"Every true prayer is a trumpet against secularism and an opening of the door to the reality of the glory of the power of the risen Christ to flood into our entire situation. The key to life's meaning and the key to true prayer is: God first, mankind second."
~ D.Kelly
---
We thank the PRCA, who made this Daily Meditations of Rev. Heys available for our Newsletter. Read more about their missions, literature and wonderful publications on their website.
Click here to visit the PRCA's site.
Take a moment and listen here to an online audio sermon.
Read here articles on several subjects and what Scripture says about it.
---
If you like this e-zine, please do a friend and me a big favor and "pay it forward."

If a friend DID forward this to you and if you like what you read, please subscribe by visiting...Kalahari Hunting News or leave us a message here!
---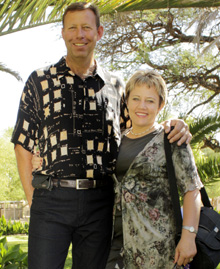 Till next time...
We wish you a blessed festive season.
"Rejoice evermore. Pray without ceasing. In every thing give thanks: for this is the will of God in Christ Jesus concerning you. Quench not the Spirit. Despise not prophesyings. Prove all things; hold fast that which is good. Abstain from all appearance of evil."

(1 Thess.5:16-20)
Kind regards from
Uitspan Hunting Ranch, Namibia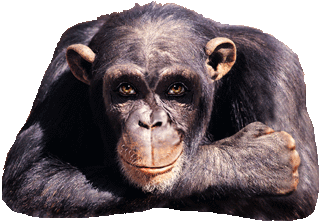 ---