Hallo,


Hunting News from the Kalahari, Namibia
Click here to read on the web the latest hunting news from the Kalahari, Namibia.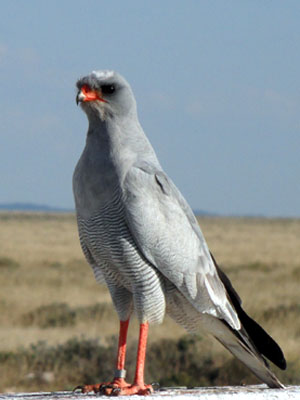 Read in this Newsletter about:
2011 Hunting Season

Your new wallpaper: Zebras

Hunting Pictures: March and April 2011

THE Top Trophy in the history of Uitspan

From the PH: The demise of the pre-60 year old PH
Picture on the right: Namibia's Pale Chanting Goshawk, a very common resident.
---
A Busy 2011 Hunting Season
At last... another issue of Kalahari Hunting News is reaching your inboxes! We've been busy and it may sound like a cliché, but if you've visited us previously, you know how time can flies when we are hunting.
We as a family together with Dawie (the other PH working with us) shared many weeks together with hunters this year and we had most pleasurable evenings of fun and laughter. Thus the long delay in getting our Newsletter out to every one of our nearly 400 subscribers!
Thank you to Jozsef, Ference, Mihaly and Istvan from Hungary; Marcel, Dusan and Milos from Slovakia; Victor and Evgeny from Russia, Atilla and 'Johnny' from Hungary; Joe and Michael from USA as well as Orlando, Victoria, OJ, Brianna and Sofia from USA - for hunting with us from March to June this year. What great times we had.
As they say: "A bad day in the veldt is still better than a good day in the office." How can we complain about anything if we have this wonderful privilege to 'work' in nature and meet so many interesting people? We still love what we do.
In the Field & Stream, November 1939 issue, Gordon MacQuarrie said...

"Some people ask why men go hunting. They must be the kind of people who seldom get far from highways. What do they know of the tryst a hunting man keeps with the wind and the trees and the sky? Hunting? The means are greater than the end, and every hunter knows it."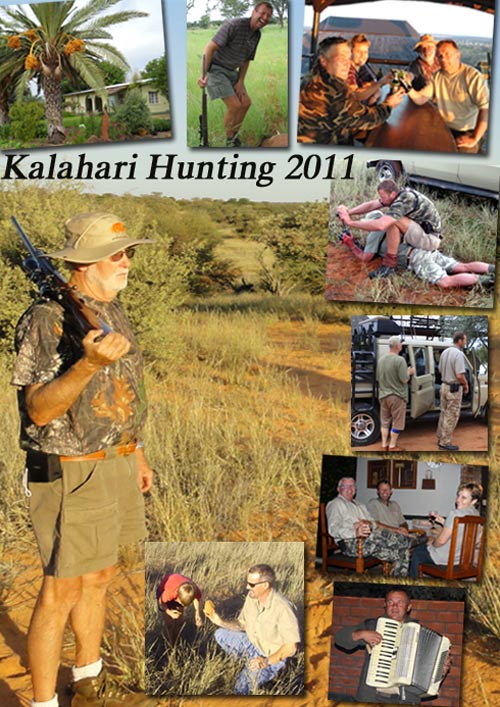 ---
Kalahari Wallpaper

Exclusively for you, our subscribers:
---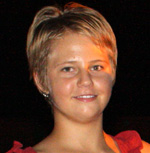 An Interesting Fact
(Our daughter Maria is 13 years old and I asked her to write down an interesting fact about the Kalahari or any of its animals for every issue of our Newsletter. I'm sharing it as she wrote it down.
Maria and her friend Sofia were in a terrible horse-riding accident on the 15th of June. We thank the Lord that He saved their lives and that both of them are recovering from it.)

Follow-the-leader

The honey badger is one of the Kalahari's most independent and strong animals with its long, sharp claws and thick coat. Honey badgers dig for prey in the ground. They eat things like scorpions, snakes and mice.

However, the black-backed jackal and Pale Chanting Goshawk also know that the honey badger is very clever and a good hunter. Therefore, every time the honey badger goes on one of his hunting trips, he has two followers – the black-backed jackal, that follows the honey badger cautiously, and the Pale Chanting Goshawk that waits patiently on a branch nearby.

They watch closely when the honey badger digs and when the prey just might escape him, the jackal and Goshawk are fast to get him.

This prey would definitely not be lucky with an escape!
The Kalahari will reveal itself
to only those who
seek with a true heart...
---
Hunting Pictures: March and April 2011
Jozsef, Istvan, Mihaly and Ference from Hungary
We kicked off the 2011 hunting season with this Hungarian hunting group. They hunted a management package each with only a few trophy animals.
The Kalahari was still very lush-green (in March) as you will see on the pictures, and we even had some rain during their time with us.
Above: Mihaly hunted this Blesbok.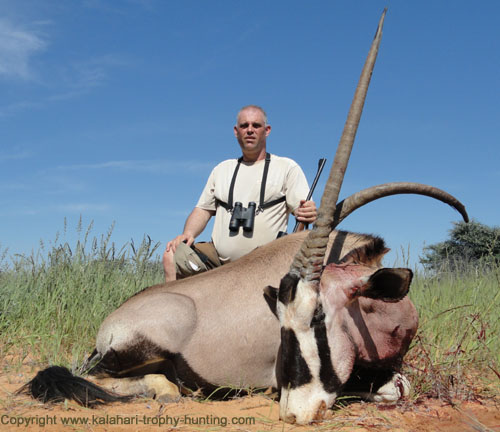 Above: Jozsef likes to hunt animals with deformed horns.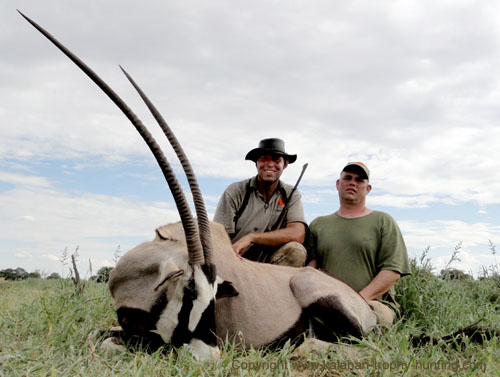 Above: Most of the time guiding... not often hunting himself. The PH shot this very old Gemsbok female.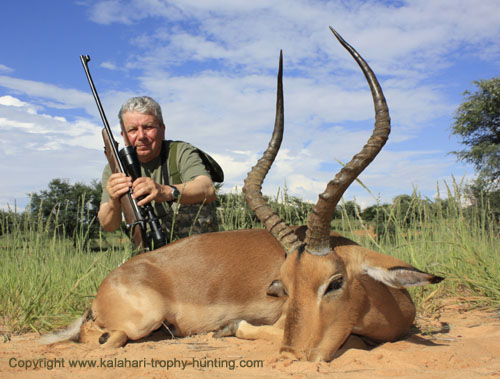 Above: Mihaly got this nice Impala trophy.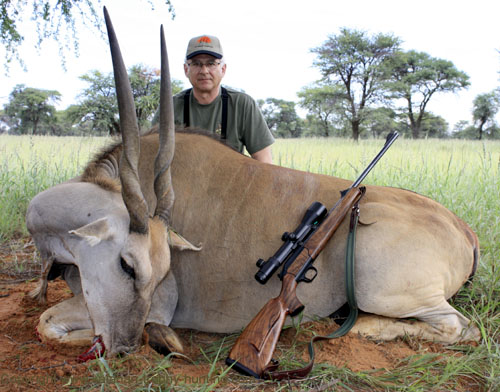 Above: Istvan hunted this female Eland as a culling animal.
---
Marcel, Dusan and Milos from Slovakia
These Slovakians were on their first hunting trip to Africa and we were honored to have them.
They hunted 2 Waterbuck, 3 Kudu, 2 Warthog, 2 Eland, 2 Gemsbok, 1 Impala and 1 Blue Wildebeest. We had a good time together and they even cooked some "Slovakian"-goulash for us with Warthog meat. They also sang a few Slovakian songs as a reply on our Afrikaans songs.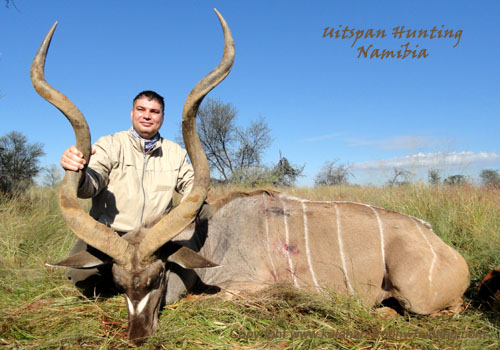 Above: Dusan hunted this special Kudu trophy... 56".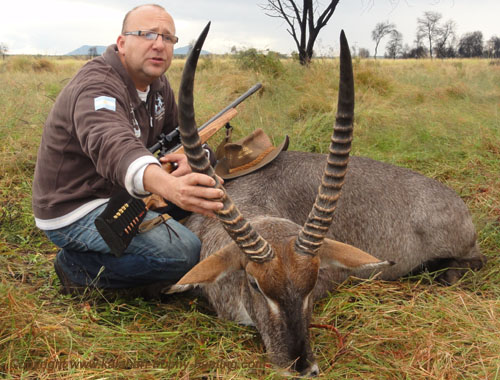 Above: Milos hunted this Waterbuck.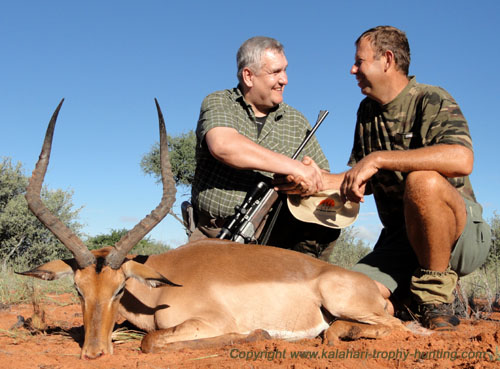 Above: Marcel's Impala trophy.
---
Victor and Evgeny from Russia
This was the second time Victor hunted with us on Uitspan. This time he was accompanied by Evgeny, his gun-shop owner. They hunted management packages and got 4 Kudu, 2 Red Hartebeest, 2 Impala, 4 Springbok, 2 Steenbok, 2 Eland, 2 Warthog and 2 Gemsbok. It was two busy hunting weeks and the men did a lot of walking and stalking.
After their hunt, we visited Etosha with them.
Our daughter Isabella still refers to Victor as "my friend the hunter". Thank you for all the ice cream you bought her, Victor. It was great to have you again here on Uitspan.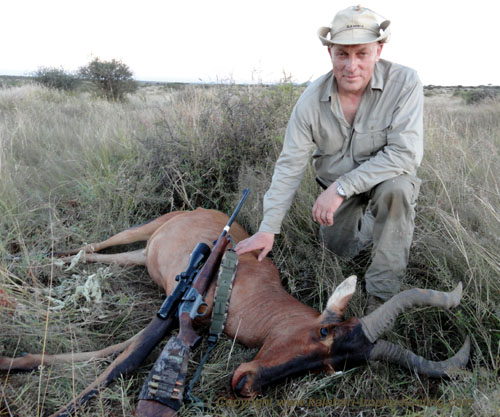 Above: Victor's Red Hartebeest trophy.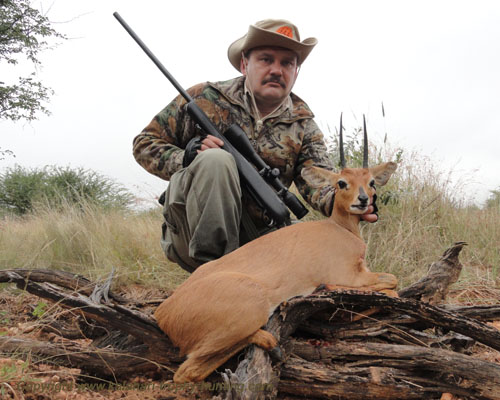 Above: Evgeny's Steenbok.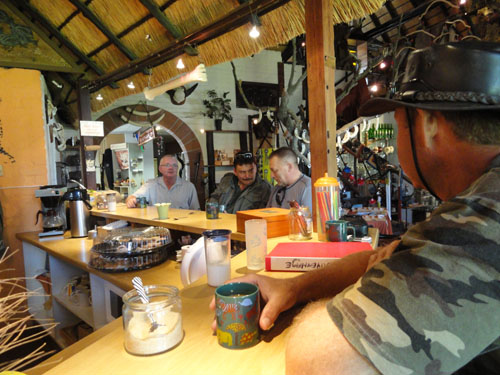 Above: Drinking coffee at the taxidermist.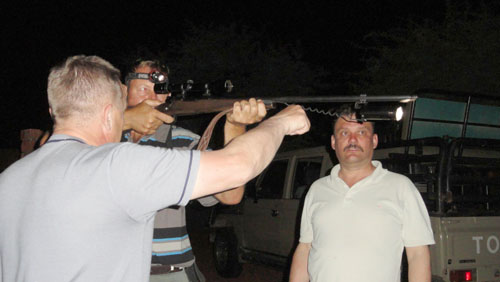 Above: Michael was very impressed with the hunting light Victor brought him from Russia!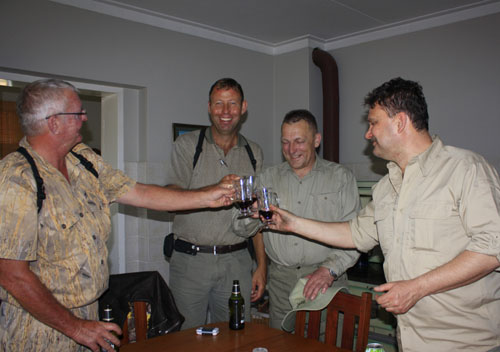 Above: A toast on happy hunting in Namibia!
---
Top Gemsbok Trophy
We already shared this special trophy via e-mail with many of our hunting friends, but want to show these pictures also to all of you as subscribers.
This is the new record Gemsbok ever hunted on Uitspan. The hunter was mr. Orlando Rivas from Miami, Florida (USA). He and his family hunted with us in June this year. It will be the new Namibia nr.2. The Namibia nr.1 Gemsbok scored a total of 281cm. This one scored 278cm (it still needs to be officially entered into the SCI records). It means a difference of 3 cm on the total. The longest horn measured 47.5 inches.
This is a once-in-a-liftime trophy.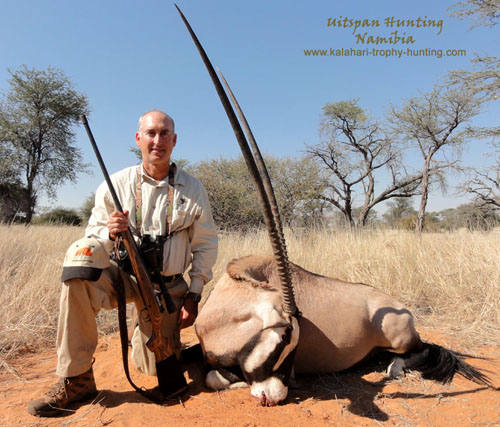 Above: Orlando Rivas with the new nr.2 Namibia Gemsbok trophy, hunted on Uitspan Ranch.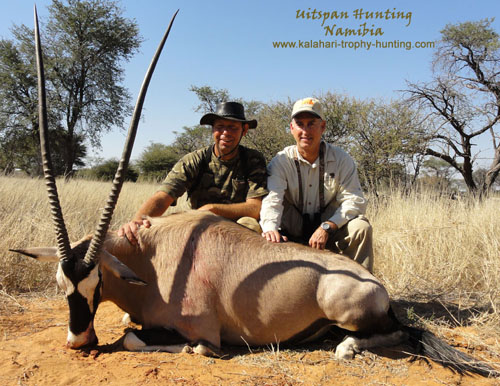 Above: PH Michael and Orlando with the special trophy Gemsbok.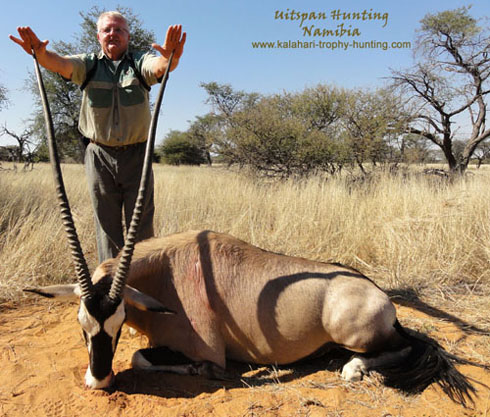 Above: PH Dawie showing the lenght of this big Gemsbok trophy!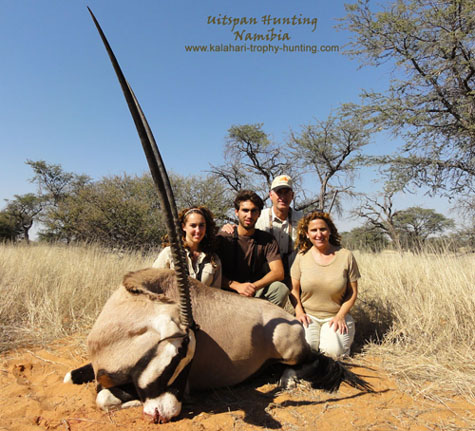 Above: The Rivas family with Orlando's special Gemsbok.
---
In the next issue of our Newsletter, we'll share hunting pictures of
Joe and Michael from USA
Atilla and Johnny from Hungary
The Rivas family from USA
---
From the PH...
The Demise of the Pre-60 year old PH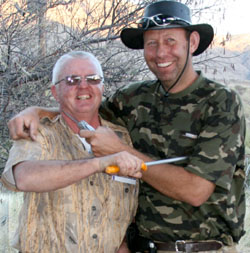 "Yes, we were having a record year. It was the year with Namibia's lowest recorded temperature, coldest daily average, coldest weekly average, coldest monthly average and coldest year.
Picture: PHs Dawie and Michael share a special friendship - although it may seem unlikely from this story :o)!
It was in June that Michael requested my assistance with a booked hunt he had with two Russian clients. My work on the farm was up to date and I said yes to his request.
As usual, we met our clients at Hosea Kutako International airport. Both hunters had the same name but to play safe I will call them Ivan and Ivan. One of the Ivans was accompanied by a beautiful young lady, hence the change of names... just in case.
The one Ivan was a senior person and Michael, being much younger than I, had him to hunt with. Me being the the senior in years, knocking hard on the sixties' door, had to guide the younger hunter. At that time, I thought Michael made the decision to take the older hunter to hunt with, as he was the contact man and the one with the purse.
Our first hunt took place at Excelsior farm adjacent to the historical little place, Seeis. The hunting went well and we managed to bag some beautiful trophies. The cold was bearable when we covered our bodies with many layers of clothing. Kindly keep in mind that both Michael and I are from the Aranos region which area forms part of the Kalahari basin. We are used to high temparatures. We are not used to low temperatures.
Our next hunt took us to Johnny's farm in the Khomas Hochland region. What a beautiful area. We don't have mountains in the Kalahari and mountains here were plenty and huge. The weather bureau forecasted colder conditions which I thought could not be possible. Boy, did I make a mistake!
We were to hunt Mountain Zebra. We were using Michael's Land Cruiser double cab for the hunt. The roads were steep, rocky, narrow and winding through the mountains. A 4x4 was a necessity. Due to a space problem in the vehicle we were not accompanied by Tienie (Michael's wife). If only she were there, none of the following would have taken place as she really looks after me when we are together ;o).
We were up and ready to hunt not long after the cockerel (Michael) crowed. Michael, being the absolute gentleman, said that young Ivan and I should do the first hunt. Ivan and I climbed at the back of the vehicle while Michael, Ivan and my Ivan's young escort, sat in the front of (inside) the Cruiser.
It was freezing. The landscape was covered in frost. The drinking troughs were iced up and no water was running from the taps. As we steadily moved to higher altitudes, it became even more cold and windy. As we reached the top of a lookout point, the Cruiser came to a halt. Michael decided we should scan the area for Zebra. By this time my nose was freezing and running. The tears from my eyes became iced up on my cheeks. My ears were one big pain and I was afraid that they might break off when touched. The wind was colder than a polar wind. It cut through my layers of protection to reach my skin and freeze me up.
Ivan immediately climbed off the vehicle and entered the car next to his lady friend. Michael and company were sitting inside the Cruiser with windows frosted up, heater at full speed and asking me whether I see any Zebra. Michael was sitting behind the steering wheel with hand gloves on, a balaclava over his head and wearing a thick thermo jacket. He had this look of a successful racing driver. I thought he pitied me when he wound down his window and threw me a balaclava. He wound up his window and insisted I stay at the back to look for Zebra. No offer was made to hand me his hand gloves while warm air was blown onto his hands by the vehicles heater.
Off we went again. The cold had intensified. The mucous from my nose froze. My cheeks were aflame due to frost bite (I was sure!). My hands froze to the roll bar that I had to cling on. I developed the shakes like an alcoholic in dire need for a drink.
Then I saw the Zebra. I tried to knock on the roof for Michael to stop but my hands would not release the roll bar. Luckily my binoculars fell from my hand onto the roof and Michael stopped the vehicle. The Zebra were within shooting distance and all the warm occupants of the vehicle climbed out. We have this gentlemen's agreement among us P.H.'s: each to his own hunter.
Since I was given the first opportunity to shoot, I tried to get off the vehicle quickly. Believe me, it was easier said than done. Firstly... I was frozen stiff. Secondly... I could not get my hands off the roll bar without difficulty and leaving precious skin behind. Thirdly... I had no feeling in my hands and feet. Fourthly... my age does not permit me any speedy actions any more. Yet, I tried to get off the vehicle as fast as possible but it was still extremely slow. I ushered young Ivan into a shootable position and pointed the stallion out to him. His 300 H+H broke the silence and the stallion showed all signs of a good hit. We saw blood squirting out of the entrance wound in gushes.
Zebra are tough animals and this one just pointed his nose up-hill and followed it. I told Ivan to follow me and started up the hill. My limbs were still frozen and my speed minimal. Within 20 paces Michael passed me. My Ivan soon followed Michael. Old man Ivan and the young lady passed me before we were halfway up. My ego took a fall down the mountain. I did some serious talking to myself. Then the cold started to leave my body. My speed improved considerably the next 200 yards. I passed the lady, then old Ivan but could not catch up with young Ivan and Michael. Yet I told myself that I had to be there when Ivan takes the second shot. I told my legs to start pumping. My legs blamed my stomach for all the extra weight they had to cart around, and my stomach blamed my mouth for eating too much. As I reached the top I saw Michael congratulating Ivan and I knew that the Zebra was dead without Ivan having to shoot a second shot.
The Zebra's timely death saved me some face. My hunter was happy with his Zebra and many good photos were taken. Many of the photos however, show me bending over and gasping for breath. We drove the Cruiser to where the Zebra lay and the recovery of the carcass went well.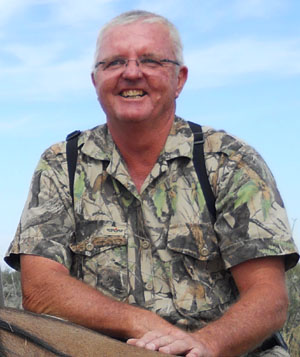 When we reached camp, I took a long hot shower to drive away all thoughts of my near chilly death.
Of course I told Tienie about the incident and Michael's total lack of compassion and respect towards the elderly. I will not take revenge but I must admit that sometimes I do cherish some evil thoughts. I now know that Michael did not give me the balaclava out of sympathy, he just did not want to see the painful expression on my face.
It thus was a guilt gesture, nothing more."
~ PH Dawie van Aardt,
Uitspan Hunting, Namibia

"I go to nature to be soothed and healed, and to have my senses put in order."
~John Burroughs
---

Kalahari Videos
Here are a few videos we selected for you to watch. These will bring the Kalahari home to you!

Hunting Reviews...
Previous Kalahari Hunting Reviews shared: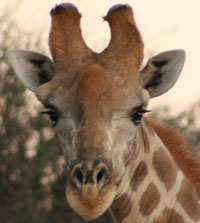 Contact us...
Contact us here if you are interested in hunting with us in Namibia.
You are also welcome to let us know if you would like a reference list. To keep it confidential, we do not publish the mail addresses of our hunting clients on the web.

---
Any comments on Kalahari Hunting News?
It is always great to get feedback.
So... please take a moment to comment here!
---
Spiritual comfort... A Well of Water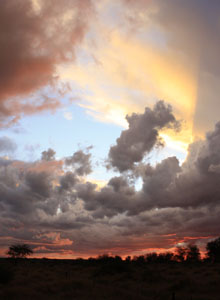 "But whosoever drinketh of the water that I shall give him shall never thirst; but the water that I shall give him shall be in him a well of water springing up into everlasting life. "
~ John 4:14
A Blessed Unity
Read Psalm 133

There are things that cannot go together and must be kept separate. By all means keep a flame of fire from the open can of gasoline that you are carrying! Light and darkness cannot be mixed. In the measure that the one comes, the other goes. But there are things that go well together.

There is a situation, to which the psalmist calls attention in Psalm 133:1,2, where a most blessed union is to be seen. There David writes, "Behold, how good and pleasant it is for brethren to dwell together in unity! It is like the precious ointment upon the head, that ran down upon the beard even Aaron's beard: that went down to the skirts of the garments." And we are called to look closely at that blessed unity.

The truth of these verses will be seen in the new Jerusalem, when the redeemed out of even nation, tongue, and tribe will be united as one holy nation, one glorious body of Christ with one life, one love, and one work to which they are consecrated.

But there is and must be a manifestation and exercise of this unity also in our lives today. We must live as well as sing David's words thus:

How good and pleasant is the sight
When brethren make it their delight
To dwell in sweet accord:
Such love is like anointing oil
That consecrates to holy toil
The servants of the Lord.


Indeed, what a sight that is! And that unity is possible only between brethren, that is, those born again of the same Father, Whose Son is the Head of the church, who have the unction of His Spirit poured on them. They think alike, have the same love, and work together to glorify God. And from the head to their feet we see a beautiful picture of what brings goodness and pleasure.

But is this true in your life? Can you put aside fleshly cravings, forgive your brother or sister, and jointly seek the perfect harmony of serving and glorifying God? Does He come first in your life?

Look for that in your life and strive to walk with your brother in Christ, so that you see in your life what is good and truly pleasant.
---
We thank the PRCA, who made this Daily Meditations of Rev. Heys available for our Newsletter. Read more about their missions, literature and wonderful publications on their website.
Click here to visit the PRCA's site.
Take a moment and listen here to an online audio sermon.
Read here articles on several subjects and what Scripture says about it.
---
If you like this e-zine, please do a friend and me a big favor and "pay it forward."

If a friend DID forward this to you and if you like what you read, please subscribe by visiting...Kalahari Hunting News or leave us a message here!
---

Till next time...
"Blessed is every one that feareth the LORD; that walketh in his ways. For thou shalt eat the labour of thine hands: happy shalt thou be, and it shall be well with thee."
(Ps.128:1)
Kind regards from
Uitspan Hunting Ranch, Namibia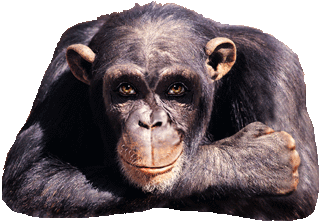 ---