Hallo,


Awesome 2011
Click here to read this Newsletter on the web. (If you don't see the pictures of this Newsletter, make sure we are on your e-mail program's 'Safe-senders'list.)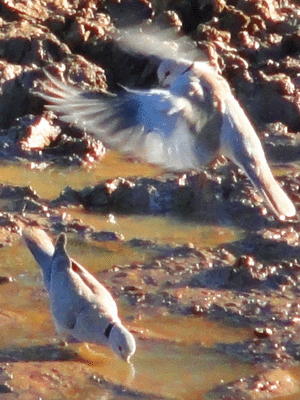 Read in this Newsletter about:
Amazing start of 2011!

The End of 2010

Your new wallpaper: Meerkats

Hunting Pictures: July to September 2010

From the PH: The sweet and sour of hunting
Picture on the right: Doves at a waterhole. Michael took this special picture during the hunt with the Rollings Family from Florida, USA.

(Picture in the heading: We took this picture two weeks ago. See how green the Kalahari is after all the good rains!)

---
The Amazing Beginning of 2011
Since this happens to be the first issue of our Newsletter for 2011, we hereby wish each and every one of our subscribers a belated happy 2011.
And may "...the peace of God, which passeth all understanding... keep your hearts and minds through Christ Jesus." What is this peace about? John 14:27 says: "Peace I leave with you, my peace I give unto you: not as the world giveth, give I unto you. Let not your heart be troubled, neither let it be afraid."
As the clock strikes 12 on the night of December 31st, the first drops of rain also started to fall down here in the Kalahari. Hendrik and Isabel, who came home on Uitspan that same day after their short vacation at Namibia's coast, were witnesses of the first rainshower for the new year.
All who lives long enough in the Kalahari (and in Namibia, which is most of the time quite a dry country), know that rain is very welcome here. Little did we know on that first day of this year, that rainfall records for this country will be broken in January and February!
Go to Namibia's 2011 Rain Pictures and click on the thumbnails to see some of the beautiful pictures.
End of 2010
The end of 2010 proofed to be a hectic time - as it usually is for most of us. In December 2010, we were away from home for more than three weeks and couldn't fit in time to send out our Newsletter.
But we are thankful that we could look back at a year in which we've done good business, get to know more hunters and shared successful hunts. We made many new friends and added many incidents to our "archive of memories".
Thank you for each of you with whom we could share this love we have for nature and the outdoors. Thank you that we could all experience together the amazing abilities and beauty of the animal kingdom and that we could again see how each specie is created in a unique way.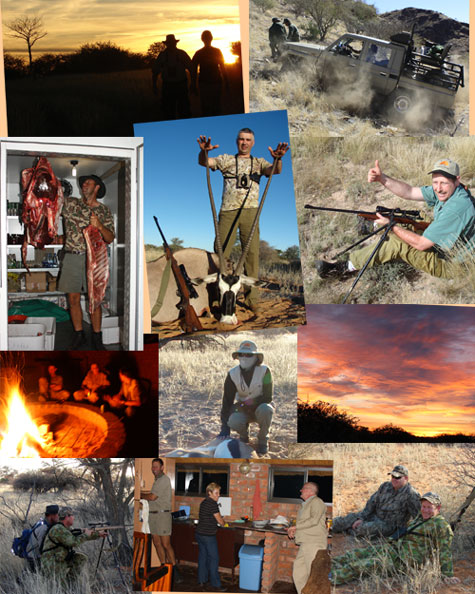 ---
Kalahari Wallpaper

Exclusively for you, our subscribers:
---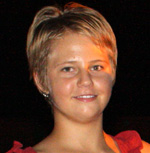 An Interesting Fact
(Our daughter Maria is 12 years old and I asked her to write down an interesting fact about the Kalahari or any of its animals for every issue of our Newsletter. I'm sharing it as she wrote it down.)

The bigger, the better (ears)

In the Kalahari, we have the famous Bat-Eared Fox, one of the most common animals in this dry part of the world. It has massive ears, ears that almost cover one third of the animal's height. It uses these substantial ears to help it find its most favorite prey, which involve harvester termites. It also likes beetle larvae beneath the surface of sand. Usually the Bat-Eared Fox walks very slowly with its head tilted forwards, in order to be sure to hear if something is going on beneath the surface. When it does hear something of interest, it will drop down so that it's huge ears almost touch the ground and listen with very good attention.

This bat-eared fox is a pro when it comes to seeking prey. It can locate beetle larvae even a few centimeters under the ground. Then, when the unfortunate prey is located, the fox would start digging for it, even in the hardest soil to get to its prey. This animal is pretty prepared for even the cold months, because then it eats mice and scorpions. The fox is more common in the summer, but you can see it in the winter too, walking around,looking for prey.
The Kalahari will reveal itself
to only those who
seek with a true heart...
---
Hunting Pictures: July to September 2010
We haven't yet place all the very special hunting pictures of 2010 in the Newsletters. Here are some more of them:
Adam and Bevan from Australia
The Aussies hunted with us in July 2010 and although the first few days of their visit had some of the coldest weather we experienced that winter, we had a great time and successful hunt with them.
They hunted 2 Gemsbok, 2 Springbok, 1 Warthog, 2 Red Hartebeest, 2 Impala, 2 Kudu and 1 Blue Wildebeest.
Above: Bevan's special Kudu trophy.
Above: Adam's Warthog.
[One of the things I will always remember of Adam: every morning when I went in to clean-up (as usual), his room was always one of the tidiest I've ever seen. Maybe the fact that he was a soldier, explains it all ;o). Thank you, Adam. ~Tienie]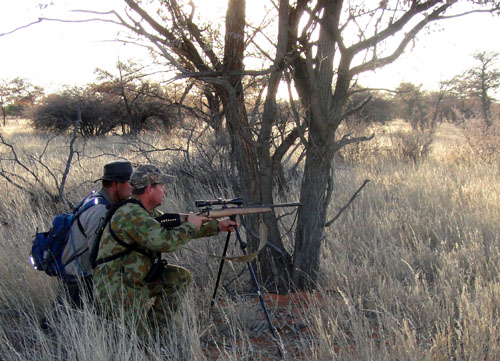 Above: A typical Kalahari hunt picture. The use of shooting sticks is essential. Before every hunt, Michael make sure the hunters are comfortable with shooting over the sticks.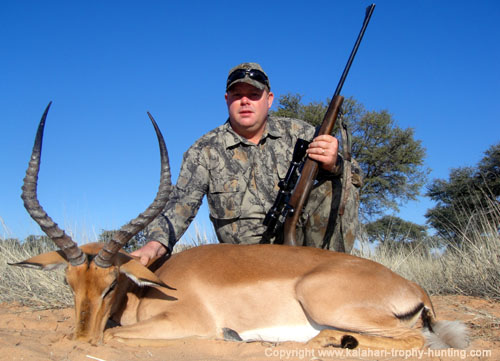 Above: Bevan's Impala.
Above: Bevan got this Springbok in one of the many Kalahari pans.
---
Rollings Family, Florida, USA
Brooks and Susan Rollings from Florida brought their two sons, Hunter and Reed (15 and 13 at the time) for a hunt in Namibia. They hunted with us at the beginning of August, 2010.
While here, Brooks most of the time "stood back" to give his sons the opportunity to hunt.
Hunter is a dedicated hunter and can shoot very well with his bow. Reed did just as well on his Kudu, Impala and Warthog.
They hunted 1 Springbok, 2 Impala, 1 Gemsbok, 2 Kudu, 1 Blue Wildebeest, 1 Red Hartebeest and 2 Warthog.
Above: This was Reed's birthday present from his parents.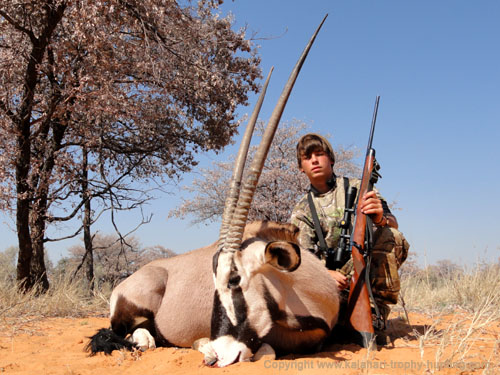 Above: Hunter's Gemsbok trophy.
Above: Hunter took this Blue Wildebeest by a perfect shot with his bow. Well done, Hunter!
Above: The Rollings family visited the Kalahari Bushmen.
Above: It was already late on the afternoon of the last hunting day and Reed had this one chance on a running Warthog and he took advantage of it. Excellent shot, Reed!
Above: A toast!
We also visited Etosha Park with the Rollings family. See more of the pictures of their Etosha visit on Uitspan's Facebook page at this link.
---
Jenei Family, Hungary
J.J. Jenei, his wife Andrea and their son Bernat hunted with us mid-August 2010. J.J. is an experienced hunter in Hungary. We enjoyed it to get to know more of the Hungarian culture.
They hunted 1 Black Wildebeest, 1 Eland, 2 Kudu, 1 Duiker, 2 Springbok and 1 Impala.
Above: J.J. was lucky to get the biggest Kudu trophy for the year hunted on Uitspan. It measured 56.5".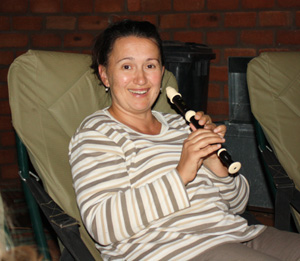 Andrea played flute around the campfire and we enjoyed each other's music.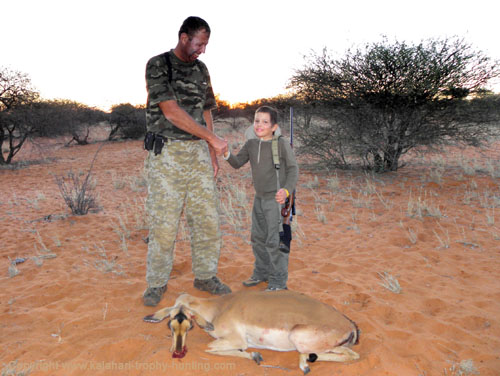 Above: Michael gave Bernat the opportunity to hunt his first Impala for us for meat. It made him such a happy young boy!
---
Bryce and John Millar, Idaho, USA
John Millar and his son Bryce from Idaho, USA, hunted with us in September 2010. They were our last hunting group for the year and it was a perfect way to end our 2010 season. It was a special hunt in every way!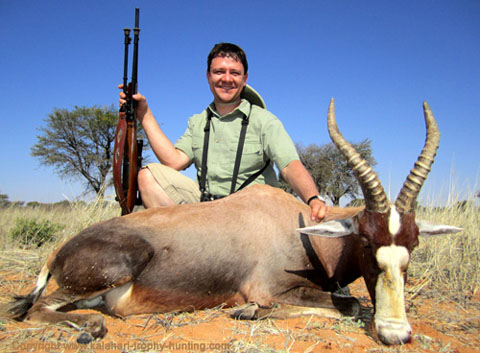 Above: Bryce's Blesbok
Above: Bryce's Blue Wildebeest. They always have such beautiful capes.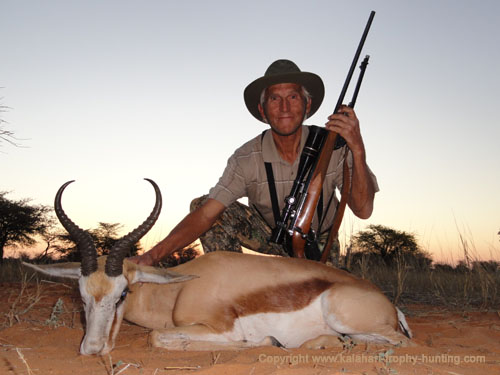 Above: John's Springbok.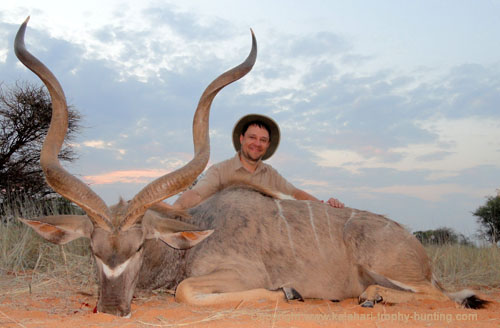 Above: Bryce's Kudu.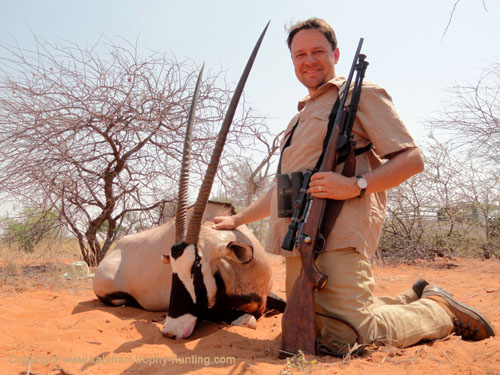 Above: Bryce's Gemsbok.
Above: John's Eland trophy.
John and Bryce hunted #M4 packages as on our website and added one or two more trophies.
---
From the PH...
The sweet and sour of hunting
"Sweet, sour, salty and bitter ... these are the four basic flavours we all know, but they are also words we use to express the different circumstances in which we often find ourselves, or to describe different personality types. For example, we would say that someone is "worth his salt" if the person is a good worker or, "the relationship has gone sour" where bad feelings have crept in between two people. And who has not met old "sour krout", who is habitually sullen and unfriendly. Sometimes an unpleasant experience leaves a "bitter taste in the mouth". On the other hand, we would talk about a "sweet child" or "the sweet taste of victory" where something or someone is good, or where we have met with resounding success.
Our taste buds which are located on the tongue and pallet help in one way or another add to our pleasures and enjoyment of everyday life and so too do metaphysical tastes add to our enjoyment, or otherwise, of our hunting adventures and experiences.
These experiences and adventures start early in the morning, when the cock begins to crow shortly before sunrise, and they can continue until late into the night with the weary but exhilarated hunters seated around the campfire reliving the day's sweet successes or bitter disappointments. The whole experience is accentuated by tasty mouth-watering dishes, prepared at the hands of experienced 'chefs' who add a dash of sweet or sour, salty or even a dab of bitter to their jealously guarded recipes that turn out dishes of mouth-watering flavour and provide the ravenous with a sense of comfort at the end of the meal.
Not only though must the final product taste good to these weary hunters sitting down to enjoy the bounty of the land and the culinary dexterity of the 'chefs', but the visual must also tantalise and appeal to the eye. The gastronomic pleasure is further enhanced by the alluring aroma wafting up from the cooking pots and assailing the olfactory senses of the famished hunters. The proof of the pudding though, so to speak, is in the final tasting of the dish. Does it meet the expectations engendered by the visual as well as the tantalising aromawafting up from the cooking pots that by now has the digestive juices working overtime? Add to that the pungent taste and smell of freshly ground coffee that has been left to simmer next to the coals of the cooking fire, so that its warm bitter taste (perhaps sweetened with a spoon full of sugar) can be enjoyed sip-by-lingering-sip from the traditional blikbeker (tin mug). Once you have experienced this,you will understand how a man's toes can curl up from pure enjoyment engendered by partaking of such culinary delights.
The animals of the veldt and forest, as well as the birds and the bees also know all about tastes. If you observe them closely you will also notice how they sometimes test for a particular flavour or smell and then respond with either a curl of the upper lip or a snort of disdain. But, if it is to their liking, they will lick their lips with pure pleasure (this is what our tame kudu does when she enjoys the home-made brandy-pie she is offered).
But, there is also the proverbial bitter and sweet that you experience in the hunting field, and coupled with the other two "flavours", they combined to make every hunting experience a truly memorable (if not necessarily an enjoyable) one.
First of all, there's the salt. Trackers, hunters and experienced guides are all "worth their salt", and once all is said and done at the end of a successful hunt, the trophy's been salted. And, when sitting around the campfire at night at the end of a long and exhilarating day in the hunting veldt, it is always wise to remember not to rub salt into the wounds of a hunter who has had a bad day!
However, at the other end of the spectrum is something that leaves a bitter taste in the mouth when you are out in the hunting field and this is what I 'taste' when I have to deal with a "you-can-not-tell-me-anything-hunter". This is the person who, upon his arrival at your hunting farm, does not have the courtesy to sit back and listen when you try to share a few key principles and helpful hints with him.
These hints are intended to ensure that he also experiences the 'sweet' taste of success while hunting. This leaves a somewhat bitter taste in the mouth because of his indifferent reaction to your well-meant advice. This is the person who leisurely walks upright like homo erectus, who having only recently learnt to lift his knuckles up off the ground, is eager to display his superiority over the eart's quadrupeds, while I am down crawling on hands and knees so as to ensure the animals do not spot us while we are stalking them (something which I usually only become aware of after the animals show signs of alertness and unease long before we are near them).
Often this is also the person who, when I try to avoid the slightest sound of twigs crackling underfoot or the swish of grass against my legs during a stalk, seems to find the largest and most visible logs to step on in the veldt and which snap under his careless tread with a sound like that of a .375 H&H being fired as they splinter into matchwood – fit only for stoking up the fire for the evening's braai.
After you have completed a long tiring morning's stalk in the warm Kalahari sun, most of it flat on your belly while slithering like a puff-adder across the sand, with the sole intent of trying to outdo the superb sight and olfactory senses of the animals on whose natural environment you are now encroaching, this is the person who, as soon as you are within shooting range of his trophy animal, will nonchalantly ask in a thunderous voice, "Where is the buck? I don't see it!" And the more you try to make him understand that sign-language,or just lowering his "Three Tenors" voice a decibel or two if simple rudimentary sign language is beyond his grasp, the more you realize that this person is probably acoustically challenged.
When you eventually get him to spot the trophy you have been so meticulously stalking for ages on his behalf and he gets ready to take aim over the shooting sticks you realize that, what you thought was a useful tool for taking perfect shots, is now making the hunter look like a pole-dancer trying to come to grips with, well... the pole, as he struggles to get both himself and the shooting sticks in to some semblance of order and decency.
This is the hunter who does not allow you, the guide, to keep your eyes focused on the animals in the thick brush ahead of you, because you have to constantly look back to see if he hasn't again started to malinger and vanish into the arid sands of the Kalahari far behind you. And you begin to wonder what happened after your last communication with him when he informed you that he is as fit as a fiddle and in A1 top form to stalk animals on foot all day long over long distances through soft sand and dense bush. So fit it seemed, that even that legendry tracker with superhuman stamina, the Kalahari bushman, would have to down a Redbull or two in order to get the 'wings' he would need to keep up with him.
This is often the same person who, before he booked the hunt with you, had a thousand and one questions about ethical hunting and made no bones about the fact that he does not shoot at any game that is closer than 300 yards.
Some of these experiences can be a bitter pill for any guide, tracker or land owner to swallow.
Fortunately though tastes differ and there isn't just the sour and bitter, but also sweet and salty. And yes, I agree that life is like that: the highs and the lows, the ups and the downs, the better and the worse, but in order for us to experience the sweet, we must also be prepared to swallow the bitter every now and then. But sour?! That is the taste I am left with from a hunter who is a know-it-all, been-there-done-that sort of person.
On the other hand, it is such a sweet experience to hunt with the humble hunter, who will follow good advice and who comes to take pleasure in the simple beauty of nature and whatever delights and challenges the veldt has to offer. So sweet too, the important lessons and skills that we are privileged to learn from one another through our experiences and love of nature.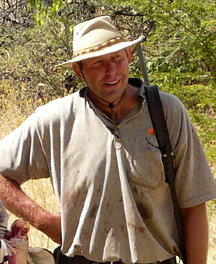 Sweet, sour, salty and bitter: of these four, the sweetness of hunting the Kalahari has always far outweighed the bitter pill one has to swallow once in a while when dealing with a rude and uncouth client and the sour taste left in one's mouth after his departure. In the end though, this is all tempered by the fruits of our labour and our love of the land, our profession and our God.
The sweetness of hunting the Kalahari is the promise we once again look forward to this year."
~ Michael Duvenhage,
Uitspan Hunting, Namibia

(We thank our hunting friend, Roy Langley, for translating this in English. As a hunter himself, he could understand precisely Michael's descriptions of his experiences.)
"I go to nature to be soothed and healed, and to have my senses put in order."
~John Burroughs
---

Kalahari Videos
Here are a few videos we selected for you to watch. These will bring the Kalahari home to you!

Hunting Reviews...
Previous Kalahari Hunting Reviews shared: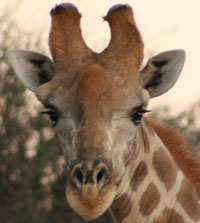 Contact us...
Contact us here if you are interested in hunting with us in Namibia.
You are also welcome to let us know if you would like a reference list. To keep it confidential, we do not publish the mail addresses of our hunting clients on the web.

---
Any comments on Kalahari Hunting News?
It is always great to get feedback.
So... please take a moment to comment here!
---
Spiritual comfort... Light out of Darkness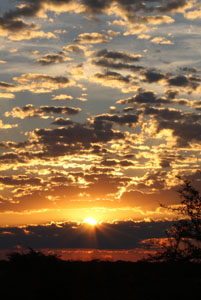 "For God, who commanded the light to shine out of darkness, hath shined in our hearts, to give the light of the knowledge of the glory of God in the face of Jesus Christ."
~ 2 Corinthians 4:6
Universal Praise of God Demanded
Read Psalm 117

All men on earth that live,
To God all glory give;
Praise ye the Lord;
His loving kindness bless
His constant faithfulness
and changeless truth confess
Praise ye the Lord.

That is a very comprehensive call. "All men on earth" excludes no one. The psalmist in Psalm 117 puts it this way, "O praise the Lord, all ye nations; praise Him all ye peoples. For His merciful kindness is great toward us; and the truth of the Lord endureth forever. Praise ye the Lord" And although the reason for that praise is listed as the merciful kindness of God toward His church, that call comes to unbelievers as well.

The idea is not that only those who tasted that mercy are to praise Him for it. Nor does it mean that believers alone in every nation and people are called to praise God for His mercy. All men means all that live on this earth. Every living person must praise God for His mercy that is limited to His people.

Rightly understood, God's mercy is all concentrated and displayed in Christ. And no man is excused from praising God for sending Him to save us from our sins. And when He returns, all people in all nations will praise Him for His merciful kindness in Christ. From that day onward all finding fault with God by the unbeliever will be brought to an end. Then all shall confess Him to be God — which is an act of praising God — but also confess that He was mercifully kind to those whom He chose in Christ. Did not the rich man in the parable of the Rich Man and Lazarus by implication do so, when he asked Abraham to send Lazarus to his brothers so that they could be taught that merciful kindness of God?

Here is an added reason, for those who tasted this mercy, to praise God. He has formed individuals and families to be the host that enjoys this loving kindness which He revealed and pours out through His Son.

All men must praise God for all His works. Do you do that, with gladness in your soul, for what He has done for you in His only begotten Son? Every knee shall bow and confess that He is Lord.

Have you done so today?
---
We thank the PRCA, who made this Daily Meditations of Rev. Heys available for our Newsletter. Read more about their missions, literature and wonderful publications on their website.
Click here to visit the PRCA's site.
Take a moment and listen here to an online audio sermon.
Read here articles on several subjects and what Scripture says about it.
---
If you like this e-zine, please do a friend and me a big favor and "pay it forward."

If a friend DID forward this to you and if you like what you read, please subscribe by visiting...Kalahari Hunting News or leave us a message here!
---

Till next time...
"Blessed is every one that feareth the LORD; that walketh in his ways. For thou shalt eat the labour of thine hands: happy shalt thou be, and it shall be well with thee."
(Ps.128:1)
Kind regards from
Uitspan Hunting Ranch, Namibia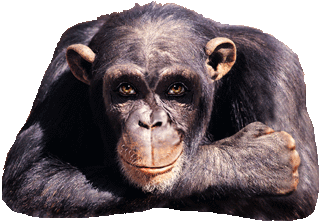 ---