Hallo,


Hunting season!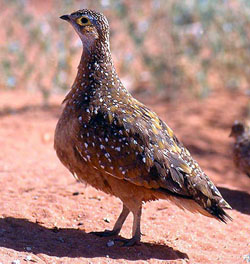 (Double-click on the mail in your inbox to open it properly. You will then have a better view of the Newsletter.)

Read in this Newsletter about:

Winter in the Kalahari, Namibia
Your new wallpaper: Hunting!
Problems with black-backed jackals!
Burchell's Sandgrouse
Venison Hunting Season
Thoughts on Hunting and Traveling in Namibia - a review
A letter from a hunting friend
When the dust settles... the job stinks!
A joke for your mother-in-law
Spiritual Comfort
---
The first real cold weather arrived in the Kalahari and as we see how much damage the frost has done, we know that winter is definately here!

We had a great autumn even though we did not have rain enough to write about. After a Kalahari summer, especially like this previous one (which was HOT and DRY), one certainly enjoys the cooler days of fall.

Winter on Uitspan Ranch in Namibia has become synonym with...
hunters and hunting; cool evenings; fine and quiet days with bright and crystal clear skies, no rain, no snakes and flocks of Burchell's Sandgrouse (see picture) flying overhead.

Michael recently wrote a great article on the Burchell's Sandgrouses. It describes his childhood memories of hunting this tasty birds for Isabel (his mother) to prepare. Some of the special characteristics of these Kalahari birds are also explained. The article will be added to our website soon.

Burchell's Sandgrouses are famous for bird hunting in Namibia.
(On the picture above, from left: Apie, John, Michael, Kortney and Ken after a successful bird hunt.)
With hunting comes of course slaughtering, skinning, trophy preparation, catering, and..... lots of fun in sharing hunting stories, adventure and magic moments.
One of our friends has a saying: Nothing beats the combination of good friends, good food and good wine (except in the Kalahari: rain and God's grace)!
This is what we experience during the hunting season. We have great times with great hunters and outdoor-friends here on Uitspan.
---
Only for you, our subscribers:
The new free Kalahari Wallpaper for you this month, contains recent hunting pictures.
Remember that the password to see this page is: uitspanranch453
Click on the following link to see this month's picture: Kalahari Wallpapers
---
Life in the Kalahari.... May 2007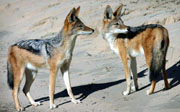 We have every winter more problems with predators on the ranch. For lion, leopard, hyena and jackal, winter makes hunting more difficult since prey is not as easy to find as in the rainy season.
Then they often enter our ranch from Botswana and give us headaces! In recent weeks, several black-backed jackals ("Canis mesomelas") had to be tracked and hunted for days on end.
These jackals are the Kalahari's master opportunists. They are unbelievable clever, very brave and a threat to lambs of sheep, springbok, blesbok, duiker and steenbok. The old and weak animals of any herd are also very vulnerable to these small predators.
Black-backed jackals are very difficult to hunt down since they walk miles and miles every day and will easily outrun many dogs. To hunt them on horseback is often successful, although the horses wear down quickly in the thick sand and warm sun of the Kalahari. It is also extremely difficult to track jackals from horseback.
Statistics of black-backed jackals killed on only the 4 adjacent farms to Uitspan from January till May, amounts to ±100. These statistics do not even include the number of caracal ("Felis caracal") and African wild cats ("Felis lybica") which had to be taken out to protect sheep- and antelope herds.
Hunting News / Pictures / Stories
We have had a few venison hunting groups on the ranch since the 1st of May. This is when the venison hunting season starts in Namibia and it ends on 31st August.
Hannes Swart and his friend Andre (see picture below) from Cape Town, South Africa, were our first venison hunters this year. They shot 2 eland, 1 wildebeest, 1 gemsbok and process all their meat within 3 days.
Hannes is a great hunter and a special client and friend. He is hunting with us for the past 4 years and books every year already for the next year. He enjoys the outdoors, the Kalahari and its nature tremendously. How can we not enjoy such company?
We want to share with you a letter we received from Hannes after he went home. See the link to it further down on this page.
After that hunt took place, another 5 eland, 2 kudu, 3 blesbok, 3 impala and 1 wildebeest were taken out by 3 hunting groups in May.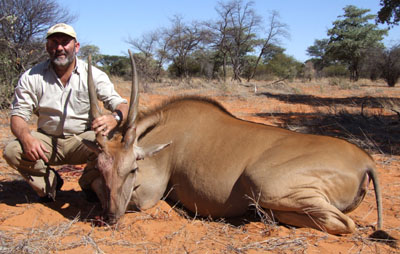 New Content on Kalahari-Trophy-Hunting
Quality Products not to miss...
For any hunter, outdoorlover or adventurer, this computer game will give hours of joy and entertainment.

It is "Hunters Craft", an interactive shot placement simulator. It is made in Africa and is indeed filled with real hunting scenes from all the different parts of this continent.

Read more about it on the next link and know that you will never regret spending this U$34 (R199 for South Africans)! Find it near the middle of our

For all your camo, clothes, boots, camping and hunting needs, click on this link to help support our website. We get a small commission for every product bought from our site.
Interesting Articles on Hunting
I found this great article recently in the "African Outfitter" Magazine. It is written by Herman Jonker, a famous and known writer of hunting articles and -books in South Africa. It describes something of the life of a professional hunter in Africa and is very enjoyable!
I really want to share it with you, but due to copyright laws, I can not publish it here. Click on the following title to read the whole article. Great reading!
When the dust settles....
The job stinks!
Spiritual comfort... the Bread of Life
May the Word of God serve to become also in you a well -
"...But whosoever drinketh of the water that I shall give him shall never thirst; but the water that I shall give him shall be in him a well of water springing up into everlasting life." (John 4:14)
A Perfect Guide
Click on the links to read: Psalm 48 and Psalm 73:25

Do you think that you know what is best for you today'? Would you like to have the universe in your hands to control and use all that is in it for your fleshly advantage?

Let me urge you to forget it. The universe could not be in bettor hands than it is and has always been. Not only has the God of our salvation complete control of every molecule and atom of creation, so that He can move and remove them as it pleases Him, but He knows and reads the hearts and minds of every rational, moral creature. Yes, He knows what the devil is thinking at any given moment. He knows his plans and where he and his helpers are, and what they are trying to do. All this He does not learn but knows because eternally He planned it all. All that every creature in heaven and on earth rational and irrational, animate and inanimate does, He eternally decreed. What is going to happen today — in every split-second thereof —He determined and will execute on time, in the right place and in the exact way that Ho decreed.

Could you then want a better guide through this valley wherein the shadow of death is cast? Should we not say with Asaph:

"Whom have I, Lord, in heav'n but Thee, To Whom my thoughts aspire? And having Thee on earth is naught That I can yet desire."

In the Scriptures it reads like this: "Whom have I in heaven but Thee? And there is none upon earth that I can desire beside Thee" Psalm 73:25.

Indeed, the cross was no mistake, even though it looked that way when it took place. And what happens today may look as though "clean hands are worthless and pure hearts are vain,'' but they are not. He Who designed that cross did so in love for all His people, as we can now see. But look at all that happens in your life, it is designed by that same in fallible Guide. He will guide your steps so that you do arrive in His glory. On earth we cannot find a more loving and perfect Guide.

Quote for Reflection...

Faith is a living, daring confidence in God's grace, so sure and certain that a man would stake his life on it a thousand times . . . O, it is a living, busy, active, mighty thing, this faith; and so it is impossible for it not to do good works incessantly.
— Martin Luther, Romans' Preface
---
We thank the PRCA, who made this Daily Meditations of Rev. Heys available for our Newsletter. Read more about their missions, literature and wonderful publications on their website PRCA.
---
Funny... for your mother-in-law!
A big-game hunter went on safari with his wife and mother-in-law. One evening, while still deep in the jungle, the Mrs awoke to find her mother gone. Rushing to her husband, she insisted on them both trying to find her mother.
The hunter picked up his rifle, took a swig of whiskey, and started to look for her. In a clearing not far from the camp, they came upon a chilling sight: the mother-in-law was backed up against a thick, impenetrable bush, and a large male lion stood facing her.
The wife cried, "What are we going to do?"
"Nothing," said the hunter husband. "The lion got himself into this mess, let him get himself out of it."
---
If you like this e-zine, please do a friend and me a big favor and "pay it forward."

If a friend DID forward this to you and if you like what you read, please subscribe by visiting... Kalahari Hunting Newsletter!

Comments? Ideas? Feedback? Let me have it, right between the eyes! I'd love to hear from you. Just reply to this zine and tell me what you think! I will appreciate every response.
---
Till next time...

"Blessed is every one that feareth the LORD; that walketh in his ways. For thou shalt eat the labour of thine hands: happy shalt thou be, and it shall be well with thee." (Ps.128:1)

Greetings from all of us at
Uitspan Hunting Ranch, Namibia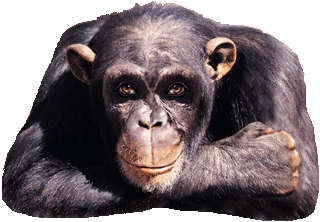 ---