Hallo,


Launching!
(Double-click on the mail in your inbox to open it properly. You will then have a better view of the Newsletter.)

It seems as if technology wants to stop the publishing of this E-zine. For a few weeks now, we had virusses and hard drive problems on our PC. Maybe for any of you these problems are not real obstacles in getting your administrative work done, because your computer can be fixed in a few hours or days.

The bigger problem of something like this in the Kalahari however, is to get the computer to the nearest good technician: 500 km away. We had to wait until someone in the area went to Windhoek to take the PC and then for another person to bring it back. Well, enough of all our logistic problems: we still feel privileged to live in the Kalahari..;o))

First of all, we as the family of Uitspan Hunting Ranch want to welcome all the subscribers to our brand new E-zine, Kalahari Hunting News!

May you enjoy reading it as much as we do writing it. Writing about our beloved Kalahari is always a joy! We also hope that this will give you a better "view" of life and hunting in the Kalahari - which is certainly never dull!

And, most of all, may the animals, the people, the nature and the wildlife of the Kalahari serve to entertain you in many ways - via our "Kalahari Hunting News".

Enjoy!
---
Only for you, our subscribers:
We have put a new page on our website, which will be accessible to you as subscribers exclusively since nobody else will have the password to enter it. On this page we will add every month a NEW Kalahari Wallpaper for your computer - for free!
Find also on the page the easy steps on creating a new desktop.
Note that the password to see this page is: uitspanranch453

Click on the following link to see this month's picture...which is about Kalahari Meerkats!
---
Life in the Kalahari.... March 2007
We are all (everyday, everywhere) on the lookout for ground agamas on fence posts. That is because these little animals are famous here as forecasters of rain. Many people may tell you this is only a myth, but for most of the farmers here, it is an infallible truth. And as we have had a very typical Kalahari summer (HOT and DRY), we are on the lookout for any signs of moisture or rain.
These agamas can be seen on high places only when the males are showing off their beautiful bodies (yellowish with blue heads) to all the interested females. And the females are only looking for company when they know that rain will come soon, which will guarantee hatching of their eggs!
Another fact is that the sight of a female agama laying eggs in small burrows in the sand, means rain within 4 days. The farmers will tell one another excitedly about this as soon as they see it happen.
That is why the absence of ground agamas (displaying on high places or laying eggs) is synonymn to NO rain... for the Kalahari farmers.
Sad to say, but we do not see any. People here are predicting a drought.
Although the veld is already very dry, the condition of the game (kudu, gemsbok, springbok, etc.) is exceptionally good. This year our booked meat-hunters will take home very nice and tasty meat! This is caused by the fact that game prefer shorter grass to feed upon. The Kalahari's grass has also more nutritive value than when it has more volume (as in years after a good rain season).
Hunting News / Pictures / Stories
The trophy hunting season of Namibia kicked off on February, 1st and will end on November, 30th.
Namibia gets more and more famous for trophy hunting.
According to statistics provided by the Ministry of Environment and Tourism:
The most famous Namibian trophy species are oryx(gemsbok), then kudu, warthog and springbok.
1304 gemsbok trophies were taken during 1994 compared to the 3966 in 2004.
1918 Hunting clients visited the country in 1994 and 5363 in 2004.
This shows just how famous our country became in recent years. Many visitors also come back time and again to see and experience more of the contrasted landscapes of Namibia.
The Duvenhage family can understand why people come back again. We love the Kalahari and hunting so much. It is our life! Here is a picture of three Duvenhage-generations next to a typical Kalahari kudu.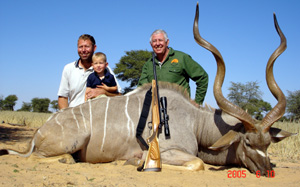 New Content on Kalahari-Trophy-Hunting
We are very proud of our own Pangolin Video , shot on Uitspan Hunting Ranch. It was very popular at YouTube and since this Kalahari animal is so rare and difficult to spot, we loaded a whole page about the pangolin on our site.

Have a look at this special video here:

Another new page on Kalahari Trophy Hunting contains a video we made of pictures of our guests - in a relaxing mood at our "Hunter's Camp" or at the main ranch house.

Have a look:

We offer a special hunting package for anyone booking a hunt with us via our website during 2007. This may be the time to tell your friends about this special opportunity... to grab their African Trophy Hunting Adventure - right here!

To send the link to any friends, right-click on the next page and select "Send link..". All the information about this can be seen on our
Quality Products not to miss...
For any hunter, outdoorlover or adventurer, this computer game will give hours of joy and entertainment.

It is "Hunters Craft", an interactive shot placement simulator. It is made in Africa and is indeed filled with real hunting scenes from all the different parts of this continent.

Read more about it on the next link and know that you will never regret spending this U$34 (R199 for South Africans)! Find it near the middle of our

For all your camo, clothes, boots, camping and hunting needs, click on this link to help support our website. We get a small commission for every product bought from our site.
Interesting Articles on Hunting
How To Zero A Rifle Scope
By Nick Moseley
You've just got yourself a new rifle scope, fitted it and let me guess...for some reason your shots are landing nowhere near the crosshairs?
Sadly there's more to rifle scope sharp shooting than just plonking the scope on the rifle and forever after shooting like an SAS sniper! You have to "zero" it.
Think about it. It's like a bike wheel. If you tighten the bolts wrong, too much on one side for example, it spins wrong and rubs the brake pads. It's the same with a Rifle scope. If it's not set up correctly it will be offline and even at short air rifle, airsoft and paintball ranges this is going to throw your accuracy right off. At longer ranges you'll miss by a mile (well figuratively anyway!)
What Does "Zero a scope" mean?
Zeroing a sight or scope means getting the crosshair in position so that when you shoot. Ground zero if you like. The point of impact.There's a lot of discussion amongst shooters on the best way to zero a scope or sight. What I've written below is what I've been sending out to my ebay scope buyers for the last year or so and received a lot of good comments back about it so I know it's OK!
How to Zero a Rifle Scope
First of all you need to set a firm foundation by fitting the scope mounts well.
Put the scope mounts on the rifle first with the top brackets removed.
Tighten them into place using 1/2 turns at the time so that they sit solid and level as best as is possible, i.e., the downward pressure is as equal as possible. At this stage don't tighten them fully as you might want to slide them up and down a little.
Now take scope and place it on top of the open rifle mounts.

Make sure the windage and elevation turrets are one up and one to the right (these are the "turrets" on the sight. You use them later to make micro adjustments and in the field adjustments for wind)

Then put the top mount brackets on and tighten - Again use partial turns to tighten up.

Don't tighten fully at this stage, you may yet need to adjust a little.
Zero the scope
Lie in your normal shooting position and check that you can see through the scope well...

The distance between your eye and the rear scope lens is called Eye Relief.
Unlike cartoons you do not use a scope by pressing your eye up against the scope lens!

Once comfortable complete the screwing down of all mounts so that your set up is solid -

take care at this stage to keep the final turns partial and one by one to ensure pressure is equal.
Now it's time to zero the scope for shooting:
Load the rifle
Adopt your standard prone/lie down shooting position.

Prone is the best way as if you test shoot from standing or kneeling positions you waver more and it's harder to do a "true test".

Put some sort of target in place at say 20 yards - or whatever you think your "standard" range will be.
Using cross hair on target centre - Take 2-3 shots - Where do they fall in relation to where you want them to? Right, left, up, down - dead on (lucky you!)
2-3 shots is best as it will average out shooter inaccuracy and give you a more "significant" feel for how far or close you are from true zero.
Now it's time to use the windage and elevation turrets to get it zeroed dead on. These are the 2 turrets on the top and right side of the scope. See my website for pictures.
Models vary, you'll probably screw a cap off and expose either a coin twist or finger knurled type of dial.
The top turret adjusts up and down. The right one left and right.
If you have your scopes instructions they should have a table with figures to tell you what each click adjustment means in terms of cross hair movement at "x" distance, e.g., 1/8 inch at 100 metres.
Use single click turns and each time take a new shot to gauge where the shot now falls - the dials basically adjust the cross hair position up-down and left-right.
It's trial and error basically but with testing you'll get to where you need to be and be able to trust that your shots will go where it says they will! This may take some time and a lot of shots. Be patient!
I sell rifle scopes and laser sights on ebay for a living. After getting asked repeatedly for instructions on how to zero scopes I wrote a text file guide to send to people. This had some really good comments back so I decided to use it as the basis for a new website which is about, funnily enough, how to zero rifle scopes (and zero in laser sights, how to go about choosing a new scope and more) See it at http://www.zeroriflescope.co.uk/ and my ebay shop at http://stores.ebay.co.uk/Hunting-Shooting-Fishing
Article Source: https://EzineArticles.com/?expert=Nick_Moseley
https://EzineArticles.com/?How-To-Zero-A-Rifle-Scope&id=415018
Spiritual comfort... the Bread of Life
It is my sincere hope and prayer, that this Newsletter will also be an instrument in the hands of God, our Creator and LORD. And maybe some of you that receive this Newsletter are not believers in Christ.
But most important... maybe some of you were chosen by God to be his children. If that is God's purpose for your life, you will become his child - and nothing in the world will change that. That is our great comfort and consolation in life.
May the Word of God serve to become also in you a well -
"...But whosoever drinketh of the water that I shall give him shall never thirst; but the water that I shall give him shall be in him a well of water springing up into everlasting life." (John 4:14)
and that He will continue, according to His grace and mercy, to work in your heart to believe in Him and to live according to His Will:
"...Being confident of this very thing, that he which hath begun a good work in you will perform it until the day of Jesus Christ..." (Phil.1:6).
Polished in tender mercy

Click on the links to read: Romans 8:18-39 and Psalm 73

What do you have planned for today? It may or may not take place. It all depends on what the all-wise God of all mercy has planned in His eternal, unchangeable counsel. And that counsel is not a dead blueprint but a living plan that He eternally has in mind and that is constantly before His consciousness.

All in that counsel is designed to realize the day when the kingdom of Christ is established upon the new earth and God is all in all. Then the church of Christ is crowned with the glory that He now has at God's right hand. And the exact measure of glory, as well as the exact way it will be realized for each individual believer, and the exact moment of his entrance into it with his soul is all unchangeably decreed in that counsel or living plan.

Asaph did not see that before he wrote Psalm 73. He envied the wicked in their earthly prosperity. His own poverty, afflictions, and difficulties made him question God's love and tender mercy for him. He could not see how the rough road on which he was traveling could lead to heavenly glory. He wanted earthly glory as an evidence of coming heavenly glory. Being chastened every morning and plagued all the day long he could not see that "God is good to Israel, even to such as are of a clean heart" Psalm 73:1. Later on he did see this and began his psalm with those words. But for a time he questioned where the days of his years were bringing him. It seemed useless to walk in God's law and to have faith in His covenant faithfulness.

Do not borrow his unbelief today or ever in the future when the going is rough. Instead, take hold of his words after God caused him to see the light. In Psalm 73:23 he writes, "Nevertheless I am continually with Thee. Thou hast holden me by my right hand." This is versified beautifully in the words:

"In doubt and temptation I rest Lord in Thee: My hand is in Thy hand Thou carest for me."

Yes, He does care for us in our afflictions. For with these He is polishing us and getting us ready for that heavenly glory in Christ.

Quote for Reflection...
Faith is a living, daring confidence in Godís grace, so sure and certain that a man would stake his life on it a thousand times . . . O, it is a living, busy, active, mighty thing, this faith; and so it is impossible for it not to do good works incessantly.
ó Martin Luther, Romansí Preface
---
We thank the PRCA, who made this Daily Meditations of Rev. Heys available for our Newsletter. Read more about their missions, literature and wonderful publications on their website PRCA.
---
Funny Pictures!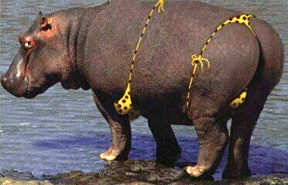 If you like this e-zine, please do a friend and me a big favor and "pay it forward."
If a friend DID forward this to you and if you like what you read, please subscribe by visiting... Kalahari Hunting Newsletter!
Comments? Ideas? Feedback? Let me have it, right between the eyes! I'd love to hear from you. Just reply to this zine and tell me what you think! I will appreciate every response.
---
Till next time...

"Blessed is every one that feareth the LORD; that walketh in his ways. For thou shalt eat the labour of thine hands: happy shalt thou be, and it shall be well with thee." (Ps.128:1)

Greetings from all of us at
Uitspan Hunting Ranch, Namibia

---